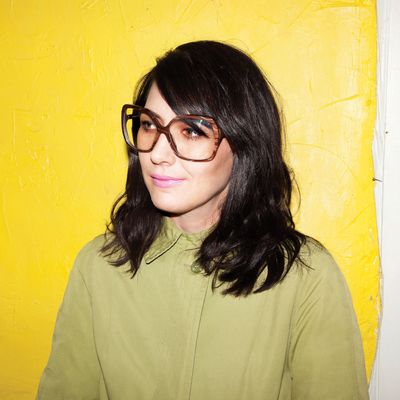 Photo: Aliya Naumoff/New York Magazine
Kathleen Hanna had suggested we see her tailor. "Omar is really great and reasonably priced," the singer says, sitting legs crossed on a couch in the midtown office where we meet. "In Le Tigre we would bring him the clothes we liked and have him do them in new fabrics." Like Le Tigre, the dance-punk band Hanna co-founded, and Bikini Kill, the seminal riot-grrrl band she fronted in the nineties, her latest project, the Julie Ruin, is signature Hanna: compact bursts of white-hot punk that's feminist, but also feminine. It's a sound that demands the right look, and with the band's debut, Run Fast, out in September, and a tour to follow, it was time to visit Omar.
"I found this one dress I like to wear onstage that's like a short muumuu," Hanna says. "I thought, I'll get this made in ten fabrics, but then I lost the dress." She pops a throat lozenge. She's still hoarse from a gig the night before at Union Pool, which was only her second full show since Le Tigre went on hiatus in 2006. Hanna delivers a notoriously frenzied live show, and she still seems wound up. "I got home at like two in the morning and then couldn't sleep," she says. "I was amped and watching this really bad show on Netflix called Alphas about people with weird powers."
With her dress gone missing, Hanna suggests we go instead to the Rubin Museum off Seventh Avenue, near where Hanna lives with her husband, Adam Horovitz, of the Beastie Boys. "It's one of those things where I'm walking my dog, and I'm like, Oh, I should go there sometime." As we head outside, she's talking excitedly about last night's show. She accidentally grabbed her bandmate's ass, she says. She apologized and then felt immediately compelled to do it again. "Can I fix your hair?" she asks, reaching toward my face. "Pardon me, getting too frisky!"
Back when she was living in Olympia, Washington, running Bikini Kill out of her basement apartment, Hanna struggled to make the rock world take her seriously. "You had to go onstage fully formed, with these perfect songs, if you were in a band with other females, because you would get totally attacked," she says. "We were like, 'How come guys get to be punks and get up and not know what they're doing?' " Twenty years later, she's regularly called on to represent the power of that cultural moment she helped create. Just today she got a media request from a magazine asking her to do a video on making 'zines. Hanna rolls her eyes. "I'm so over fetishizing the nineties!"
Part of the reason she's happy to be back touring and recording is it means fewer riot-grrrl spokesperson duties and more rocking out. She's also spent the past few years struggling with Lyme disease, and it's clear she's relieved just to feel well enough to perform. When she was sick, "being able to brush my teeth was a big deal." She formed the Julie Ruin around that time. "Starting a band, which is something that involves your body in such a big way, was the worse fucking decision that I could have made," she says. "But when I was sick, I would sing and I would see myself again. I hadn't seen myself in a really long time."
Not that Hanna didn't keep busy during her break from music. "I wrote a novel that I never finished, because I was waiting to have enough empathy for this one character," she says. She also wrote a comedy series with Horovitz for the alt-cabaret performer Bridget Everett, worked with NYU to preserve a riot-grrrl archive, and became the subject of a documentary, scheduled to be released this fall. But it's clear that music trumps all the side projects. "I'm in a really lucky position where people will be interested in whatever I do, but what I do is sing."
We pass an American Apparel. "There's a place I keep the tags in," she says. "We had all these shoots coming up, and I'd been so busy. I know I look good in purple, so I just ran in there and bought a bunch of purple shit. Then I took all of it back. It wasn't the right shape for me." Photo shoots can be a little traumatic. "I mean, I'm not a size 6," Hanna says. "They don't even have stuff for people who are size 8 or 10, and I'm more like a 10 right now. Sometimes it's like, 'Um, the only thing she can fit in is the coat.' "
Before we can get to the Rubin, Hanna decides to change plans again. "Oh! We could go to the Center for Jewish History!" she squeals as we pass by. Minutes later, we're inspecting circumcision knives. "That is not a good one," she says, pointing to a rusted strip of metal. "That's, like, the butter-knife version." She admires a delicate antique menorah. "This is beautiful. Ours is from Duane Reade, and the fake gold is peeling off." Hanna isn't Jewish, but she's always been drawn to religion.
"I didn't believe, but I wanted to know why people believed," she says. "It's sort of like Sebadoh," she continues, referring to the beloved Massachusetts indie rockers. "I'm not against Sebadoh; I just I don't get it." We walk to a case filled with yellowing immigration documents. "We were so bland as a family, and we didn't have a community. I think I was always searching for a family outside my family." She pauses and smiles. "I did teach Sunday school one summer though. Can you imagine me as a Sunday-school teacher?"