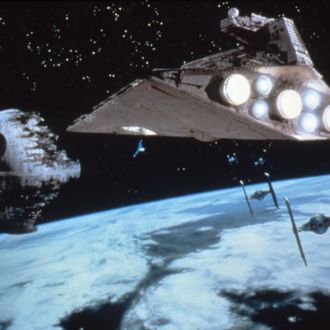 Photo: Sunset Boulevard/Corbis
Last August, Vulture rounded up the many rumors surrounding the production of the upcoming Star Wars franchise addition. As the calendar turned to 2014, the world still knew very little about the 2015 J.J. Abrams–directed film: no title other than Star Wars VII, few confirmed casting details, little plot, undefined characters. But midway through March, we now know quite a bit more — and yet it still isn't enough. Disney has thrown fans a few bones, including confirmation that John Williams will handle the score, that the action will take place 30 years after Return of the Jedi, and that filming will begin this May, but largely we're still clinging to rumors and speculation. Let's update our original post with all the buzz from the past seven months, shall we?
2013

May 4: British tabloid the Sun reports that scenes from Episode VII will be shot in Scotland.
May 8: Jedi News reports that Disney has signed a five-year deal at London's Pinewood Studios with plans to shoot Episode VII there.
May 20: Latino Review reports that Jonathan Rhys Meyers is in talks to star in Episode VII.
May 26: Irish tabloid Sunday World reports that J.J. Abrams has met with the Irish Film Board about shooting some of Episode VII there.
June 1: British tabloid the Sun reports that Florence Welch has landed a "leading role in new Star Wars."
June 1: Comic Book Therapy reports that Derek Maki, president of talent management company Coolwaters, told the crowd at Nashville's Fanboy Expo that neither Harrison Ford, Mark Hamill, nor Carrie Fisher had signed on to Episode VII.
June 7: A ComingSoon.net reader alerts the site to a listing on the United Talent Agency website that names Darren Gilford (Oblivion, Tron Legacy) as the production designer for Episode VII.
June 11: Schmoes Know leaks a plot description that says the story line for Episode VII will revolve around two 17-year-old twins, one male and one female, who are "trained by their uncle Luke to be the greatest Jedis in the galaxy. Problems arise when the male twin turns to the dark side."
June 19: Bleeding Cool leaks a casting breakdown for Episode VII that includes descriptions of seven lead characters, including two "late-teen" females and five males ranging from a "young twenty-something" to a "seventy-something male with strong opinions."
June 26: The Sun reports that Mark Hamill and Carrie Fisher "will be supplied with a top nutritionist and fitness trainer" to get into shape for Episode VII.
July 22: BadAssDigest reports on "tons of rumors that JJ Abrams is on the verge of dropping out of" Episode VII.
July 24: Latino Review reports that Leonardo DiCaprio passed on a role in Episode VII in favor of Tobey Maguire's Robotech movie. Also, it states that Disney is considering Zac Efron for an unknown role and Ryan Gosling for Luke Skywalker's son.
July 31: Jedi News reports that Episode VII is in preproduction under the name "Foodles Productions Ltd."
August 11: Jedi News reports that Ian McDiarmid, who played Emperor Palpatine, is set to reprise the role in Episode VII.
August 14: Latino Review reports that Emperor Palaptine will return in Episode VII as a Force Ghost and that he lined up a new apprentice before biting the dust in the Death Star reactor shaft, potentially setting up a new villain for the new movie.
August 16: Latino Review reports that Ewan McGregor will play a Force Ghost version of Obi-Wan Kenobi in Episode VII. The actor also reportedly asked Disney for a stand-alone solo film about Obi-Wan.
August 19: BadAssDigest reports that Disney considers December 15, 2015 the film's most likely release date.
August 22: Boba Fett Fan Club reports that Episode VII will be shot on 35mm Kodak film stock.
August 26: Latino Review reports that principal photography on Episode VII will begin January 21, 2014.
August 28: Latino Review reports that British actress Rachel Hurd-Wood has read for the role of Princess Leia's daughter and Alex Pettyfer has read for an unknown role (the site guesses Luke Skywalker's son).
August 26: Albuquerque Studios president Dana Arnold tells Variety that Episode VII may shoot in New Mexico. He's also heard that Iceland, Jordan, Scotland, and Ireland are in the mix.
September 2: Based on a report from Film Chronicles, rumors of Benedict Cumberbatch's casting in Episode VII begin to circulate.
September 3: Cumberbatch's reps adamantly deny those rumors.
September 5: The aptly named Ksenia Solo (Black Swan) is under consideration to play Han Solo's daughter, according to Jedi News.
September 5: Spartacus's Liam McIntyre tells RebelForce Radio that he read for a role in Episode VII.
September 11: An insider tells The Hollywood Reporter about J.J. Abrams's plan to convert part of his L.A.-based Bad Robot offices into postproduction facilities specifically for Episode VII.
September 18: Latino Review furthers the New Mexico rumor, reporting that Episode VII will shoot in Las Cruces. The same post says Saoirse Ronan is up for a role in the movie and Benedict Cumberbatch is absolutely in it, despite his denials.
September 19: Latino Review's sources reveal that David Oyelowo (The Butler) and Michael B. Jordan (Fruitvale Station) have read for roles in Episode VII. The speculation is that they both read for the role of Lando Calrissian's son,
September 23: Den of Geek reports on a casting call going around England that's looking for a "Male, 7 ft to 7.3 ft tall with a slim/thin build and upright posture." They guess that means there's a wookie in Episode VII.
September 26: In a speech at Goldman Sachs's Communacopia Conference, IMAX CEO Richard Gelfond says he's in talks with J.J. Abrams about shooting part of Episode VII with IMAX cameras.
October 1: Latino Review says Sullivan Stapleton (300: Rise of an Empire) went in for a role and angered Lucasfilm by telling people about it.
October 6: Jett Lucas, son of George, tells Flicks and the City that his dad and J.J. Abrams are constantly talking about Episode VII.
October 11: Latino Review says that George Lucas had two working titles for Episode VII before he sold the franchise to Disney. They were Return of the Sith and Rise of the Jedi.
October 24: Michael Arndt (Toy Story 3) loses his screenwriting duties to J.J. Abrams and Larry Kasdan, a producer of Episode VII and writer of The Empire Strikes Back and Return of the Jedi.
October 27: Jedi News reports that Harrison Ford is onboard for Episode VII.
November 2: Before meeting J.J. Abrams for an interview, a writer for British newspaper the Times sees Chiwetel Ejiofor waiting in the director's office lobby.
November 5: Casting directors are searching through the U.K. and Ireland for "a street smart and strong" girl in her late teens and a "smart capable" man in his 20s, according to the BBC.
November 7: Lucasfilm announces that Episode VII will be released on December 18, 2015.
November 14: With the first behind-the-scenes photo of Episode VII, J.J. Abrams seems to confirm that R2D2 will be in the film.
November 20: By posting a picture of the script on Instagram, actor Jason Flemyng (Lock, Stock and Two Smoking Barrels) confirms that he's auditioning for a part in Episode VII.
November 25: Sources tell The Hollywood Reporter that Episode VII casting directors are looking for "a 40-something military man a la Matt Damon in Elysium."
November 28: Jedi News conducts an interview with its Episode VII source, who links Emmanuelle Chriqui (Entourage), Alexis Dziena (Nick and Norah's Infinite Playlist), and Taissa Farmiga (The Bling Ring) with unspecified roles.
December 13: At Variety's dealmaker breakfast, Disney chairman Alan Horn says he would not be surprised if Episode VII's budget ended up at $200 million.
2014
January 3: Director Jon Schnepp tells AMC that the Boba Fett spinoff movie, written by Lawrence Kasdan, is "a fact."
January 10: Jesse Plemons (Friday Night Lights, Breaking Bad) is a favorite to play the lead in Episode VII, according to the Wrap.
January 11: Insiders tell The Hollywood Reporter that screenwriter Michael Arndt and J.J. Abrams disagreed about Episode VII's emphasis on the children of Luke, Han, and Leia. Arndt wanted them to be the focus of the film, while Abrams wanted the old folks to remain in the forefront. Ultimately, that was the reason Arndt left the project. The same story reports interest in casting Michael Fassbender, Adam Driver, and Hugo Weaving.
January 17: Latino Review provides more details on Jesse Plemons's involvement. He'll reportedly play Luke's son, Ben Skywalker, and be the protagonist of Episode VIII, not Episode VII.
January 19: J.J. Abrams tells the Wrap the script for Episode VII is complete and confirms that he's met with Jesse Plemons about a role.
January 19: The podcast Full of Sith says Judi Dench is being strongly considered for the role of Mon Mothma.
February 6: When asked about a potential role in Episode VII, Gary Oldman tells Sky Movies, "They've called."
February 17: Harry Knowles from Ain't It Cool News has it from two sources that Jack Reynor, who'll be in this summer's Transformers: Age of Extinction, has landed an unspecified role in Episode VII.
February 18: Den of Geek hears that model-makers at England's Pinewood Studios are building a full-scale Millennium Falcon. They're also being offered seven-year contracts so they can work on three new Star Wars movies and three spinoffs.
February 24: In a now-deleted article, 3-D movie blog Market Saw says Benedict Cumberbatch and Gary Oldman will both definitely be in Episode VII.
February 25: Star Wars 7 News hears that J.J. Abrams met with Sigourney Weaver about a role in Episode VII.
February 26: Sources tell The Hollywood Reporter that Adam Driver is nearing an agreement to play the villain, an unknown character said to be "in the vein" of Darth Vader.
February 28: During a visit to Scotland's Isle of Skye, a Redditor hears that Episode VII has put out a casting call for locals and is planning to shoot scenes there.
March 5: Star Wars 7 News says Lily Collins (Mirror Mirror) auditioned for a role back in December.
March 8: Jim Jeffries, creator of FX's Legit, says Carrie Fisher told him she was headed to London for six months to film Episode VII.
March 12: Variety says the list of actors considered for the lead in Episode VII has been narrowed down to Jesse Plemons, Downton Abbey's Ed Speleers, Attack the Block star John Boyega, and theater actors Matthew James Thomas and Ray Fisher.
March 12: Downton Abbey actress Lesley Nicol tells the Mirror that J.J. Abrams visited the show's set in 2013 to scout actors for Episode VII.
March 14: Latino Review reports that Lupita Nyong'o (12 Years a Slave) "has been reading for a part for over the past month."
March 18: Lucasfilm reveals that Episode VII will take place 30 years after Return of the Jedi and center on "a trio of new young leads along with some very familiar faces." Filming will begin in May 2014.
March 20: An Icelandic newspaper reports plans for an Episode VII crew to shoot footage of the country's icy terrain, leading to speculation that the film will include scenes on the ice planet Hoth.
March 28: Peter Mayhew cancels an appearance at Houston's Comicpalooza in May, the same month Episode VII is set to start filming, raising the hopes of those who want Chewbacca to appear in the film.
March 29: Dominic Monaghan tells Variety that J.J. Abrams told him Episode VII will have "a cast of unknowns" in the vein of A New Hope.
April 1: Badass Digest says Episode VII will begin shooting in mid-May in Morocco. The location has them speculating about a return to Tatooine.
April 4: A series of tweets gathered by Star Wars 7 News suggest that J.J. Abrams is holding auditions for lead actors at California Institute of the Arts in Los Angeles.
April 5: Yodas News sources say Dominic Monaghan will have a role in Episode VII.
April 7: The Hollywood Reporter confirms rumors that Peter Mayhew will appear in Episode VII as Chewbacca.
April 9: Unknown British actress Maisie Richardson-Sellers is "is in line to nab an undisclosed and possibly major role," according to The Hollywood Reporter.
April 9: The Hollywood Reporter confirms rumors that J.J. Abrams is building a recreation of Tatooine.
April 10: Confirming rumors reported first by Star Wars 7 News, The Hollywood Reporter says Tatooine will be recreated in Abu Dhabi, not Morocco, as originally thought.
April 12: At OzComicCon, Benedict Cumberbatch says, "I would've liked a part in J.J.'s new Star Wars but it won't happen sadly."
April 17: Jeremy Bulloch, the original Boba Fett, indicates that he will be involved with Episode VII at Salt Lake Comic-Con.
April 25: Sources tell Star Wars 7 News that Lily Collins "was beat out by another actress that they wanted bad" for Episode VII. Also, Jessica Szohr (Gossip Girl) had a part in Episode VII, but it was cut after script revisions.
April 28: At Deadline, Mike Fleming Jr. says Harrison Ford "has a gigantic role in the first of the next three films."
April 29: When asked about his potential involvement in Episode VII, Zac Efron offers that, "There's irons in the fire, so to speak."
April 29: The first official cast announcement comes via StarWars.com. It says, "Actors John Boyega, Daisy Ridley, Adam Driver, Oscar Isaac, Andy Serkis, Domhnall Gleeson, and Max von Sydow will join the original stars of the saga, Harrison Ford, Carrie Fisher, Mark Hamill, Anthony Daniels, Peter Mayhew, and Kenny Baker in the new film."
April 29: The Hollywood Reporter says casting isn't complete and there's another major female role with an actress attached. Mashable's Josh Lincoln Dickey throws cold water on that report, calling the uncast female character "minor/supporting."
May 2: The Hollywood Gossip says "there's evidence to suggest" Zac Efron and Lupita Nyong'o have been cast in Episode VII, though that evidence isn't given.
May 5: Denis Lawson, who played Wedge Antilles in the original Star Wars trilogy, tells The Courier he turned down an offer to appear in Episode VII because it would "would have bored me."
May 6: Ain't It Cool News says the working title for Episode VII is The Ancient Fear.
May 11: Jedi News publishes a rumor indicating that Adam Driver's character will not be a villain, as previously reported. Rather, he will play "the son of Han and Leia, and it seems he will be seduced to the Dark Side, and a main plot point for the movie will be their attempt to rescue him."
May 14: The Scotsman says J.J. Abrams has lined up the Highlands and the Isle of Skye in Scotland as shooting locations for Episode VII.
June 2: TMZ publishes photos from the set of Episode VII that include a giant piglike alien that "was used in two scenes taking place in what looks like a Tatooine marketplace."
June 2: Lupita Nyong'o and Gwendoline Christie (Game of Thrones) are officially added to the Episode VII cast. Our own Kyle Buchanan wonders if Nyong'o will play "a descendant of Obi-Wan Kenobi."
June 3: TMZ publishes photos of what appears to be an in-construction Millennium Falcon.
June 6: In a post rounding up some rumors "solidified enough through different channels to be reportable," Latino Review says Episode VII will have a female villain, and John Boyega's character will travel a path similar to Luke's with a "story arc that brings him into Star Wars' greater universe."
June 6: In a Disney promo photo with Mickey Mouse, Mark Hamill is sporting a beard, setting off speculation that he'll play a Jedi master in Episode VII.
June 11: IGN Middle East has a source that spotted Simon Pegg on Episode VII's Abu Dhabi set.
June 12: Harrison Ford breaks his ankle on the set of Episode VII.
June 16: Making Star Wars reports a slew of rumors, including information about the villains in Episode VII. They will be called Jedi Hunters, played by Lupita Nyong'o, Adam Driver, and David Oyelowo, and their goal will be to bring back the Sith. TheForce.net says this is not true.
June 19: Turns out Harrison Ford broke his leg. The accident happened after a mishap with a hydraulic door on the Millennium Falcon.
June 23: The Sun hears that Tom Cruise met with J.J. Abrams in London to discuss a cameo in Episode VII.
June 24: Latino Review hears the Mandalorians will make an appearance in Episode VII.
June 25: The latest plot rumors from Making Star Wars say John Boyega's character begins the film a bad guy and, after getting rescued from a ship crash by Daisy Ridley's character, joins the good guys.
June 15: "Page Six" hears that in light of Harrison Ford's injury, Oscar Issac's role is being "beefed up."
June 27: Latino Review says Carrie Fisher's daughter, Billie Lourd, is in Episode VII.
June 30: The Daily Mail expands on Latino Review's post and says Lourd will play Princess Leia in flashbacks.
July 6: Newcomers Crystal Clarke and Pip Andersen, a professional parkour runner, join the cast.
July 7: "Local rumors" point to Episode VII shooting in Puzzlewood in the Forest of Dean, according to the BBC. The location served as Tolkien's inspiration for the forests of Middle Earth.
July 8: In a tweet, Bad Robot reveals that Episode VII is being shot, at least in part, with Imax cameras.
July 15: Pictures from the trailers at Puzzlewood suggest a character's name is Kira. Making Star Wars thinks it's Daisy Ridley's character.
July 17: Christina Chong joins the cast of Episode VII.
July 20: Badass Digest reveals "plot details" for Episode VII that include Han Solo and Chewbacca teaming up with younger characters to find Luke.
July 22: Badass Digest says Gwendoline Christie's character was "gendered swapped," and she'll play the John Boyega character's commanding officer.
July 24: In an interview with the BCC at the Guardians of the Galaxy premiere, Mark Hamill says he's growing a "contractually-obligated beard."
July 30: The wrestler Sheamus says he'll be reprising the role of Darth Vader in Episode VII.
August 12: After getting a look at the new Stormtroopers, designer Tom Hodges made a sketch of their slightly altered helmets.
August 15: Latino Review reports that the villains in Episode VII will be called Inquisitors, and they are "defenders of the Sith Order."
August 15: Indie Revolver reveals details about Episode VII's main villain, the "Sith Inquisitor," who the site says is "tall and thin and terrifyingly creepy, with glowing red eyes to match his red lightsaber."
August 15: Han Solo and Chewbacca won't be at the helm of the Millennium Falcon in Episode VII. Instead, Badass Digest says, they'll be flying "a Super Star Destroyer."
August 15: Indie Revolver provides a peek at what Han Solo will wear in Episode VII with a couple images of concept art.
August 23: Latino Review says Emperor Palpatine will return in Episode VII, though the villain won't be played by Ian McDiarmid.
August 29: The villain in Episode VII will be a Sith called Darth Ruin, Superhero Report says.
September 1: Miltos Yerolemou (Game of Thrones), known for his sword-fighting skills, joins the cast of Episode VII.
September 9: An English flying instructor tweets an overhead set shot of what appears to be the Millenium Falcon.
September 11: Greg Grunberg (Heroes) tweets that it's "safe to assume I have a role in" Episode VII.
September 15: A grainy picture suggests Adam Driver will play an X-wing fighter pilot in Episode VII, calling into question the rumors that he'll be a villain.
September 25: Images of a chrome stormtrooper are published on Indie Revolver.
October 1: According to reports from Badass Digest and Making Star Wars, Max von Sydow's character in Episode VII is "a beaten man," an "old cyborg dude, a guy who maybe has dementia."
October 1: Making Star Wars describes two scenes from Episode VII, including one that "could be one of the most memorable sequences from the next trilogy of Star Wars films."
October 16: In a YouTube video, Warwick Davis, the original Ewok, announces that he'll be in Episode VII.
October 22: Lupita Nyong'o will be doing motion-capture for Episode VII, Star Wars Underworld hears.
October 31: A rumor posted on the Star Wars 7 News message board indicates that Warwick Davis will play a musician in the cantina, Benedict Cumberbatch will appear in a cameo, and Simon Pegg will play an alien in the cantina.
November 6: Episode VII gets its subtitle: The Force Awakens.
November 21: Star Wars Underworld reveals a quote from The Force Awakens. It's Han Solo saying, "Chewie, we're back home!"
November 28: The Force Awakens gets trailer, which confirms some of the rumored plot. One point that's initially debated but quickly cleared up: Andy Serkis is the narrator of the trailer.
November 29: Jedi News hears that Serkis plays multiple roles in The Force Awakens, one motion-capture and another not.
December 5: An unidentified hooded figure in the trailer, clearly the film's villain, is thought to be Adam Driver, according to many speculators.
December 11: EW reveals a handful of character names on vintage-looking trading cards. Among them are Finn (John Boyega) and Rey (Daisy Ridley).
December 16: Stitch Kingdom reports that Lucasfilm registered many trademark applications for the characters named by EW. There was also one the magazine didn't name: Captain Phasma. Some guess that this is Gwendoline Christie's character.
December 17: Andy Serkis denies rumors that he'll play more than one character in The Force Awakens.
December 19: Lupita Nyong'o's character is "an elderly, female alien with orange skin," according to "The Star Wars Underworld Podcast."
December 30: Star Wars 7 News hears that scenes shot in Iceland, thought to be a return to Hoth, will be used to depict another planet.
2015
January 1: Brooklyn Nets center Brook Lopez, who had previously made it known that he wanted to be in Star Wars and thought himself a natural Wookie, says his attempt to land a small part is going "pretty good so far."
January 5: Deadline reveals that Iko Uwais's (The Raid) fighting will be on display in The Force Awakens.
January 20: Yahoo Movies U.K. reveals a previously unreported member of The Force Awakens cast: Leanne Best (The Woman in Black 2: Angel of Death).
January 27: Star Wars 7 News uncovers a Facebook post by an unknown musician saying reshoots for The Force Awakens will happen in L.A. in mid-February.
January 28: Detective work by a poster on the Star Wars 7 News message board indicates that Oscar Issac's character, Poe Dameron, is named after J.J. Abrams's former assistant, Morgan Dameron.
January 30: There will be Hutts in The Force Awakens, Latino Review says.
February 5: Four different sources tell Making Star Wars that Domhnall Gleeson plays Luke Skywalker's son in The Force Awakens.
February 20: In an interview with the BBC, J.J. Abrams says, "There are a ton of rumors — some true, some false."