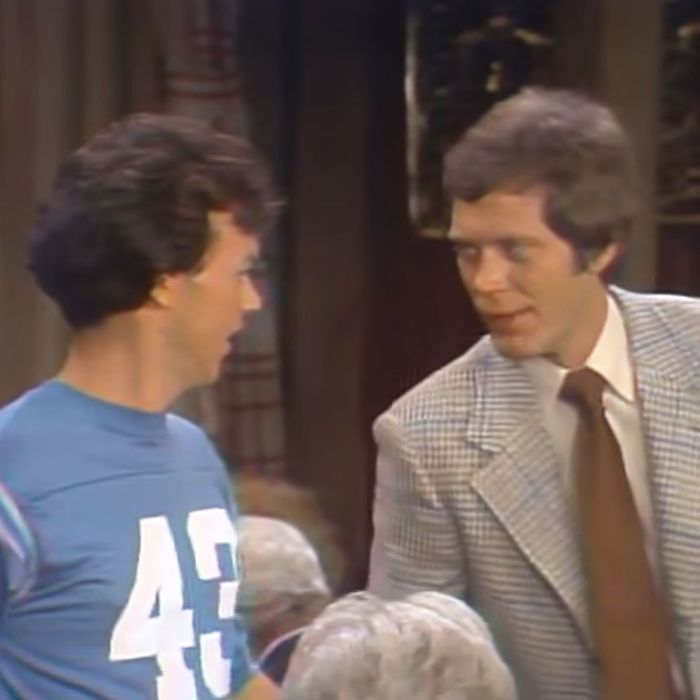 Photo: Sean Meredith/YouTube
The Paley Center for Media, which has locations in both New York and LA, dedicates itself to the preservation of television and radio history. Inside their vast archives of more than 150,000 television shows, commercials, and radio programs, there are thousands of important and funny programs waiting to be rediscovered by comedy nerds like you and me. Each week, this column will highlight a new gem waiting for you at the Paley Library to quietly laugh at. (Seriously, it's a library, so keep it down.)
In Jennifer Keishin Armstrong's new book, Mary and Lou and Rhoda and Ted, she accurately describes The Mary Tyler Moore Show as "a classic" that "helped usher in a more woman-friendly era in the television industry, [and] elevated the sitcom to an art form." So if you are the titular star of said sitcom, what do you do after your long-running show ends? Mary Tyler Moore took a year off from television. Then she did what most celebrities did in the 1970s: she starred in a variety show.
In 1978, Mary was an hour-long variety program featuring comedy sketches, musical guests, and dance. More importantly, it was among the world's earliest introductions to Swoosie Kurtz, Michael Keaton, and David Letterman, who were all regulars on the program for the three episodes it lasted. Today we put what I believe to be the third and final episode of Mary under the microscope as we try to figure out just what the hell happened here.
The first voice one heard when watching an episode of Mary was that of a 31-year-old David Letterman proclaiming: "From Television City in Hollywood, it's time for Mary!" Then the most seventies colors and music begin flashing in front of you in the non-candid rehearsal footage of Dave and Michael Keaton cavorting with Hollywood old-timers Dick Shawn and James Hampton, articulating visually one of the key problems with the series: old meets young. In Mike Sacks' book Here's the Kicker, staff writer Merrill Markoe describes this problem: "The show was an uncomfortable combination of old showbiz style variety, mixed with a miscalculated attempt to include some of that wacky, absurdist comic sensibility that the kids liked so much from that new program Saturday Night Live." But how irreverent can you be at 8PM Sunday on CBS following 60 Minutes? The answer: not very.
As these things do, the episode begins with a monologue from the show's namesake, Mary Tyler Moore. What's interesting about this, however, is that the entire thing is done ironically. She comes out and tells the audience that she wants to talk about phrases that are catchy and fun to say like "fluff and fold," or "mix and match." Then she makes the entire audience say them with her. Finally a CBS page comes out to deliver some news on a piece of paper. Mary is shocked, excuses herself, and we watch as she makes her way backstage, through the hallways, arriving at the WJM-TV newsroom set of The Mary Tyler Moore Show, now aged and covered in dust. Beneath the cobwebs sit a set of extras at their desks who are informed by Mary that the show has ended and that they can try on Lou Grant (one of the MTMS spin-offs).
Later in the show, this set is used by Letterman in his most prominent role in the episode, who enters saying "Well, no sense in letting a perfectly good newsroom go to waste," before launching into Mary's version of "Weekend Update." Obviously the jokes here are topical, but here and there you can see glimpses of the classic Letterman absurdity we know and love. For example, "The newly elected president of the African nation of Zawana, Omakata Lasentian Quantio is growing tired of people mispronouncing and his name had it legally changed to Earl Glick. In a related story, Washington Celtic basketball star, Lamar "Big Bubba" McCann has changed both his name and religion, and will now be known as Dr. Jerry Goldstein, obstetrician." (And yes, he said "Washington Celtic" and "Zawana." I promise they aren't just weird typos.)
Michael Keaton makes his first appearance in the episode about halfway through, not in a sketch, but as himself, talking to the audience, responding to letters that he received asking for dating tips as a sort of airhead surfer dude. "You really want to impress a girl? Do what I do. Wear a shirt. At least on the first date, then you can go back to normal later on." When asked how to tell if a "chick" likes you or not he says, "If you ask her out and she pulls a gun on you, she's probably going steady with some other guy. If she takes a shot at you, forget it. She's probably gay anyway." There's that primetime late-seventies edge for you.
In addition to these comedy pieces and a musical number in which Dick Shawn performs "Send in the Clowns" while being hit in the face with pies that I'm not going to say anything else about, there are a number of sketches which range in quality from "fine" to "a way-too-long, gender-swapped parody of Saturday Night Fever that features multiple disco dance numbers, relatively few jokes, and Mary Tyler Moore trying really hard and failing really hard to do a John Travolta accent." I won't be saying anything else about that one either.
Probably the best sketch of the evening features Mary Tyler Moore as the sister filling in for her brother, a hardboiled detective right out of a film noir movie. Letterman, as the brother, narrates the sketch in noir style, as Mary silently acts out the scene, following the narrator's occasionally misleading or contradictory directions. For example, when Dave narrates, "She looked in the top drawer of my desk where I always kept my gun," she pulls it out and examines it before he continues, "But it wasn't there… Then she found it." This continues as the villain appears, Mary shoots him and the narrator describes his dying convulsions with metaphor after metaphor, forcing the actor to continue his flopping for far too long until Mary makes a "speed it up gesture." "He died instantly," corrects the narrator.
An honorable mention goes to a sketch in which the cast plays themselves at home eating breakfast when suddenly Dave enters leading a tour of yokels through her kitchen. Dave introduces each of the members of the tour to Mary along with the name of the super small, northwestern town they came from, and the basic game of the sketch proceeds as Mary is forced to accommodate these yokels by letting them use the pool and making them brunch, lest she betray her nice girl image. The sketch ends with Dave "ordering" his grapefruit brunch from Mary who cuts it in half and then rubs it in his face.
They close out the show with another "cast plays themselves" sketch that also includes a shoehorned in performance of a jazzy medley of college fight songs from Mary Tyler Moore, and yes I meant to put those words in that order. In the sketch, the cast of the show is preparing for an appearance on Battle of the Network Shows against 60 Minutes and grows progressively discouraged as they realize nobody has any physical aptitude. The sketch (and show) ends with an Animal House parody showing where each of the members of the cast are now like "Michael Keaton looks for comic strips in The Wall Street Journal," before devolving into just weird statements about the cast like "Swoosie Kurtz is the sound you make when you sit in a bean bag chair" and the otherwise inexplicable image I used to accompany the article.
While Mary didn't kill the variety show genre (I think that distinction goes to Pink Lady and Jeff), but it certainly got in a few good blows before the knockout. Obviously many in the cast and writers room bounced back, but oddly Mary is the one who would never find success on television again. To be fair, The Mary Tyler Moore Show was kind of already a comeback, having previously co-starred on The Dick Van Dyke Show, following Mary she made three attempts to star in a program but it would seem that audiences just weren't interested in seeing her play anyone but Mary Richards. Mary is just a footnote in TV history, but it brought some big names to the world and deserves thanks for that. And then we can immediately forget about the time her John Travolta character said "I'm going to put on my dancin' clothes!" and then opened the closet door to reveal a rack of clothes that were literally dancing.