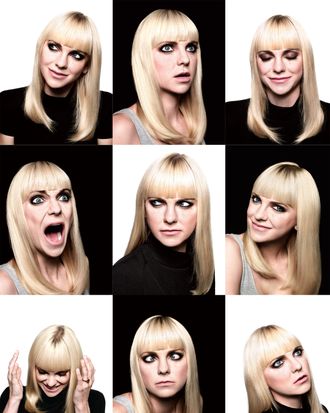 Photographs by Art Streiber
Photo: Art Strieber/New York Magazine
The invitation comes from the stall next to me. Anna Faris and I have already finished lunch and said our good-byes when she pops into the restaurant bathroom, cheerfully identifies herself (or the bottom of her jeans), and asks through the tin wall where I'm headed. I tell her I'm not sure. "Do you want to come to my house?" she offers. "We can have some wine!" I wait for Faris to emerge—mostly to make sure it's really her, and not a waitress playing a prank—and soon she's walking me to my car. She points out her white SUV and tells me to follow her, since I don't know my way around L.A. "I'm not gonna take you to a cabin and kill you," she promises.
It's only on the drive—up toward Laurel Canyon, where Faris recently moved into a house across the street from her old one—that I remember what she told me about visitors. "I make everyone who comes over play acting games with me," she said at lunch. "If they're actors, we'll write out a scene that's melodramatic, sort of ­Lifetime-y movie scenarios where somebody's auditioning to be the surrogate of the something and then someone else has to kill them." Mercifully, since I am not an actor, and since Anna Faris is not a cruel person, my audition never happens. Instead, Faris leads me through her kitchen, past a six-foot vintage The Mole People poster, and out near the pool, where she opens a bottle of Chardonnay. She pours a third of it into my glass without blinking.

Faris and I had met to discuss her role on Mom, Chuck Lorre's upcoming CBS sitcom about a newly sober single mom and her recovering-alcoholic mother (played by Allison Janney). She calls it a "dream job," and sitting with her on her week off, I can understand why she's so thrilled with the arrangement. But it's a major change for the 36-year-old actress, who—save for guest roles on Entourage and Friends, and a couple of pilots that didn't get picked up—has never done TV. As recently as 2011, Faris was producing and starring in major studio comedies like The House Bunny and What's Your Number?, and her name was movie-synonymous with "outrageously dumb (but in a funny way) blonde." Now Faris has "a boss, and co-workers" and the Hollywood equivalent of a 9-to-5. Most days she leads the cast and crew in a "Good show!" hands-in.

Faris wasn't looking for work when the Mom script arrived. She'd just had Jack, her first son, with her husband, Parks and Recreation's Chris Pratt, and she was weighing her options after 2011's What's Your Number?, a sort-of career litmus test, failed both critically and commercially. "A few things happened," Faris explains carefully. "The release date changed. And Bridesmaids was such a game-changer for all of us—in the best way—but I think that also put some pressure on What's Your Number? and any female comedy." Also, the major-studio moviemaking process never runs smoothly: "There's a lot of chefs, cooks in the kitchen." Faris has the opposite of a poker face, and when I ask if she was pleased with the final product, some regret creeps through. "I was. I was. I liked it. I do," she answers, her voice rising with each sentence. But she didn't know what to do next. "I don't know how many other chances you get to do that these days."

Luckily, Pratt's career was going well, and Faris didn't feel like she had to "take the money job." ("It sucks, but you're like, I guess I'd like to keep my house.") She did an independent movie (the sour British rom-com I Give It a Year) and thought a little bit more about developing. Then, right around Christmas, a mystery envelope arrived on her doorstep. "It wasn't from my agency or my manager," says Faris. "There was no note. There was no 'please consider.' " It was Lorre's script, which she put on the kitchen table unopened. Pratt found it, made it to page two, and insisted that she read it. "He's like, 'This is you.' "

To be clear: Her husband did not mean that Faris is a recovering alcoholic with an ungrateful daughter, a boss for a boyfriend, and an estranged mother with substance-abuse issues of her own, all of which accurately describes Mom's Christy. It was the character's "desperate, frazzled" quality and natural vulnerability (she invites strangers to her house, remember) that Pratt recognized in Faris, who has a penchant for wacky, screwed-up characters, like the handsy Britney Spears wanna­be in 2005's Just Friends, or Brandi, the boozy makeup counter girl in 2009's Observe and Report. Faris also likes to push the boundaries of taste, which is maybe why she was drawn to Mom, a multi-camera family sitcom that somehow sneaks jokes about alcoholism, cocaine, adultery, and teen pregnancy onto network television. "We have, like, an anal-sex joke!" Faris says gleefully. "It's amazing!"

Our poolside conversation hews slightly more mature, though Faris and I do end up­—for educational purposes—explaining the premise of Deep Throat (Faris was once attached to a Linda Lovelace biopic that never got made) to a friend who shows up later. At some point she starts reminiscing about an ex-­boyfriend who abruptly dumped her: "I talked to him years later, and he was living in a van in Berkeley. He had just married a Chinese woman for $5,000." Jack eventually wakes up, and talk turns to Faris and Pratt's 2009 wedding, which happened on the spur of the moment in Bali. "Our very last night, the hotel offered a wedding ceremony. We both had been really ill, and we were like, 'Yeah, let's do this.' " She can't help but slip into character a little—solemn face, eyebrows up to the ceiling. "The staff was wearing traditional Balinese wedding clothes, and there were flowers and a priest who was saying all kinds of things, I have no idea."

I get a tour of the Faris-Pratt art collection, which includes a portrait of her character from last year's The Dictator (hidden in the garage), mounted deer heads, and framed insects. It's a small museum of Weird, which is Faris's enduring passion; her Mom character is already getting stranger, she says proudly, and if she ever goes back to movies ("I don't mind the idea of chilling a little bit"), she still has a few bizarre ideas of her own. "I want to play asexual characters," she announces, and begins pitching me a movie about a drunk nanny who maybe also has a neuromuscular disorder. "I just love the idea of a super-floppy person who's just like Fuck it, dude, I don't know." Okay, but does Faris think anyone in Hollywood would actually let her play a drunk, asexual nanny? She considers the question. "Nobody has yet!"