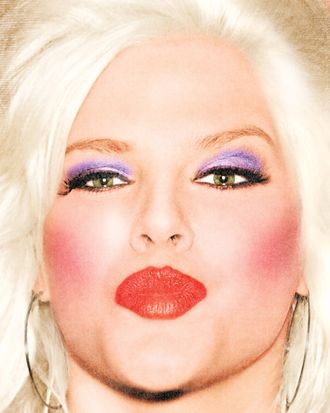 Photo: Richard Corkery /Getty
Here's a familiar plot: A venerable opera company begs a well-known composer for a new work; he delivers a raucous score about a defiantly sexual woman who finds love, glamour, and early death. A few critics grumble about vulgarity sullying the lyric stage, but theatrical audacity wins them over, and the piece goes on to triumph. Carmen and La ­Traviata had trajectories like that. So has Anna Nicole, the 2011 work that had its world premiere at London's Royal Opera House, in the same exuberantly gaudy production by Richard Jones that will be brought in by BAM and New York City Opera this fall.
The music's sparkling raunch made it an event far beyond the opera world. Companies here looked on in envy as a British team commandeered an American saga. But one person who remains unconvinced by the work's success is its composer. "If I'm really honest, I'm quite uncomfortable with it now," says Mark-Anthony Turnage. "I don't think we were trying to be cruel. But it's mocking someone's real life. I wouldn't do it again."
Yet that's exactly why Turnage and librettist Richard Thomas decided to write an opera about Anna Nicole Smith in the first place: She wasn't fictional, highborn, or antique. She was Vickie Lynn Hogan, a high-school dropout who worked in a strip club and bemoaned her flat chest. (In the opera, the chorus shouts: "You need to get some tits!") Equipped with new breasts and a new name, she climbed the ladder of celebrity from Playboy Playmate to wife of an 89-year-old billionaire. Rich, young, and quickly widowed, she became a tabloid obsession and a reality-show star, dying of a drug overdose at 39. "The more we researched her, the more we liked her," the composer says. "She lived a lot in a short amount of time. If you come from a working-­class background, as I do, you have to work twice as hard. In England, there's the Oxbridge secret club, and I snuck in. [Smith] came from a dirt-poor background and became famous and wealthy, so she can't have been that stupid."
Though Turnage says he identifies with Smith as an outsider made good, he may be exaggerating the parallel. The composer has abetted the press in playing up his plebeian origins, to his family's distress; if he bypassed the British class system, it was by working his way through the Royal College of Music and a privileged artistic career. Still, he insists that his struggles to make a mark on the world parallel Smith's: "She was very determined, from the early days when she had the boob job. She's quite impressive, really."
To tackle this epic, Turnage, already well known for his strongly flavored and violently titled scores (his catalogue includes Twice Through the Heart, Blood on the Floor, and Three Screaming Popes), knew he needed to avoid all operatic preciousness. That's when he teamed up with Thomas, who was best known as the co-creator of the proudly profane musical Jerry Springer: The Opera.
Anna Nicole opens in the tiny Texas town of Mexia ("It's pronounced Muh-hay-a," Anna and the mayor tell the chorus), a trashy wonderland of roadside joints and piggish truckers. In many ways, though, the piece is supremely traditional. The protagonist is dissolute and doomed—just like most operatic heroines. Musical slumming, like the first act's strip-club scene, has an impeccable pedigree, too: Mozart's Don Giovanni enjoys popular ditties with his meal, Carmen sways to a vampish ­seguidilla, and Berg's Wozzeck dances to a barroom piano. Honky-tonk spectacle and wry humor that turns tragic before the final curtain are operatic staples, too.
The reception in London was mixed, but most critics reveled in the subject's trashiness, praised the creators' deftness, and congratulated the genre on its inclusiveness. "I'll eat my six-gallon hat if it's not a stonking great hit," wrote the Telegraph's Rupert Christiansen. (It was, even if you can't trust a British music critic with cowboy gear: Evidently he conflated a six-shooter with a ten-gallon hat.)
Smith's story lends itself to satire, and Turnage gave in to the impulse. "I was determined to write a comic opera," he says. "I kept trying to keep it light and quick, which is hard for me." He succeeded by helping himself to a stash of recognizable references — "not pastiche, exactly, but familiar elements that you break in to something new." Critics have described Anna Nicole as jazzy, partly because in the past Turnage has paid homage to Miles Davis in his scores. But Smith's tinseled drama played out on a different planet entirely—not a very fertile one, from an opera composer's point of view. "If I'd gone into eighties music or Texan music, which is what she grew up with, it would have been even more pastiche," Turnage says. Instead, he distilled a kind of manic highbrow burlesque, with heavy-tread rhythms and fast-moving vocal lines that stick close to Thomas's wordy text. For the strip-club scene, he opted for what he calls a "sleazy blues," slow and smoldering, though far more sophisticated than anything you might actually hear at the Bada Bing!
The more he talks about Anna Nicole, the more discomfited he becomes, and it's hard to tell whether it's because he really regrets writing such an exciting and virtuosic score, or because for him it has already drifted into the past, along with everything else he's ever composed. His music afflicts him once he's let go, even when it makes everyone else ecstatic. "I'm always polite, and I'll go to rehearsals and everything, as long as I don't have to go and see it endlessly. Luckily, I'm coming to the opening and leaving the next day."
This story originally appeared in the September 2 issue of New York Magazine.