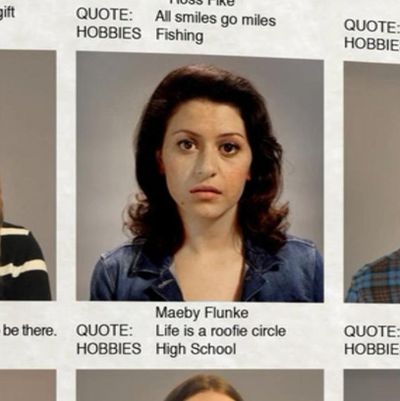 Is there really anything else left to say? Yes, we're still on our Arrested Development Easter-egg hunt, and if you don't know that by now, we haven't been hammering your over the head with it often enough. But here is how you can catch up. On to the next!
Episode 11, "A New Attitude"

Gothic Castle is the name of a popular magic parlor, and also the place where G.O.B. attempted many comeback performances. You might be tempted, but do not confuse the venue with the "Gothic Asshole" — the underground gay bar where Tobias was once mistakenly taken in season one's "Storming the Castle."
In this installment of the "Poof's Woops" column in the magician magazine Poof, we finally learn why G.O.B.'s bee business didn't work out: PRODUCT RECALLS: 'China Wow! Smoke from Nowhere.' Not for use near rabbits, mice, bees, doves or colonizing animals. And even though G.O.B. is branded the publication's "Woops of the Week," he's not the only one to be given that honor in the issue.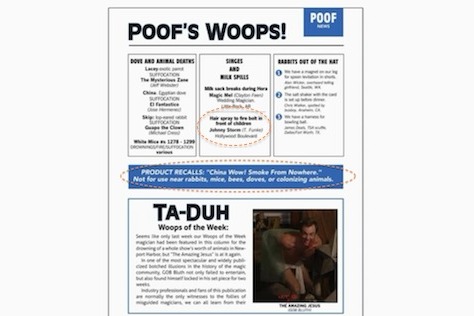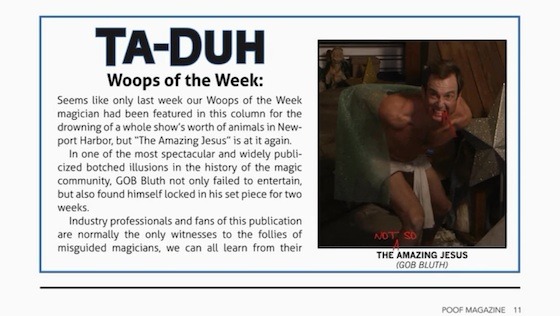 "Hair spray to fire bolt in front of children: Johnny Storm (T. Funke) Hollywood Boulevard"
This is a small joke referring to the real fact that David Cross auditioned for for the lead role on Fox's House M.D. In the episode "Motherboy XXX," Tobias looks sadly toward a license plate that reads DR HOUSE. (Just in case you're curious, his license plates over the years have read: INM8 2, BLUMN, CONMAN2, DRHOUSE and ANUSTART. Tobias rules.)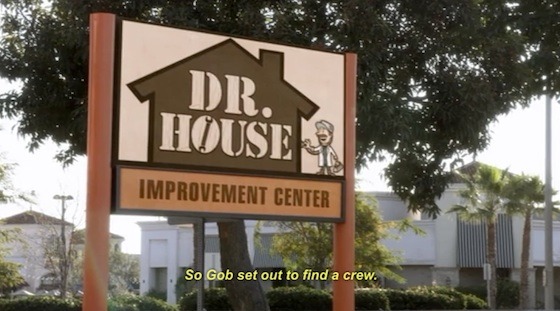 And here's a shout-out to Modern Family. During Modern Family's season finale, Julie Bowen's character channeled G.O.B. by saying, "I've made a huge mistake."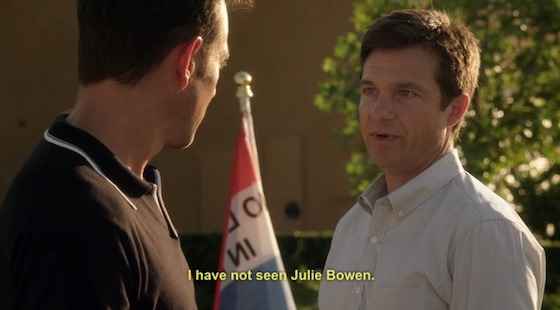 Has Sudden Valley's new population of sex offenders been hanging out with Tobias? If so, the inadvertent-innuendo-prone never-nude is rubbing off on them (innuendo intended!): "Tired of explaining? S.O. what are you waiting for!"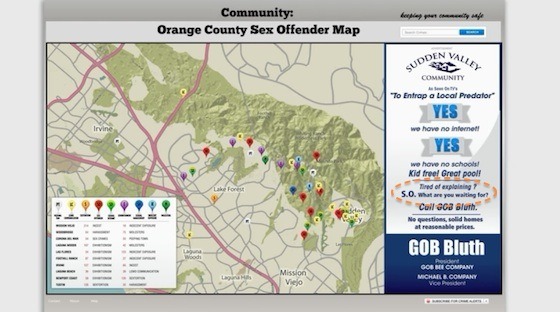 Just a simple, fun forshadowing of Michael and G.O.B.'s breakthrough performance with the Thin Wally's Knife Store sign. (Get it? Thin wall? Anyone?) Also, thanks to the geniuses at Grantland, there may be an insanely complex Clue gag here, too: In that 1986 comedy, Martin Mull, the actor playing Gene Parmesan, portrayed Colonel Mustard. And here he is working in a knife store. Also, Michael and G.O.B. started fighting in a room full of balls. Grantland sums it up: "This scene gives the viewer an all-time classic reference: Colonel Mustard, with a knife, in the ballroom."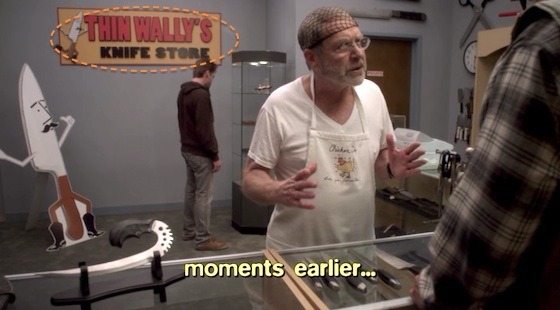 Netflix synergy here with this unsubtle shout-out to another binge-worthy original on the streaming service.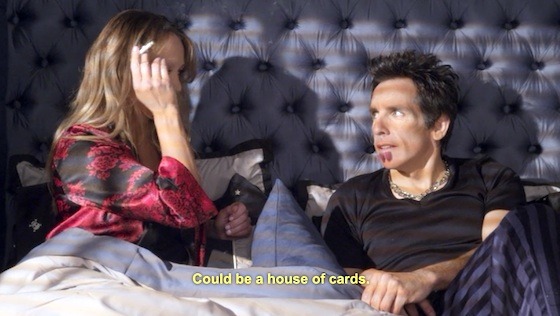 Sally's other secret? It could be that she suffers from alopecia, just like her father. (Also, actress Christine Taylor was in The Craft, in which her character is cursed to lose all of her hair.) Meanwhile, Sally Sitwell and Tony Wonder's secret love affair works on multiple levels: Taylor and Ben Stiller are married in real life, and they've already played love interests in both Dodgeball and Zoolander.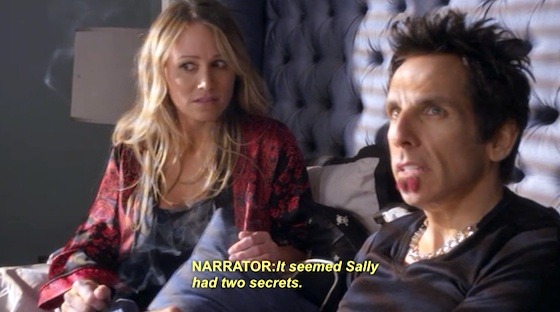 Cap'n Crunch comes up again (see also: The script Brian Grazer is holding in the elevator at Imagine Entertainment).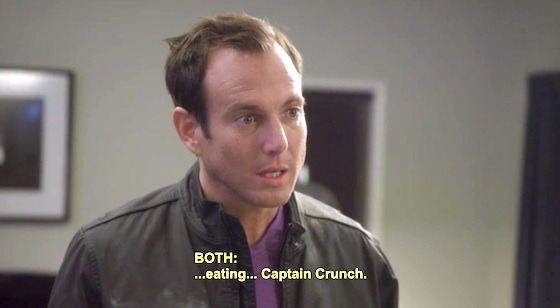 Tony Wonder calls Ann "you." :(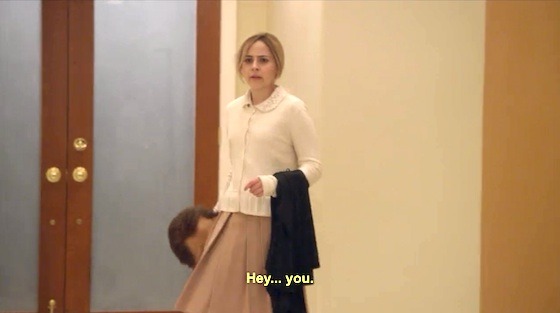 Episode 12, "Señoritis"

Eli Vargas, the actor playing Perfecto Telles, also turned up in the season two episode "¡Amigos!" as "Mexican Teenager." Coincidence? Probably not.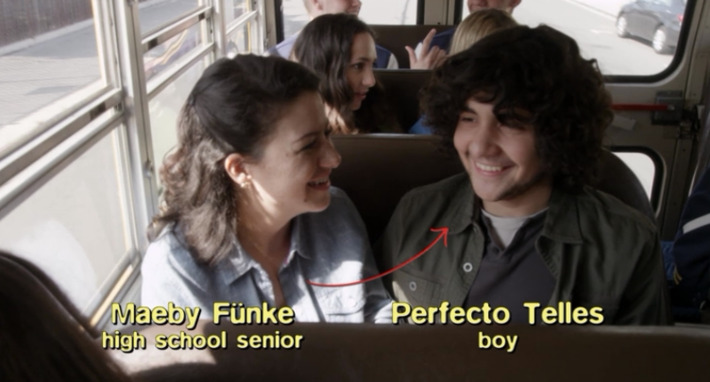 Not only is Babies Having Babies filming in Maeby's algebra class (which is taught by another of Andy Richter's many brothers, this time Donnie), but she and Perfecto are labeled "ale-tards" — one of the show's many references to Maeby being awful at math.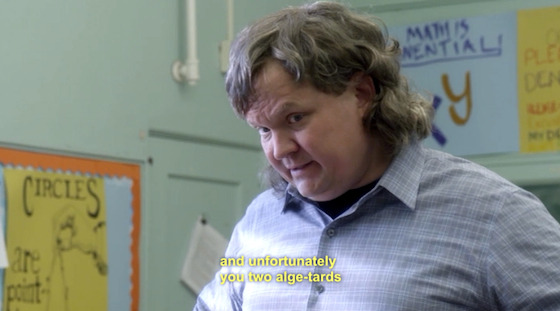 The tagline of Maeby's latest movie project, Gangie on the Ganges, refers to Eat, Pray, Love, the book that inspired both Fünke parents to run to India.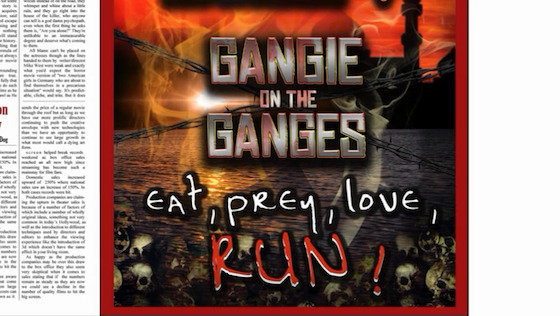 Maeby-in-disguise's spin on "No touching!" is "Don't squeeze the Shaman!" — obviously related to the old Charmin ads.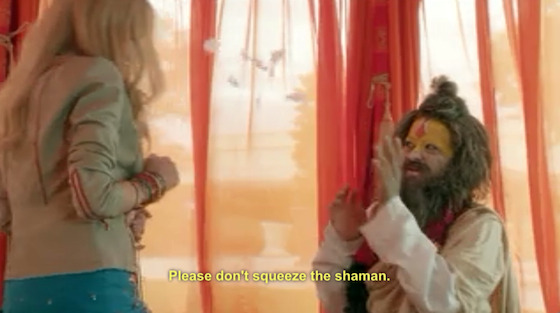 The Thanksgiving cartoon features a turkey driving a Google Maps car.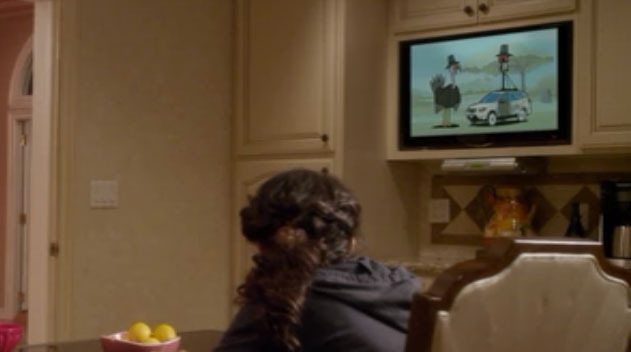 The first yearbook quote matches one previously used by Maeby's ex-boyfriend (and cousin) Steve Holt. Enzo Gerrig, pictured to Maeby's right, is being portrayed by Matt Johnson from the band Matt & Kim.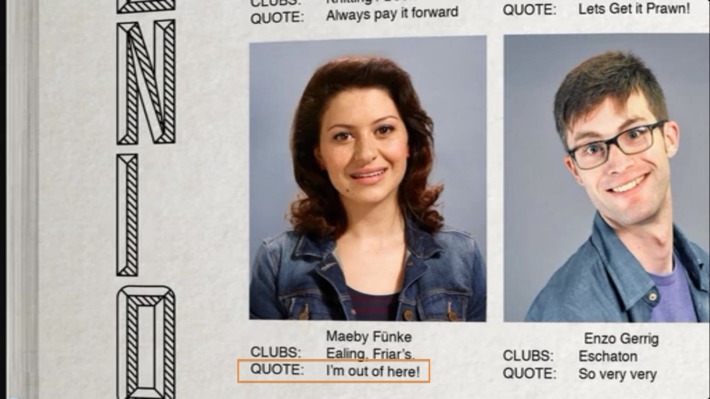 Here, Maeby goes by "Maeby Flunke" and her quote, "Life is a roofie circle" refers to G.O.B.'s season four roofie spiral. That top left hobby? Magnets.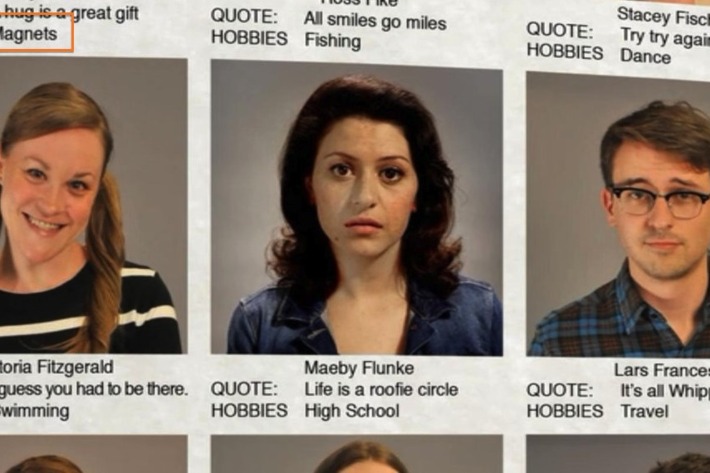 And now she's Maeby Finke, yet another reference to Deadline Hollywood's EIC, Nikki Finke.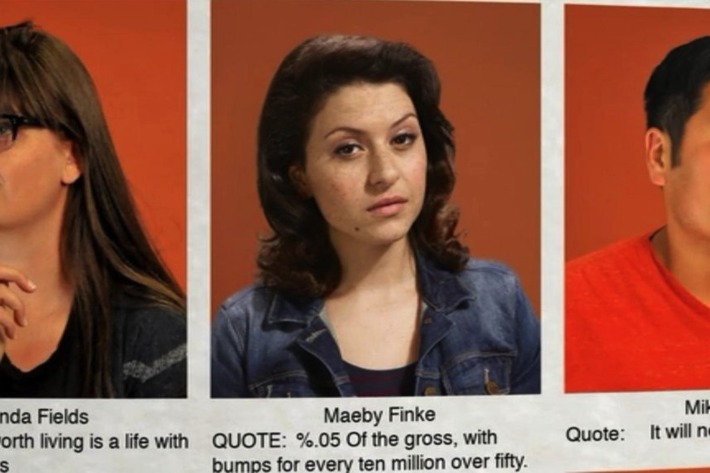 In case you forgot your Featherbottoms.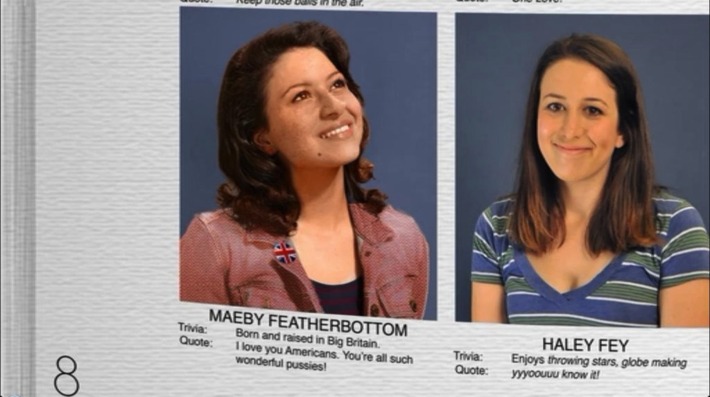 Tobias's new real estate agent (and acting agent) refers to herself as "the widow Carr" — she's Ed Helms's character's wife. Not soon after her husband's untimely death, she expands the realty business to include baked goods she calls Widow Carr's Widdle Cupcakes.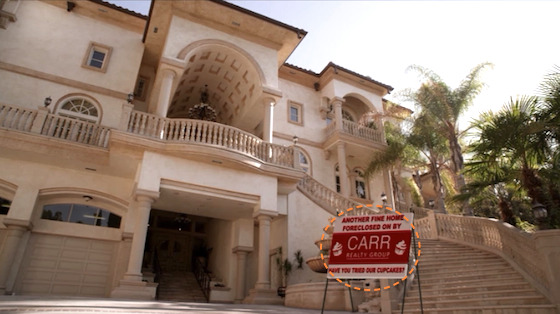 Yet another reference to Deadline Hollywood and its famous proprietress, Nikki Finke. The article is article about Maeby's firing, and it also calls her the "Queen B of Horror." The article also reads, "Ron Howard Shows High School Diploma, But Not Happy About It" — a reference to Obama and the angry birthers?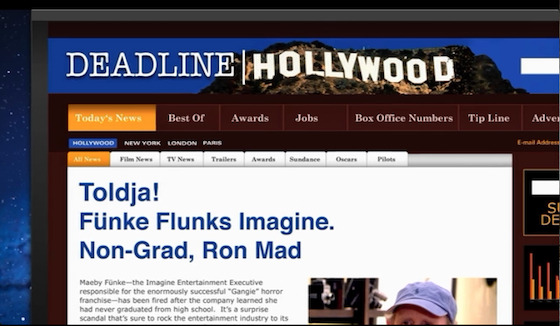 It's b-a-a-a-ck: "Marry me!"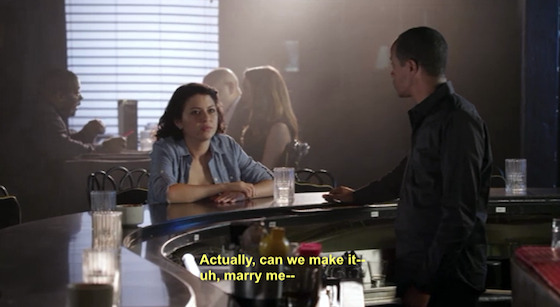 The team name used by Maeby's high school is the Ostriches.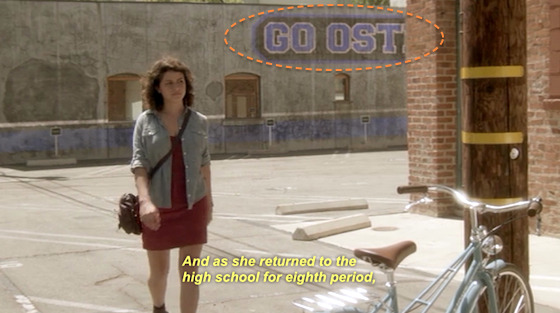 The Opie Awards and the statue of a fishing boy reference Ron Howard's childhood portrayal of Opie Taylor on The Andy Griffith Show.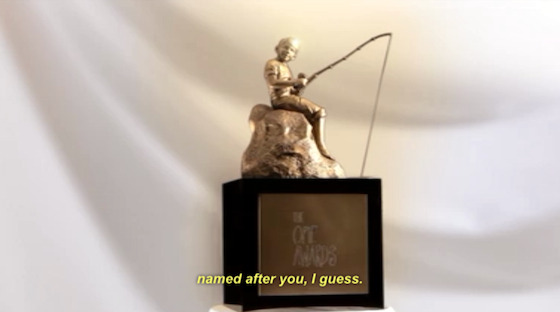 The Curb Your Enthusiasm theme song plays during the flashback of Mort sneaking into Sid's office. On Curb Your Enthusiasm, Jeff Garlin plays the role of Larry David's manager.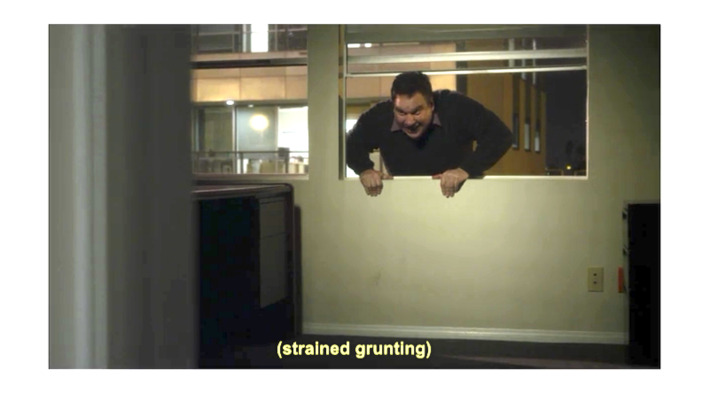 A Chabad Mitzvah tank hits Steve Holt!'s ant. The tank's logo of a man raising his arms brings to mind a trademark pose by … Steve Holt!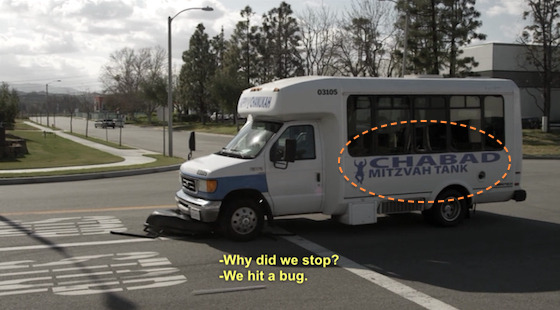 In which we learn that George Michael has never met Lucille 2.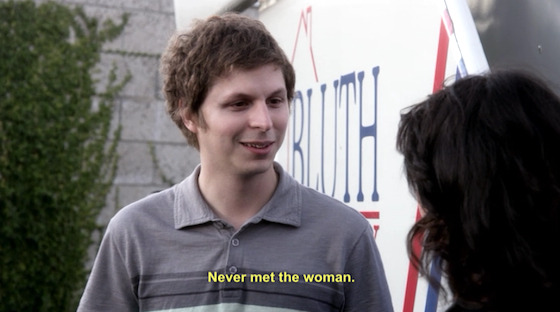 Another Google reference in which a character calls it "something" instead.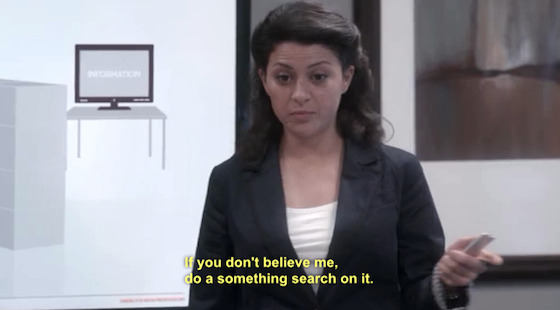 Recognize Maeby's acceptance speech? That's because quite a few of the lines are plagaraized from the infamous sorority letter that was leaked by Gawker earlier this year. Including the most-quoted "cunt punt," she also uses: "Tie yourself to your chair because this is gonna be a rough fucking ride" and "double fucking newsflash."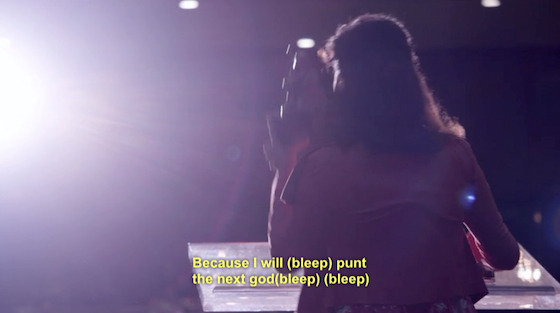 "The Netflick" …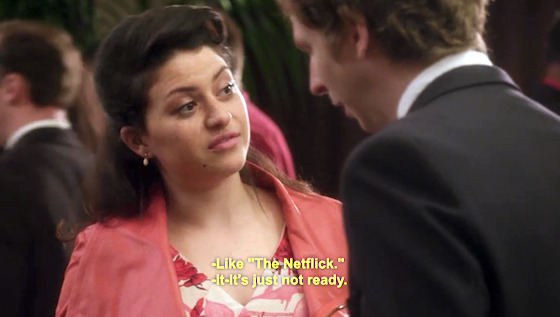 Instead of "George Michael" or "Boy George," poor George Michael adopts another unfortunate name: George Maharis. That's the name of a once-popular actor who was arrested in the early seventies for committing a sexual act in a men's room. Who was arrested alongside Maharis for that indecent act? A man named Perfecto Tellis.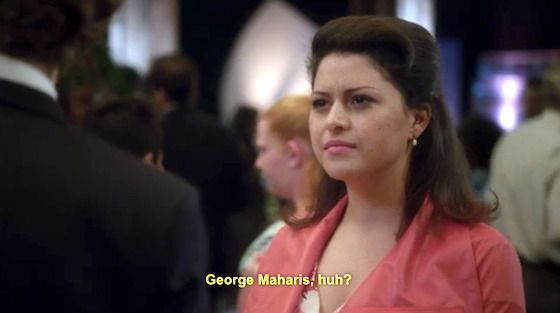 Not unlike her mother Lucille, Lindsay refers to her daughter Maeby needing a nose job.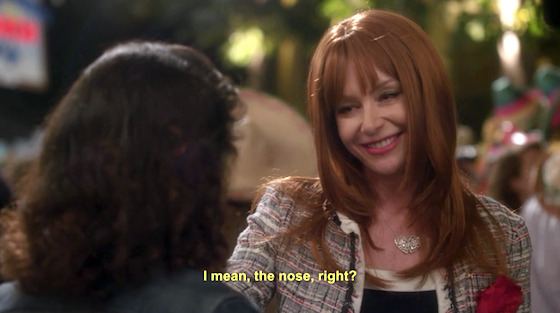 In another reference to Liza Minnelli's career, the outline of Lucille 2's body on the stair car matches Minnelli's on the cover of Liza with a "Z". (This isn't the first reference to Minnelli in the episode, either. Earlier, Maeby had given George Michael the yellow 1988 Cadillac that Lucille 2 used to drive "to and from hip replacements." In real life, Minnelli also has had multiple hip replacement surgeries.)