We're in the home stretch! Almost to the finish! If you're watching season four of Arrested Development for the first time while waiting for these Easter egg roadmaps, frankly, you're doing it wrong. But we really appreciate it. If you've already fully consumed AD's fourth season, but you're just looking to relive the funny, here is how you can catch on up. Only three more episodes to go.
Episode 13, "It Gets Better"
Did you hear George Michael's theme song intro? It featured plenty of woodblock.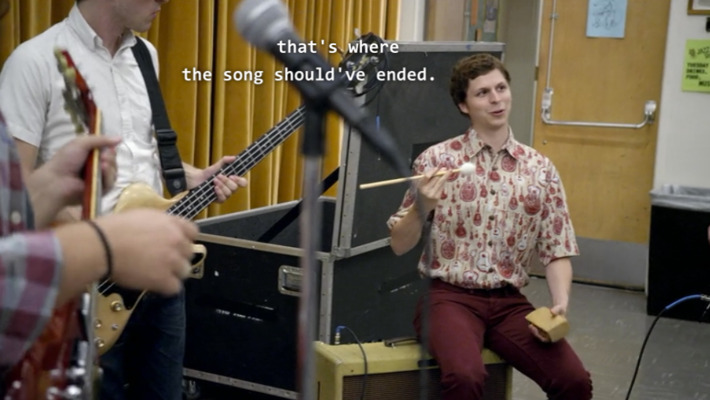 Top related video to Babytock? The Cornballer. And finally we have the backstory to why George Michael has such a "fine tuned internal clock," as he mentioned in season one's "Best Man for the G.O.B." ("It's actually why I'm such a good natural percussionist.")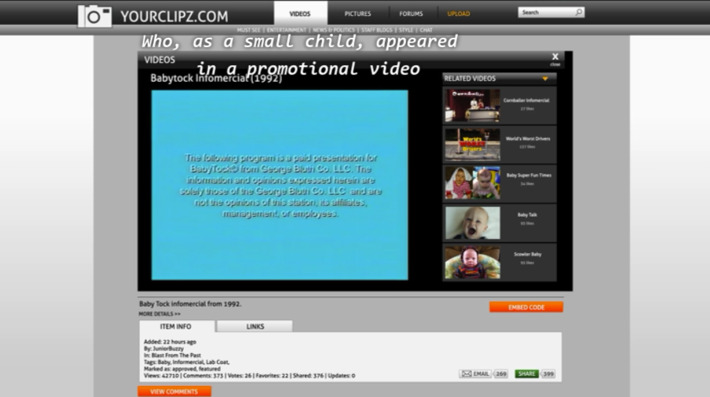 It took ten years, but in a flashback clip, we finally get to see Tracey Bluth, George Michael's mother and Michael's dead wife.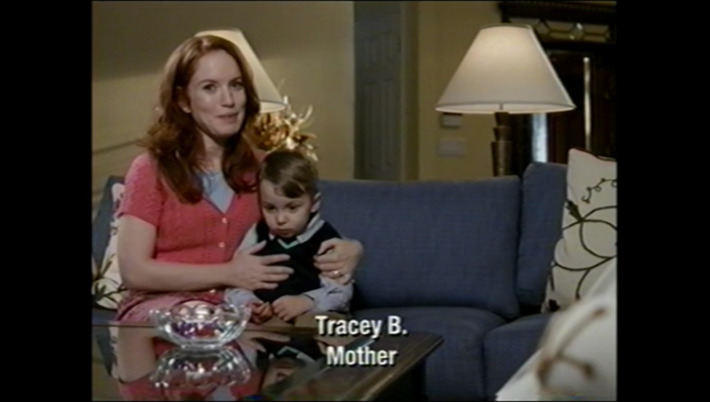 George Michael banner!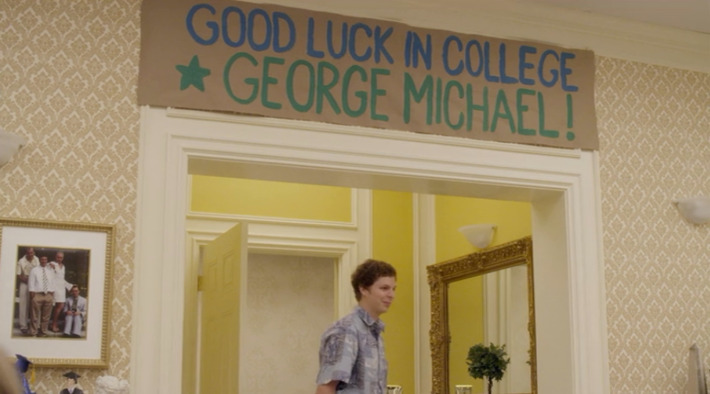 When GB gets to college, we learn right away that he still can't catch.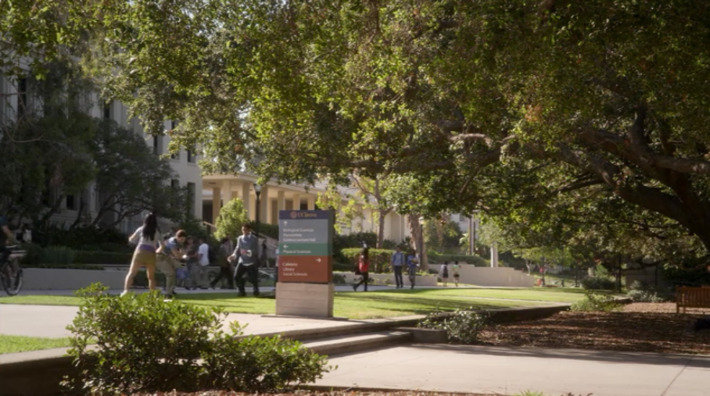 Is the kissing study a small callback to G.M.B.'s eye exam?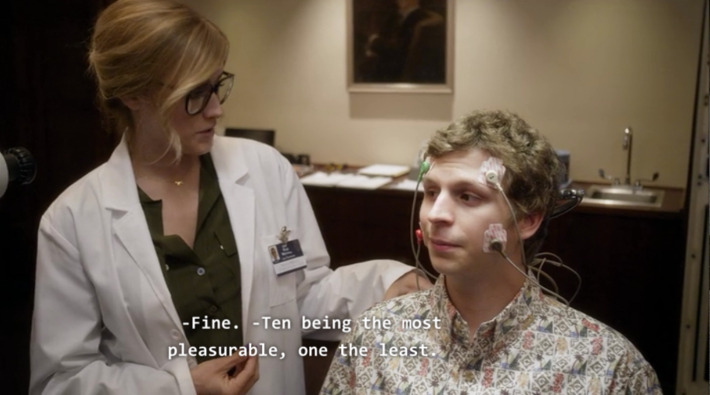 When G.M.B. shows off with his uncle G.O.B.'s Segway, the miracle vehicle still has a "STATE EVIDENCE" sticker on it from when it was (assumably!) taken by the U.S. government.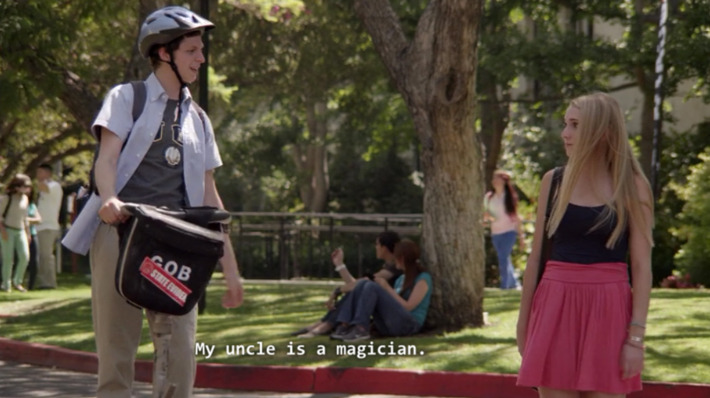 The cartoon George Michael is watching in Spain? It's Mitch Hurwitz's short-lived FOX cartoon Sit Down, Shut Up — which starred the voices of AD's Jason Bateman, Will Arnett, and Henry Winkler.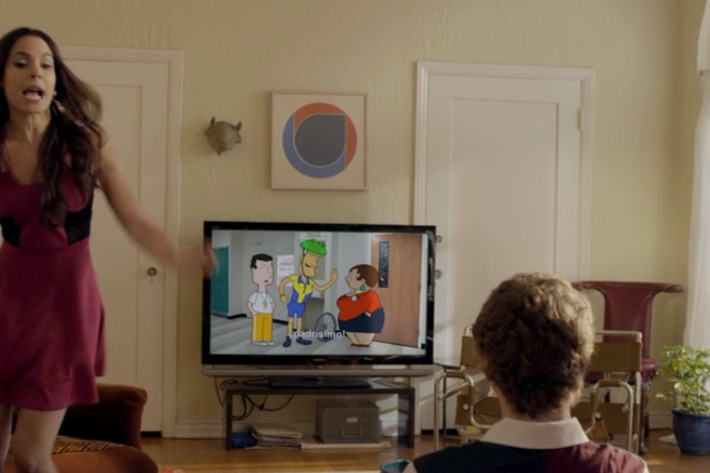 Back from Spain with an "overtly sexual transformation," G.M.B.'s new 'stache is quite similar to the one Michael Cera grew to play Nick Twisp's alter ego in Youth in Revolt.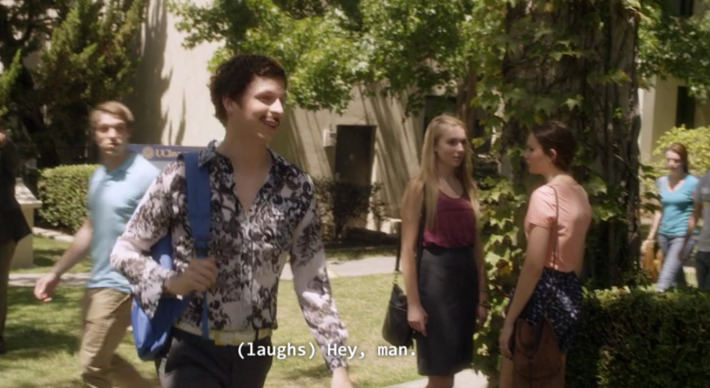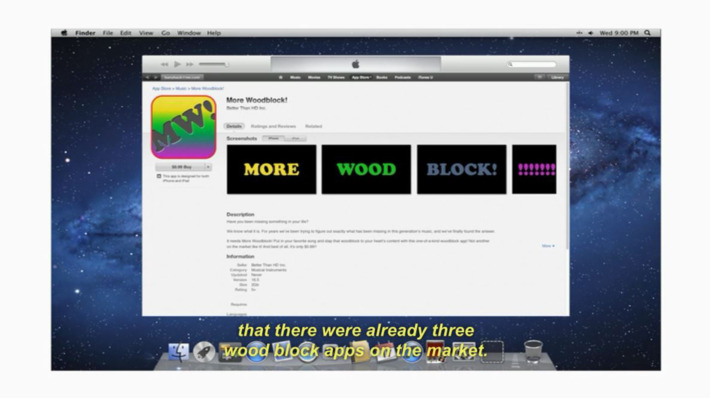 BLOCK BLOCK BLOCK BLOCK! George Michael's chicken-dance returns.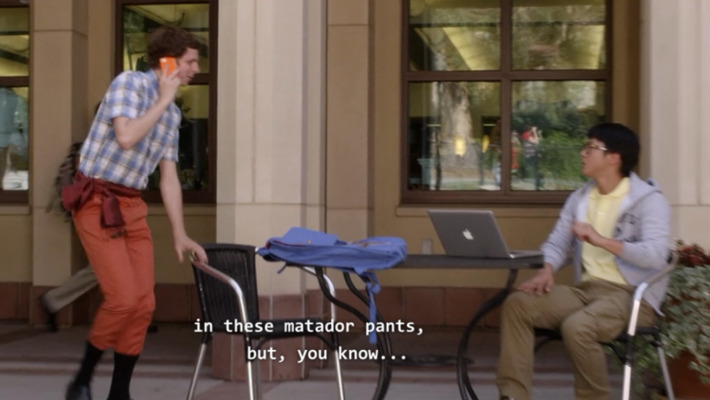 Ah yes, Michael's arrival "forestalled" his son's development.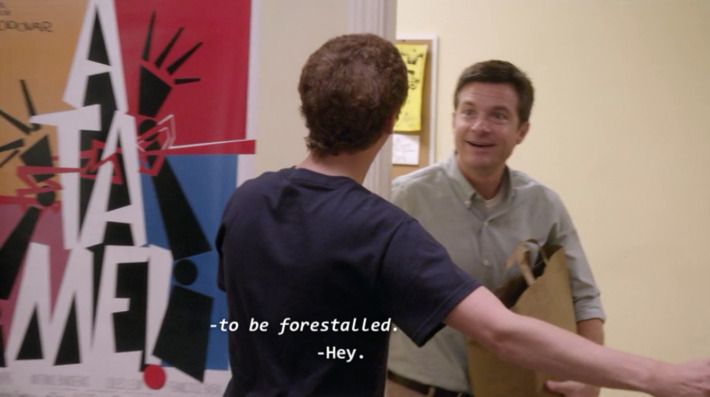 Testing G.M.B.'s "fine tuned internal clock" when he stops for 41 seconds, a clever person actually timed it to figure out if that was the case …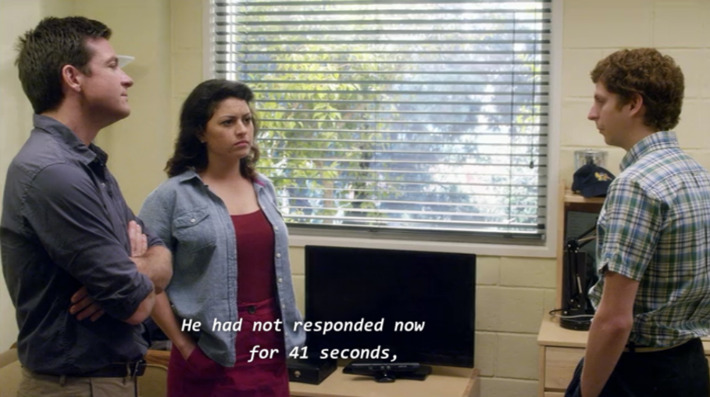 … and it was!
George Michael's viral hit apparently still haunts him. This has been going on for … years.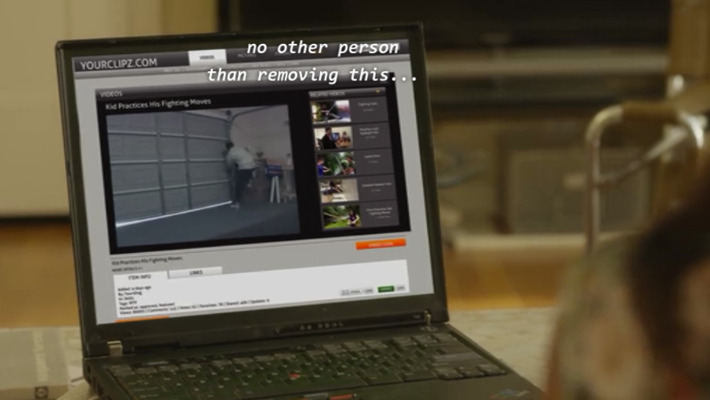 "Why give her the option?" G.M.B. crudely says to the hotel clerk regarding his (hopeful!) hotel room with Maeby, and he's definitely heard that elsewhere. Like in the Seinfeld pilot, in which Kramer advises Jerry not to bring a second bed into his apartment for a woman who's staying with him, asking Jerry, "Why even give her an option?"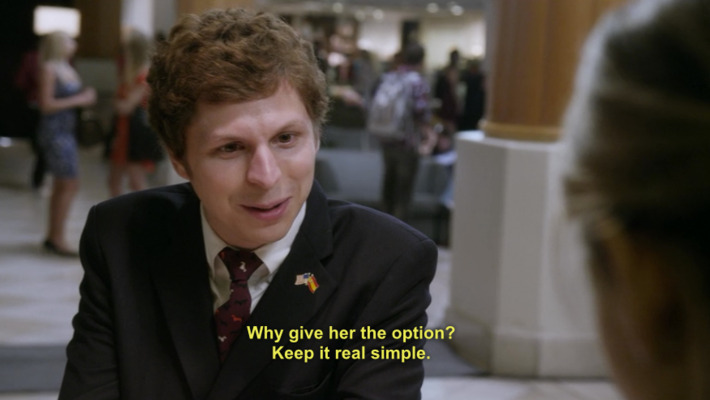 Props to the eagle-eyed AD fans at UPROXX, who spotted this very particular painting, one that appears quite a few times on Mad Men. And no, it's not the famous Rothko.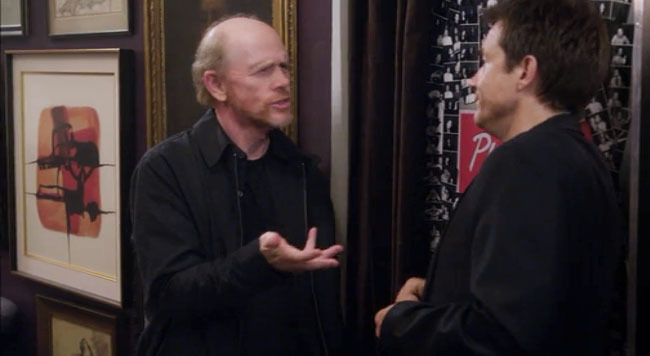 John Beard appears, once again.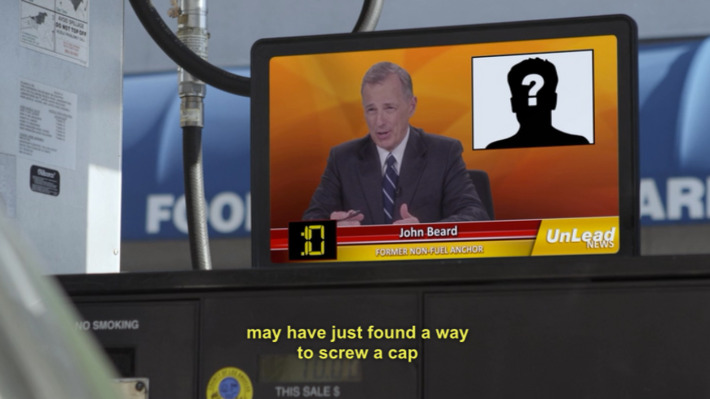 Who ordered the takeout from Klimpy's?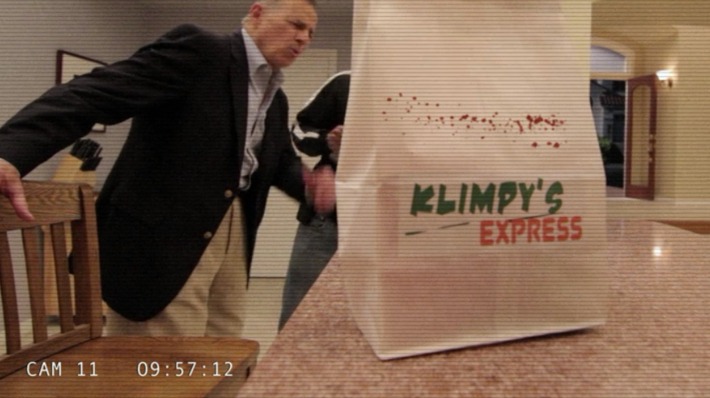 "If it was so wrong to lie, surely he would get some sort of sign … " (Someone must have let his brother borrow his phone.)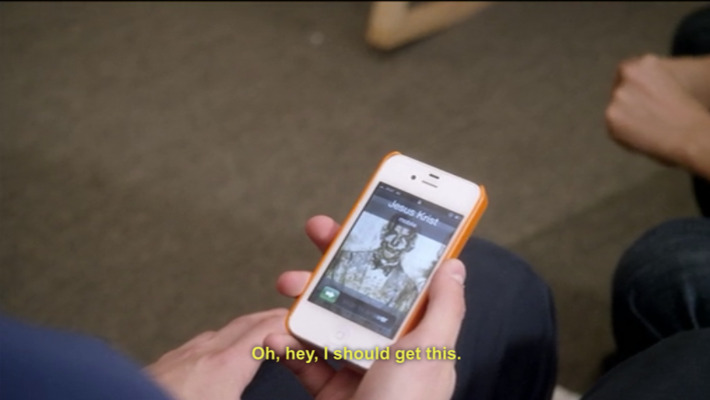 Does the "Next Week on Arrested Development" clip remind you of something? (And, no, not that Barry Zuckerkorn's only method of escaping imprisonment is "taking to the sea.")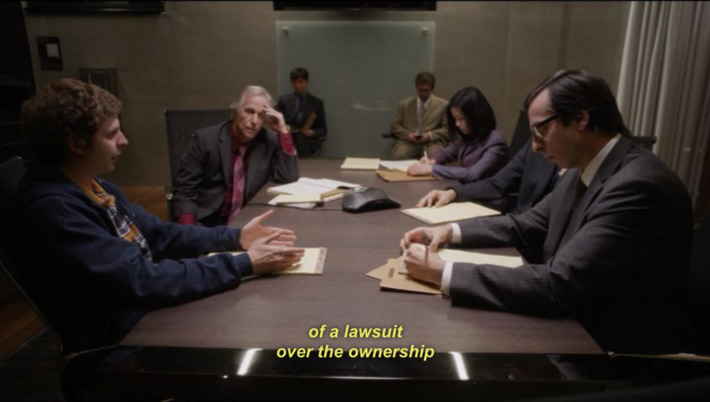 That's because it's a (heavy-handed!) reference to The Social Network — a film based around a lawsuit over Facebook (see: "Fakeblock") that starred Michael Cera look-alike (or act-alike) Jesse Eisenberg.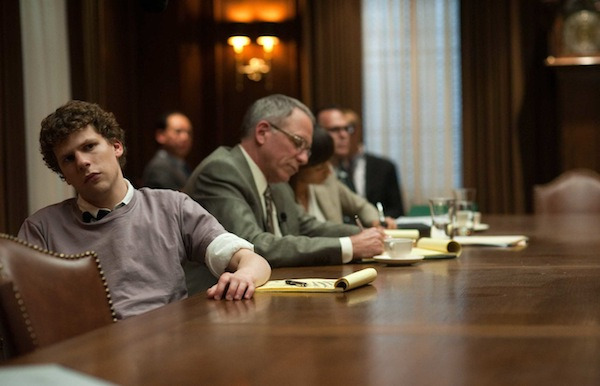 Episode 14, "Off the Hook"
As Buster Bluth is crafting his own version of Lucille to keep him company, he sits at a sewing machine naked — a lot like Buffalo Bill (a slightly creepier B.B.!), another man with mommy issues who crafted a lady suit out of actual lady parts. Someone grab Buster some lotion.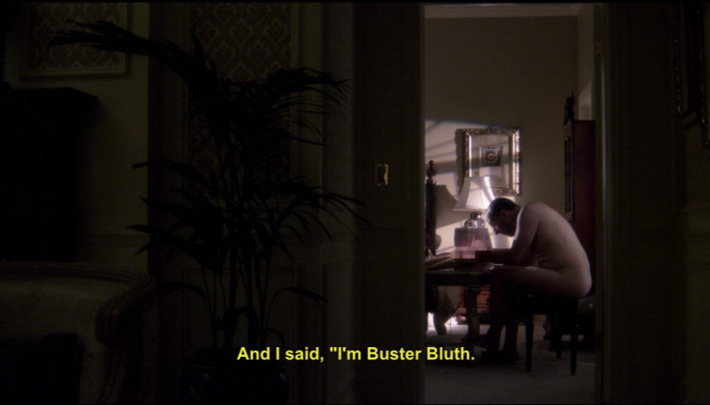 This is not the first time the Balboa Bay Window (the "official magazine of the Balboa Towers apartment complex") has featured Buster and his mother on their cover: They posed in white suits with 10-year=old Buster's article "Why I Want to Marry My Mother" ("Switch Hitter"); Buster and Lucille wore matching outfits for "Keepin' it Fresh!" ("Out on a Limb"); while he's deep in a coma, Lucille poses with Buster alongside the headline "It's Worse for the Mother!" ("Exit Strategy"); they appear again in "Indian Takers" with the title "Proposition Ape, as Lucille Bluth protests gay marriage by marrying a Gorilla"; and finally, under "Eternal Flames Offend at Motherboy," where Lucille dressed as Jackie Kennedy and Buster as John-John Kennedy as a ploy to lessen her sentence.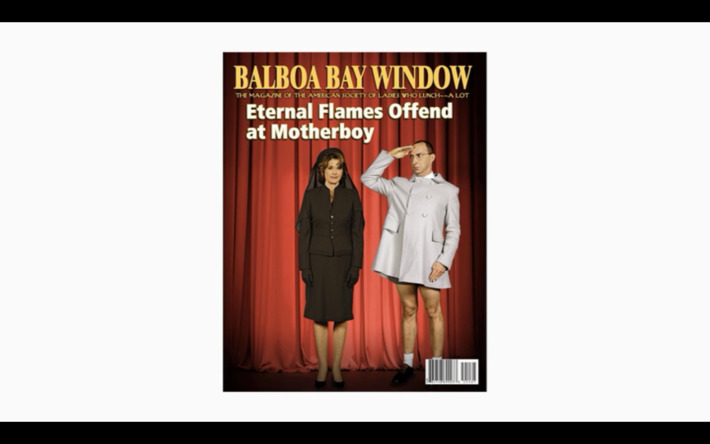 Speaking of Buster's John John outfit, as stops to perform that infamous salute, you can see the sunken Queen Marry in the background.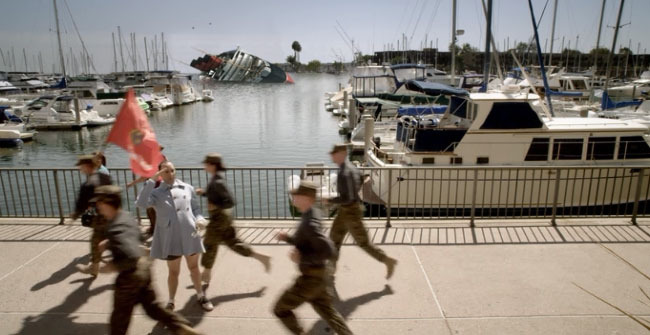 Buster banner(s)! (And this is why he was late to Lucille's trial.)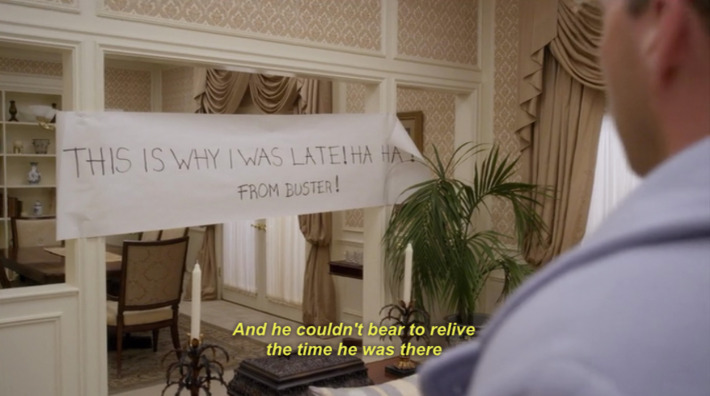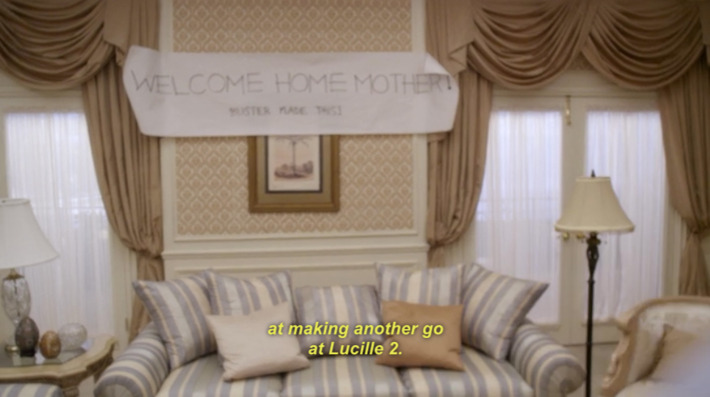 After the two touch heads, Buster is left with a bit of a reminder that Lucille 2 dyes her dark locks.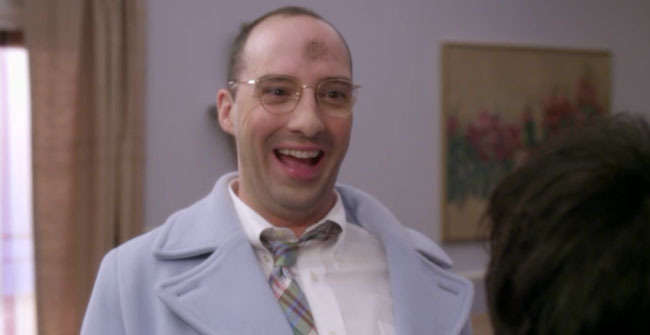 Mock Mother's Pie: SERVES 3–5 … YEARS! Just like Lucille, herself!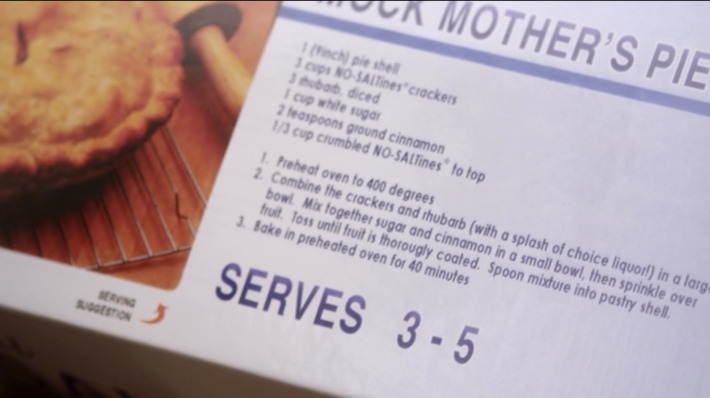 Buster's Boy Scout uniform, which once read "Kissa-Me Mommy" (the camp that was actually a tent in her mother's room), now reads "Visit-A-Me-M … "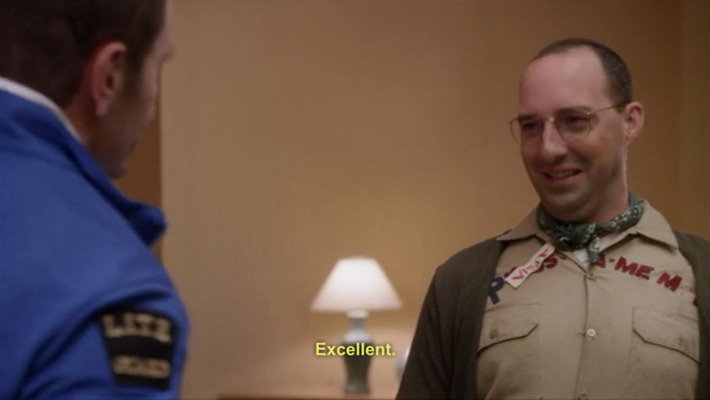 And while Buster attempts to sneak in with a disguise, you notice the L.I.T.E. Security rules include the famous "No Touching." All jails are the same.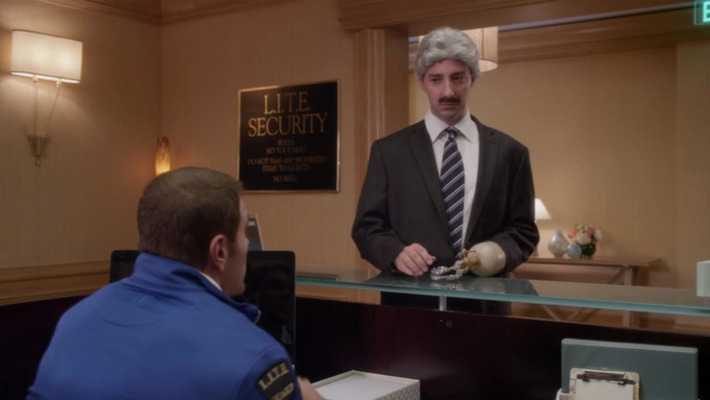 Ah, yes, the Literal Doctor returns: "Your son went down while piloting a plane over Afghanistan. He deserves a big hand for that and we gave him one." Well, kind of: Buster fell out of his seat while piloting a drone and received a large robotic hand to replace his hook.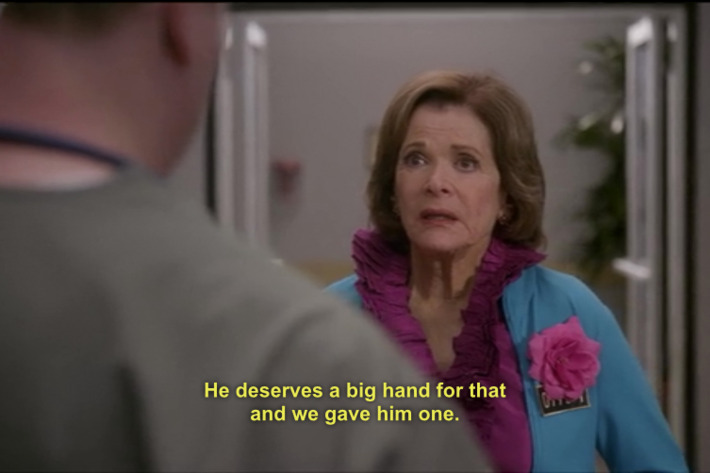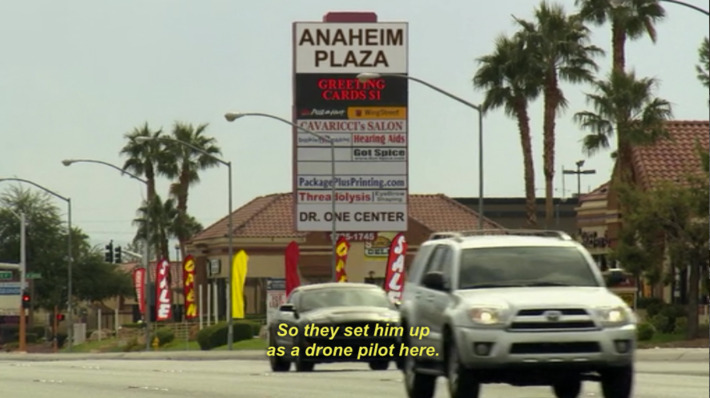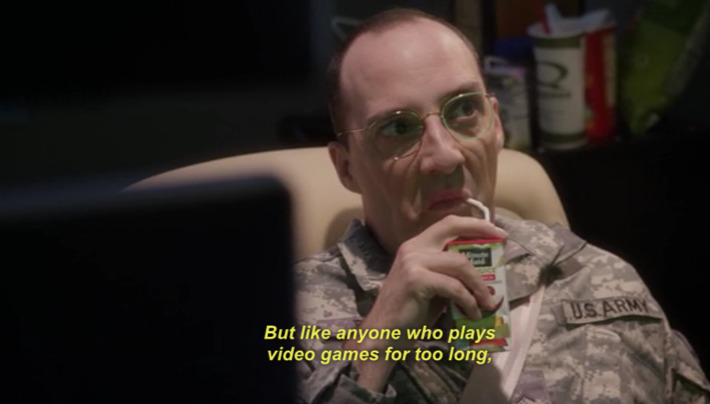 "Being read and destroyed for over 40 years!"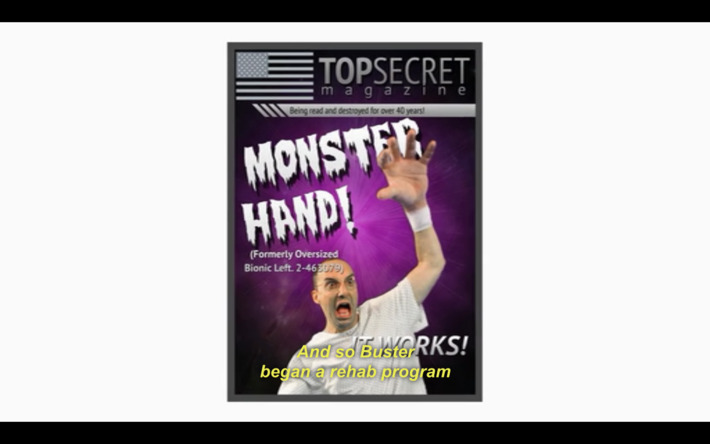 On the back of Buster's juice box? An ostrich who looks a lot like him, and a Lucille 2–type character riding him.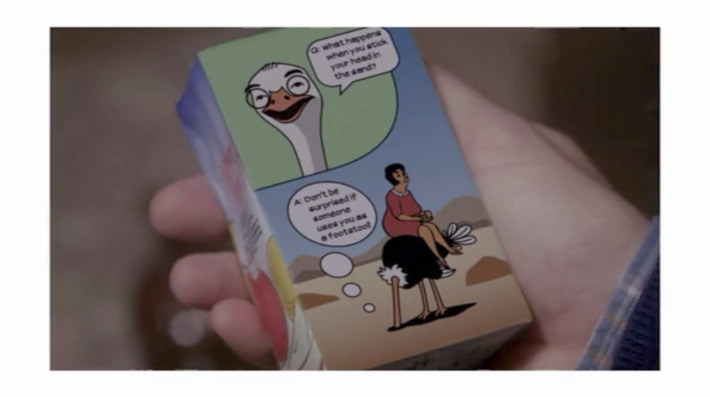 Lucille Austero's campaign ad is another shout-out to Liza M.'s musical career: "It's up to you New-port, New-port" is of course a nod to "Theme From New York, New York" — which Minnelli originally recorded for Scorsese film New York, New York in 1977.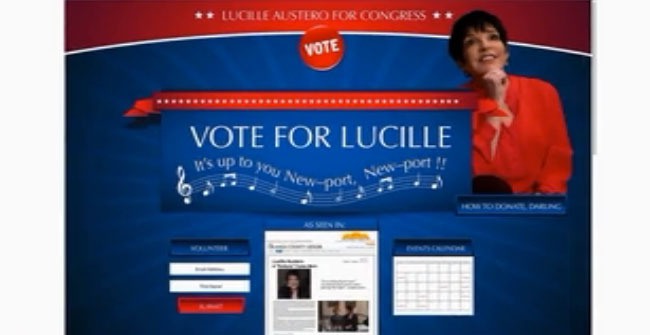 Never forget Lindsay Bluth's famous recipe for Hot Ham Water.