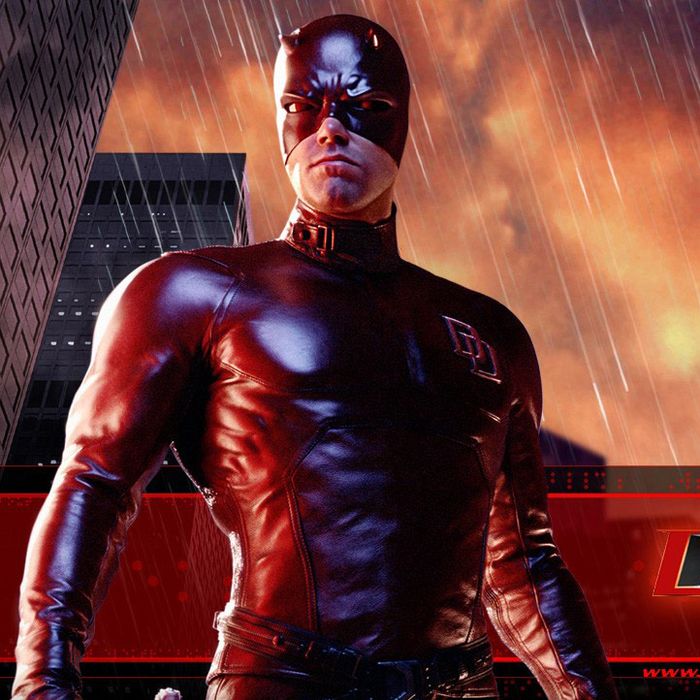 Ben Affleck and Jennifer Garner in 2003's Daredevil.
Photo: Twentieth Century Fox
You either woke up to a big surprise this morning (Ben Affleck is the new Batman!) or lost some sleep last night (will Ben Affleck suck as Batman? How can he not suck, or at least be super weird? Is Warner Bros. crazy? Actually, how crazy is Warner Bros.? Can the end result be any less fun than Man of Steel? Can it maybe be more fun?). Now the dust is settling and we must consider this new information. While we have no way of knowing how Affleck will play the Dark Knight — though we wouldn't be surprised if it came close to his dour portrayal of Argo's Tony Mendez, given how grim the Christopher Nolan DC universe has become — we do know one thing: Affleck already did the superhero thing a decade ago. In case you don't have access to 2003's Mark Steven Johnson joint Daredevil and/or don't want to access it, we put together a compilation of what critics and others thought about Ben Affleck, superhero.
Affleck wasn't dark and brooding enough:
"Ben Affleck leaps, wriggles, and — mostly — strikes poses, wearing what's meant to be a very cool red leather jumpsuit; he looks like Catwoman made over by Revlon. The film keeps insisting that Daredevil's soul is in torment, but it would be hard to think of a star who seethes with darkness less than Affleck." –Owen Gleiberman, Entertainment Weekly
"What Affleck can't give Matt or Daredevil is the haunted core of the comic-book hero Stan Lee and Bill Everett created in 1964 and Frank Miller darkened when he took over the drawing and writing in the 1980s." –Peter Travers, Rolling Stone
Affleck was actually too dark and brooding:
"Ben Affleck's 'DD' … [is] a brooder, too, and the writer-director, Mark Steven Johnson, whose first big film this is, loves to find him in heroic rumination, posed against the skyline, his body radiating fatigue and existential angst. He's the only superhero you can imagine knocking off at the end of a day, throwing the freakin' leather hood into the hamper, peeling off the boots and those skintight skin tights, collapsing on the sofa in his undies and reaching for a bottle of refreshing brown liquid. He seems human, that is to say. Too bad he's the only human thing in the movie. In fact, that's another oddity of Daredevil: Everybody eventually turns into something super or mythic, and poor Matt Murdock (Affleck) comes to seem the least remarkable of them. Compared with Colin Farrell's flagrant impersonation of Charlie Manson on angel dust, Affleck's broody narcissism feels undernourished." –Stephen Hunter, Washington Post
He handled superheroism more or less convincingly:
"[Jennifer Garner's Elektra Natchios] and Daredevil are powerfully attracted to each other, and even share some PG-13 sex, which is a relief because when superheroes have sex at the R level, I am always afraid someone will get hurt. There is a rather beautiful scene where he asks her to stand in the rain because his ears are so sensitive they can create an image of her face from the sound of the raindrops. … The movie is actually pretty good. Affleck and Garner probe for the believable corners of their characters, do not overact, are given semi-particular dialogue, and are in a very good-looking movie. Most of the tension takes place between the characters, not the props. … Affleck is at home in plots of this size." –Roger Ebert, Chicago Sun-Times
"The solid, square-shouldered Mr. Affleck is game, and his healthy, rosy-cheeked handsomeness makes him look like a rendering by John Romita, who drew Daredevil for a few issues in the 1960's." –Elvis Mitchell, New York Times
"Mr. Affleck does pull it off, despite a few clumsy lapses to which his fans will turn millions of blind eyes. He's witty by day and mostly plausible by night as a superhero with human failings…" –Joe Morgenstern, Wall Street Journal
"Expressing a conflicted and disturbed personality throughout, Affleck sweats, bleeds and suffers through his paces as a guy uncomfortable in his skin, and probably in his costume. Thesp has the rugged physical presence for the role and brings a degree of lightness to his scenes with Matt's comic-relief law partner (Jon Favreau), but doesn't project a private enthusiasm at playing a superhero." –Todd McCarthy, Variety
"Convincing in the physical demands of the role, Affleck persuades us of the pain of sightlessness and supersensitive hearing, although writer/director Johnson's scrappy construction fails him and everyone else as the showdown approaches." –Trevor Johnston, Time Out London
"I don't know. Ben Affleck as a superhero? With his bed-head thatch of tousled hair and crooked smile, he's sort of cute, I'll grant you. Still, he wouldn't have been my first choice to pour into the form-fitting burgundy leather bodysuit of the comic-book crime fighter known as Daredevil, a man who jumps off of buildings as easily as most people get up from the couch. But, then again, I probably wouldn't have cast Tobey Maguire as Spider-Man, either, and look how it turned out. Didn't see that one coming. Okay, so maybe with a little padding Affleck manages to pull Daredevil off, especially since the protagonist of the film, based on the Marvel Comics character, is Matt Murdock, a blind, insecure, self-doubting lawyer who can't maintain a relationship with a woman and who still hasn't gotten over the death of his father when he was 12. Now there's a role for Affleck. (Actually, it sounds more like a role for Philip Seymour Hoffman, but that's one actor nobody wants to see in leather.) Like Affleck himself, the film is perfectly satisfactory without being deeply satisfying." –Michael O'Sullivan, Washington Post
He handled superheroism more or less terribly:
"Affleck's rigid performance is a perpetual drag on the story." –J.R. Jones, Chicago Reader
"A big man, Mr. Affleck is shriveled by the one-dimensional role. Even his scarlet leather outfit makes him diminutive. The interlocked double D on his left breast makes him look like part of the food-service industry: 'Hi, I'm Daredevil, and I'll be your superhero this evening.'" –Elvis Mitchell, New York Times
"Affleck, in his maroon jumpsuit, flips from nowhere to nowhere in a black-on-black digital New York that seems based on sketches rejected by the creators of the first Batman. In last year's Changing Lanes, Affleck woke up as an actor, but in Daredevil he tries for a light-voiced, unemphatic presence, and he registers no more powerfully than he did in Pearl Harbor. In these big movies, he seems a put-on movie star, a lazybones puffed by enormous helium bursts of publicity." –David Denby, New Yorker
"Casting Affleck would have paid off had the conflicted, acerbic star of Boiler Room, Changing Lanes, or even Bounce shown up. Instead we're left with the cardboard hero of Armageddon and The Sum Of All Fears, a caretaker leading man wholly dependent on the quality of the movie around him. Sadly, there's not much of that." –Keith Phipps, A.V. Club
"Daredevil is an action blockbuster that's one of the biggest misfires in its genre since Godzilla almost five years ago. Based on Stan Lee's comic book series, it takes sunny, uncomplicated Ben Affleck and casts him as a dark, tormented figure. Affleck is no Heathcliff, and he's no Robert Mitchum. He can play one thing — a genial guy with a sense of humor. Cast as something else, Affleck is still funny, but not on purpose. … Daredevil ends up in a dead zone, where the jokes are ugly and the attempts at seriousness come across as absurd or bizarre." –Mick LaSalle, San Francisco Chronicle
"For the last couple of years, Ben Affleck has been working to wipe the smirk off his face and to look as if he isn't part of some colossal scam to convince the American public that he's a movie star. He has been surprisingly successful—he was even compelling in last year's Changing Lanes. The problem is that without that smirk he doesn't have much personality. He seems like a good-guy stockbroker; you'd want to go out with him for a couple of drinks and some nachos. He works hard in Daredevil to look drawn, obsessed, grief-stricken, but his best moment is his one and only smirk. It's when he sniffs Jennifer Garner (from Alias) in a coffeehouse, then trails her outside and engages in martial arts in lieu of a courtship. This is also the movie's best Hong Kong moment: The fighting is hilariously casual, the way it is when Fred and Ginger carry an argument into a dance. Affleck and Garner backward-somersault out of each other's way and then hop on top of a seesaw, where they take the measure of each other's weight. He's wonderfully cocky, and Garner comes alive when she fights — when those long limbs and that almost-beautiful fish face are in motion." –David Edelstein, Slate
Lastly, Ben's own thoughts:
"I think we missed a lot in that movie." –Affleck to MTV in 2010
"I made a bunch of movies that didn't work. I was ending up in the tabloids. I don't know what the lesson is, except that you just have to find your compass. I liked Sum of All Fears. Daredevil I didn't at all. Some movies should have worked and didn't. At a certain point, it's just up to the movie gods. Anyway, this image becomes a self-fulfilling prophecy. And I just said, 'I don't want to do it anymore. This is horrible. I don't want to be in this spotlight, this glare, in this way. It's tawdry, it's ugly, it's oppressive, and it's inane. So I'm going to try to get away.' And most of the way I did that was by not acting. I said, 'I'm going to steer myself toward directing. I'm going to do something that takes me toward a place where the work that I do is reflective of what I think is interesting dramatically.'" –Affleck to Details in 2012