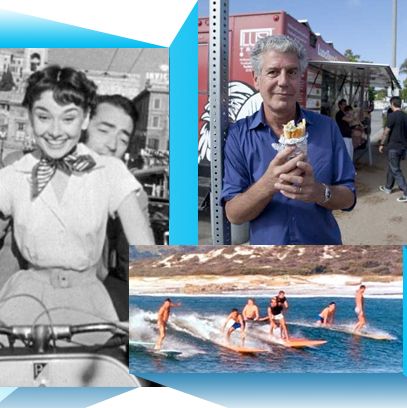 This weekend, you can either seethe with envy over your many friends who are embarking on August vacations, or stay at home and pick one of approximately 14 billion options available on streaming over a variety of services, be it Netflix, Hulu, Amazon, On Demand, or other sites. Every Friday, Vulture tries to make life easier by narrowing it down to a handful of heartily recommended options. This week we curate your worldly "staycation" with the ultimate surfing documentary, a travel show with bite, and a road trip down Che Guevera's memory lane.
The Endless Summer
The title of Bruce Brown's 1966 surf documentary is derived from a plan set forth by the filmmaker and his two stars, Mike Hynson and Robert August. If a surfer had enough money and ambition, they could counter the Earth's seasonal plans and find prime riding conditions for an entire year. The Endless Summer becomes a scouting mission for the duo, traveling from California to the coasts of various nations in search of the perfect beaches, the perfect waves, the perfect temples for their brand of aquatic Zen. Accompanied by a kickin' surf-rock score by the Sandals (an aural vacation available on Spotify), Brown's film is a meditative look at the art of boarding with stunning photography that should wow even those weaned on the X-Games. (Amazon Prime)
Roman Holiday
A cynic may begrudge Audrey Hepburn's Princess Ann, the central character of Roman Holiday, for wanting to escape her royal lifestyle for the "stress-free" life of a commoner. But that step down the social ladder plays into the 1953 rom-com's whimsical fantasy. If Roman Holiday is to be believed (and Hepburn's hypnotic eyes suggest it should be), one doesn't need to be a queen-in-waiting to have the most romantic night of all time.
Like a post-war Before Sunrise or an elegant version of Disney's My Date With the President's Daughter (for you nostalgic nineties children), the film sets Hepburn and Gregory Peck on a whirlwind tour of Italy's ancient capital. Peck plays a journalist who eyes Ann as the interview scoop of a lifetime. The princess, perhaps naively, looks past the ulterior motives of her dapper tour guide and Vespas through the city streets, soaking in the freedom. It's an epic first date, and by the time the two arrive at the Mouth of Truth sculpture, the relationship is sparking like a loose wire. (Available on Netflix)
Anthony Bourdain: The Layover
No one is perfect, even in paradise. That's the charm of chef turned roaming personality Anthony Bourdain and his many travel shows. He's passionate for exploration and has killer tastes in everything from delicacies to junk food. But as we follow him on adventures, he reveals himself as susceptible to the annoyances of globetrotting, just like the rest of us. Most TV travel programming is akin to looking at a postcard. A Bourdain show drops us into the thick of a place, for better or worse.
In 2011, while his foodie travelogue No Reservations was still in full swing, Bourdain mounted a second show, The Layover. The hour-long Travel Channel program opened the scope from good eats to anything Bourdain deemed fascinating. With the titular 24 to 48 hours to kill, Bourdain sets out to maximize cultural absorption in cities like Hong Kong, London, and San Francisco. And somehow, The Layover becomes even more personality-driven than No Reservations. Bourdain can't resist a wild meal during his stays, but his curiosity draws him into everything from high-end suit shops to bath houses to Singapore fashion shoots. If the experience is wondrous, Bourdain says so. If it's on par with the depths of hell, he tells us that too. (Available on Hulu Plus, TravelChannel.com)
The Motorcycle Diaries
Warning: Motorcycle trips across the plains of Argentina may result in the indoctrination of extreme Marxist philosophies. That's how it went for Che Guevara, who hopped on a two-wheeler with his biochemist buddy Alberto Granado in 1952 and returned home with a new life mission. Director Walter Salles's 2004 drama casts Gael Garcia Bernal as the 23-year-old pre-revolutionary and films the life-changing vacation in the very places Guevara traveled across a half century earlier. Salles makes a case that the stunning landscapes of the South American countryside were as important to Guevara's developing consciousness as the situations he witnessed along the way. Fog rolling over hills, verdant forests, and wheat fields waving in the sun — poeticism paved the way for contemplation. The Motorcycle Diaries reproduces it for all of our senses. (Available on Netflix)