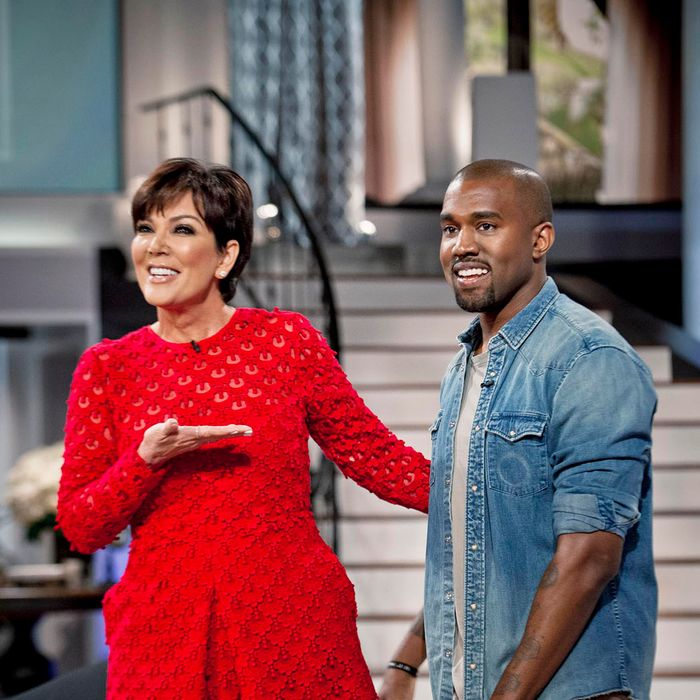 The Kris Jenna Show / Kanye West
Photo: Barry J. Holmes/FOX
Today, Kanye West gave perhaps his most endearing interview ever, to his girlfriend Kim Kardashian's mother, Kris Jenner. He was at his most likable: thoughtful, funny, and completely open about his adoration for his girlfriend and their new daughter, North. There were enough smiles in one hour to make up for the lack of them in the past (which he addresses), and he even shared a long-awaited photo of the young West. It was a fun, fuzzy time. Here were some of the best things he said.
• "I remember seeing pictures with [Kim], I think she was in Australia with Paris Hilton or something, and reading her name and telling my friends, 'Hey, have you guys ever seen Kim Kardejohn?'"
• "I had this TV show I was working on that had puppets around it, like a modern-day Jim Henson vibe, 'cause I'm really into creative ideas like this, and we were doing this skit where I was playing a Star Wars character and I wanted her to be Princess Leia because she was my dream girl."
• "When my daughter was first born, people were asking me, 'How do you feel? Is anything different?' And it's like, 'No. Not really.' It takes time to understand this person."
• "I'm supposed to be this musical genius and everything, but I can't really work the car seat. And I'm embarrassed even just in front of my girl, when I can't work the car seat."
• "If you're around people that are only there to make money off of you, you already feel like, wait a second, these aren't your friends. If you're around your friends, your friends make you smile. Think about when you were in high school. If there was someone who came up to you every day to take your money, to go in your pockets, there's nothing they can say to you that makes it better. It's almost worse when they say something positive. Cause I don't know if you've seen me say to the paparazzi, 'Don't talk to me,' because it's really more patronizing than anything."
• "I'm gonna talk to the mayor of L.A. I'm gonna talk to the Mayor of New York about zoning. I should be able to drive my daughter to school without twenty people putting other people in danger."
• "People are like, 'Wow he's not smiling.' And the thing that makes me happier more than anything is to NOT see [the paparazzi]. Obviously I'm not gonna smile."
• Kris: You're the softest, sweetest …
Kanye: Please don't call me soft, as a rapper.
• "I'm actually more of a visual artist than a sonic artist. I've been in art school since I was 5 years old."
• "There's only one brand now, and that's family. That's the only brand I care about."
• "Rob gave me this, and it's just 'What Would Jesus Do?' and I love it. it's just such a cool bracelet and I'm a Christian and I wanted to let people know that that's what's on my mind. It's important to me that I grow and walk and raise my family with Christian values."
• "After I lost my mother, I felt like I would put my life at risk. I felt like sometimes I didn't have something to live for and now I have two special people to live for, a whole family to live for, a whole world to live for."
• Kris: [Reading a quote from President Obama.] "Kids weren't monitoring every day what Kim Kardashian was wearing or where Kanye West was going on vacation. And thinking that someone that was the mark of success."
Kanye: So, Obama basically said we're the new American Dream. I think he was posing it as I was supposed to take it in a negative way, but I just feel that the president mentions me. Thank you very much, Obama. I do think people should wanna go on vacation! As Obama is talking about that, yes, they're looking at what she's wearing and they're looking at where we're going on vacation because we relate to this new information age. They'll be more people getting passports … They'll hear a song and say like, "I wanna be a "N*** in Paris." I wanna see what this is about! … You have to bleep the Paris word?