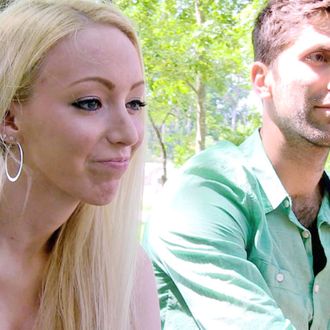 What's striking about this week's Catfish is how relatively un-Catfish it was (passing over the small matter of a WMD arrest). Moving along!
In light of Nev and Max's usual convoluted ops, this one was pretty straightforward. Jesse and Brian were introduced on Facebook by Fran, Jesse's ex-boyfriend. The guys served together in Afghanistan (and it's clear that the tour traumatized them both deeply — their war stories cast a sobering mien that's rarely, if ever, present on the show), so it was reasonable to assume Brian existed. When he hooked them up, however, Fran neglected to tell Jesse that Brian was married and suffers from not inconsequential PTSD. Friends, don't let your exes grow up to be yentas.
Ultimately (and kind of sadly), it didn't work out for the couple. Your tweets reflected the range of topics this episode raised, from too-soon family meetings (Brian's mom: "You're cuter than I thought") to the legality of sawed-off shotguns in Alabama to the proverbial sexual "test-drive." Also, can we pause for a sec to note Nev's discernible leer when he asked, "So after dinner, didja fool around a little?" Ew, mang.