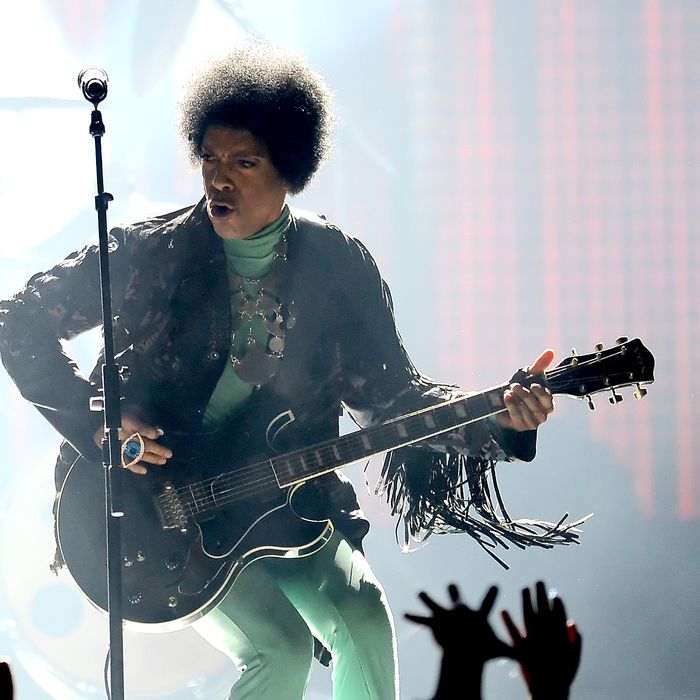 Prince performs onstage during the 2013 Billboard Music Awards at the MGM Grand Garden Arena in Las Vegas.
Photo: Ethan Miller/2013 Getty Images
This story was originally published in 2013.
Someday, if you have even just a touch of funk in your soul, the universe will conspire to give you an opportunity to see Prince live in concert. Rest assured, it will happen. Do not let that opportunity pass you by. No matter the cost, no matter the inconvenience, no matter if you're too traumatized by a twerking Miley Cyrus at the VMAs to move, no matter if you've just heard about the concert and it's happening in ten minutes, no matter if you only know that Prince's band, New Power Generation, is playing and there's only a slight chance that the man himself might show up — get your ass there. This is a public service announcement.
And I say this as someone who's missed out on seeing Prince three times so far. Back when I was running this magazine's party reporting operation, in October 2008, I got an invite to a party for Prince's new book, 21 Nights, but for some dumb reason felt too frazzled to go and sent a reporter. Prince played back to back shows (at least an hour and a half each) on the rooftop of the Gansevoort Hotel. The reporter, Bennett Marcus, who has seen a lot in his time, still calls it one of the best things he's ever attended. I count it among my deepest regrets. And then just this past Thursday, at 11:30pm, I got a blast email from City Winery announcing that Prince would be reuniting with NPG at midnight — as in half an hour from then. I was on a date in Brooklyn, and by the time he got back from the bathroom and I asked him if he wanted to go, the concert was already sold out. It was, by all reports, amazing-cakes. So when I found out that Prince might return to play NPG's sixth and final show of their weeklong residency at the tiny venue last night (capacity: 500), I knew there were only two paths: Get there by any means necessary or yet again be filled with deep, aching regret. The choice was clear.
The line at midnight stretched a block down as City Winery staffers warned that NPG had their own security team in addition to the venue's, and that both details would be confiscating the phones of any patrons caught taking a photo and then throw them out. (And impressively, many intrepid souls ignored the warning.) The band, which has an 11-piece brass section and badass ladies on keys (Cassandra O'Neal) and vocals (Shelby J. and Liv Warfield), went on at around 1am, playing their own songs. The show would have been great even if Prince hadn't come and destroyed.
"We ain't got no curfew tonight!" Shelby J. told the crowd. "We're gonna party till the sun comes up!" We had no idea what we were in for, though. Alice Smith guested brilliantly, and briefly, as did Luke James. Cee Lo Green, possibly wearing pajamas or a bathrobe, who made time in a busy night of playing the VMAs and Brooklyn Bowl, stepped in to perform Prince and Sheena Easton's 1987 hit "U Got The Look." Doug E. Fresh stepped up to teach us how to Dougie in various scenarios, as if he were also jumping rope, for instance. He also did roughly a minute straight of vocal drum machine virtuosity, counting down the measures on his fingers, and then performed "The Show" and "La Di Da Di," and did a really fun clinic on rhyming where we filled in the words (Fresh: "Five plus five equals …" Audience: "TEN!" Fresh: "Japanese money's called …" Audience: "YEN!"). And then. And THEN. Out came Sly and the Family Stone's Larry Graham in a white suit and wide-brim white hat with a sparkling silver shoulder strap for his white bass. There was some ""Everyday People" and "Higher" and "Dance to the Music" and "Thank You (Falettinme Be Mice Elf Again)" bleeding into "Thank You for Talkin' To Me, Africa" and a few more songs I can't remember because I was apoplectic with joy at that point.
Finally at 3:14am, Prince came onstage, rocking a huge, tilted black hat and shades, introed by Donna Grantis and Ida Nilsen of his new femme-power backing band, 3rd Eye Girl, both wailing on guitar like, "Yeah, we play guitar for Prince, NBD." He launched into "Strays of the World," then moved seamlessly into a medley including Chaka Khan's "Ain't No Body" and Mary J. Blige's "Family Affair." The hat came off, revealing Prince's glorious curls, as did the coat, revealing a sleeveless black mock turtleneck and gold chains. "Superconductor," "1999," shit was crazy, a specially modified version of "All the Critics Love U in New York" ("New York ain't got no rhythm…", he improvised, like a challenge, it seemed). During every instrumental, Prince was there, holding or adjusting the mike for each saxophonist or horn player, dancing and clapping his hands in appreciation. "Turn up the horns!" he'd shout, or command that the lights be turned on so he could see the crowd, or completely off for "Dark." "I'm really tired of people pleasing," he said before launching into "People Pleaser." He took us to church, and at one point did a Prince faint, with the entire band rushing over to pretend-revive him. Old collaborator Tamar Davis joined him on "Nothing Compares 2 You" at 4:14am, an hour into a set that seemed nowhere close to ending. The entire brass band came center stage for "Courtin' Time," and then Larry Graham came out for "Get on the Boat," the supposed end of the set. Prince told the crowd to "support real music," and walked off stage. (Check out this complete set list from a French website and this one from Brooklyn Vegan; Questlove also did a Twitter blow by blow.)
But yeah, this was no curfew night and Prince was only getting started. "You gotta go to work tomorrow, but this is my job. This" — the stage — "is where I work," he said, before promising that "This turnaround is gonna be so hot you're gonna think it's an act of God," and started playing "Act of God." There was a cover of Janet Jackson's "What Have You Done For Me Lately" and Jackson 5's "Dancing Machine." He left the stage again, only to start Encore #2 with a nine-minute solo piano medley at 4:50am ("Diamonds & Pearls" "Dorothy Parker" "Do Me Baby"). "How many of you know about the group the Time?" he asked, playing his '80s side group's amazing hit "Cool." ("Ceeee-Oh-Oh-Lllll" "Are you hot?" "No." "Do you know why?" "Yeah" "Because you're cool.") Doug E. Fresh came back out, and Prince broke out his guitar. They blazed and left the stage, only to come back for Encore #3 at 5:15am, joined by Larry Graham for a long blues jam sesh, finishing out with "Take Me With U," "Raspberry Beret" and "Plectrum Electrum." The crowd roared for more, and the band and Prince seemed like they could keep going till next Tuesday. But at 5:37am, the lights came up for good. All told, those horn players had been blowing their hearts out and dancing for five hours straight.
Together, we all stumbled back out onto Varick Street, where the sky was turning grey in the pre-dawn. I slept on my friend's office floor, got some coffee, and went straight into the office. Some lucky dudes got to see Prince wandering around Tribeca as the sun came up. No regrets ever again.