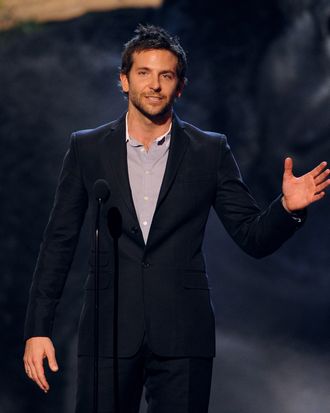 Actor Bradley Cooper speaks onstage during Spike TV's Guys Choice 2013 at Sony Pictures Studios on June 8, 2013 in Culver City, California.
Photo: Kevin Winter/Getty Images
Deadline reports that Bradley Cooper has signed on to produce and potentially star in the Jay Roach–directed Red Blooded American, one of the three (yes, three) Lance Armstrong movies in development. He'll likely play either Armstrong or Tyler Hamilton, a former teammate who came forward about Armstrong's behavior. Oddly enough, Cooper was once approached to play Armstrong in a J.J. Abrams–produced Lance Armstrong movie. With these two, and the Ben Foster version, it's going to be a real race to whoever gets their movie into theaters first. Someone should take movie-making steroids.