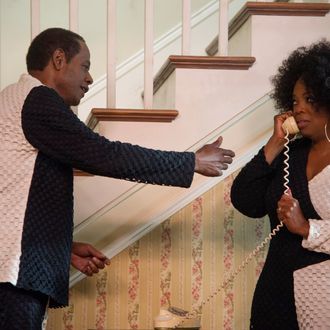 FOREST WHITAKER and OPRAH WINFREY star in LEE DANIELS' THE BUTLER
Photo: ANNE MARIE FOX/? 2013 THE WEINSTEIN COMPANY. ALL RIGHTS RESERVED.
Despite the release of three new movies this weekend, Lee Daniels' The Butler maintained its place atop the box office, bringing in $17 million in its second week out. And, just like last week, the Jennifer Aniston-powered We're The Millers took second place with $13.5 million (Did you hear that the 44-year-old plays a stripper? Moviegoers sure have.) In third place was teen bait The Mortal Instruments, which made $9.2 million. The fourth spot went to The World's End, a "most entertaining" final chapter to Simon Pegg's cornetto trilogy, which opened with $8.9 million. Disney's animated Planes rounded out the top five with an $8.6 million weekend haul. Meanwhile, the horror film You're Next premiered in sixth place with an even $7 million.