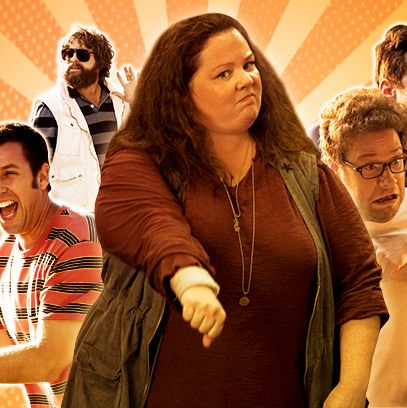 Hollywood studios pump big money into big movies hoping for even bigger rewards, but if you redistributed the $250 million budget of The Lone Ranger, one of this season's most notorious underperformers, you could finance every single one of this summer's studio comedies, all but one of which were profitable. They may not sell a lot of toys (though we'd totally buy a This Is the End devil doll, complete with swinging dick), but comedies are good for a studio's bottom line, and this summer, the freshest formulas paid the most dividends. After yesterday's analysis of the past season in action blockbusters, here's a closer look at the six big studio comedies that came out this summer and what their healthy box-office haul might mean for summers to come.
The Heat, $154 million
Originally scheduled for an April 5 bow, Fox wisely moved The Heat to the end of June, a scheduling fillip that made this Sandra Bullock–Melissa McCarthy vehicle the summer's top laugher. Timing is everything in comedy, and The Heat took full advantage of several narratives converging at the perfect moment: It was the first comedy Bullock made after her Oscar win, McCarthy was on a hot streak after February's $134.5 million grossing Identity Thief, and female audiences were starved for onscreen representation after a summer of dismal distaff roles (on its opening weekend, two thirds of The Heat's audience was composed of women, most of whom were over 35). That first-weekend take of $39.1 million marks a personal-best for Bullock, who's had the three highest grossers of her career over the past five years (only The Proposal and The Blind Side posted higher numbers than The Heat). Hollywood is notoriously hostile to its actresses as they enter middle age, but as Bullock prepares for her 50th birthday next July, she's clearly bigger than ever.

But will there be a sequel? Though the movie practically begs for it, Bullock says she's reluctant to go back for more: "I know they say never say never, but right now, I can't imagine it," Bullock told Entertainment Weekly. "If you look back on my illustrious sequel work, nothing has proven successful." Perhaps Bullock is on to something: Comedy franchises can be a hard thing to sustain, as the makers of our next two movies discovered this year …
Grown Ups 2, $125 million
First, the good news: Grown Ups 2 restored some of the luster that had faded from Adam Sandler's star after the back-to-back failures of That's My Boy and Jack and Jill. This is the first sequel Sandler's ever made, and he chose wisely: The $41.5 million Grown Ups 2 earned on its first weekend makes it one of Sandler's biggest openings ever; the still-percolating total box-office take of $125 million is his biggest since … well, the first Grown Ups in 2010. But there's the rub — the first Grown Ups made $162 million; this one is destined to come up $30 million short. It'll still prove profitable if it follows the first film's overseas trajectory — Grown Ups made $109 million abroad in 2010, the most a Sandler film has ever taken home in foreign grosses — but this ensemble doesn't come cheap, and the sequel's budget ballooned to over $90 million. So rejoice, critics: Even though Grown Ups 2 was a success, Grown Ups 3 is far from a sure thing.
The Hangover Part III, $112 million
… And maybe that's for the best, since The Hangover Part III proved that the third time isn't the charm for most comedy franchises. Unwisely pitted against Fast & Furious 6 — a series that continues to grow its audience with each installment — Hangover Part III limped to an opening-weekend total of $41.6 million, less than half of what Part II made in its first weekend. And while Warner Bros. might have expected some audience attrition for Part III, studio executives were shocked by that final tally: The movie made a staggering $142 million less than Part II domestically. What went wrong? The popular theory is that Part II poisoned the well: Though that installment posted monster grosses, it was criticized for being a carbon copy of the first movie, and the spark of surprise that had once distinguished the series had long since been extinguished. It didn't help that Part III's stars — especially Bradley Cooper and Zach Galifianakis — seemed to have moved on from the series; not only did they appear bored onscreen, but they did far less promotion for Part III than they had for the past two. Once again, foreign grosses will be the godsend here — the $350.1 million worldwide take more than justifies the movie's $103 million budget — but still, expect Hangover III to stand as a cautionary case study for any comedy franchise blessed enough to be pondering a threequel.
This Is the End, $96.5 million
Let's not sugarcoat this: If it weren't for Sony's two comedies Grown Ups 2 and This Is the End, the studio would have suffered utter collapse this summer. When all is said and done, Seth Rogen's apocalypse comedy will have outgrossed every single one of Sony's action offerings this season, including After Earth, White House Down, and Elysium — and it did all that on a $32 million budget, to boot. That's a nice feather in the cap for Rogen; in fact, This Is the End surpassed his last team-up with James Franco, Pineapple Express, by almost $10 million. Sure, there's no chance of a sequel (the thing about ending the world is that you can't do it more than once), and foreign grosses are miserly, but the movie is still a solid, in-the-black hit for its beleaguered studio. Just two years ago, nearly all of Sony's biggest grossers were lighthearted hits like Bad Teacher, The Smurfs, and Just Go With It; as soon as Sony executives can stop crying, they'd better start laughing.
We're the Millers, $48.7 million (and counting)
Maybe we all need to take another look at Jennifer Aniston. Sure, the Friends star has had a scattered few big-screen missteps — Wanderlust and The Switch, to name two — but when it comes to actresses who can be counted on to open a movie, Aniston has lifted nine comedies over the last ten years to a first weekend over $20 million. Not bad! We're the Millers has been overperforming since it opened nine days ago, and it's been outgrossing its bigger-budgeted competitor Elysium every day since Monday. It'll wrap up its run as one of the highest-grossing comedies of the year, which is yet further proof that women really want to see female-led comedies. How many more of these successes does Hollywood need before they're the norm instead of the exception?
The Internship, $44.4 million
The only funny thing about The Internship was the Onion headline it produced: "The Internship Poised To Be Biggest Comedy Of 2005." In a genre where it pays to be fresh, everything about this movie felt stale: The reunion of Wedding Crashers stars Vince Vaughn and Owen Wilson came years too late, and its "old dudes need to figure out the Internet" jokes were even further past their sell-by date. (A lame trailer and unattractive marketing campaign further compounded the problem.) While the movie's failure dings Wilson, it's Vaughn who it can be hung around like a millstone: The 43-year-old wrote and produced the movie, his third consecutive flop after The Dilemma and The Watch. Maybe if he'd cast Sandra Bullock and Melissa McCarthy as the interns instead …