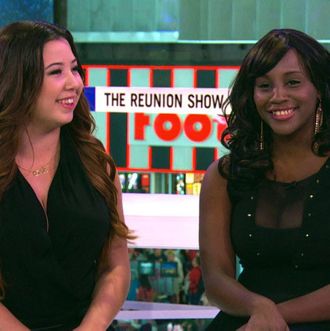 Twitter talk around Catfish's mid-season check-in resembled the idle gossip at a typical class reunion: Who lost weight (Framel), who's getting married (Lauren, if she has her way), and who will be first to pop out his or her fake eye for impromptu Show and Tell (thank you for refraining, Kristen).
Other developments that occupied your Twitter real estate: Someone put a ring on Loyda (that she didn't buy herself, natch); Cassie and Gladys seem to have genuinely mended their friendship; Nev and Max shot the fair one; and Ginger the pooch — breakout star of Jen and Brian's episode — somehow copped the Rizzo-worthy Pink Ladies jacket over which we've spent years pining.
Arguably, the show's most notable insight came from Jen, whose traumatic Catfish reveal memorably awoke both Nev and Max's latent Mama Bears. When asked a question that many of us ask ourselves — and each other — every week when we watch this show ("Why even seek a relationship on the Internet to begin with?"), Jen's lucid reply ("You [just] have a fresher start online") was one that resonated with anyone who has ever desired only a meaningful human connection and a clean slate — with or without a modem.
Or maybe it's really a harbinger for "shit's about to get cray."