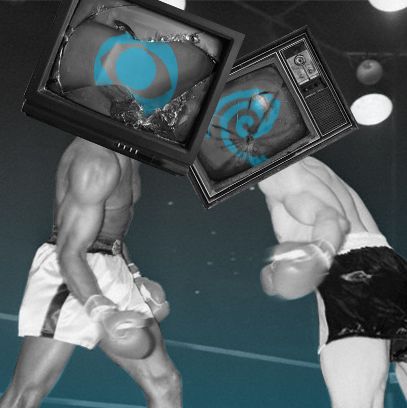 As part of Time Warner Cable's efforts to convince 3 million of its customers that CBS, and CBS alone, is responsible for the fact that they have not been able to watch Big Brother or Showtime's Dexter since the cable provider–network standoff began Friday, TWC yesterday started pushing sponsored tweets declaring that the Eye was "punishing viewers with a Classic Broadcaster Shakedown." Hilarious and well played, right?! Let Twitter user @BrianShortall be the judge: "Okay, huge corporation," Shortall replied to TWC's tweet. "I'll take your side over the other huge corporation. Fuck both of you." A bit harsh, maybe, but Shortall's frustration — as well as his "a pox on both your houses" attitude — is completely understandable, and likely shared by more than a few TWC customers who now find themselves former CBS and Showtime viewers as a result of the cable provider and network battling it out over the increased "carriage" fees being demanded in exchange for the right to air the channels.
It's an emotion becoming all too familiar to entertainment consumers as these shutdowns grow more frequent: Last October, for example, Dish subscribers missed the season premiere of The Walking Dead because of the satellite provider's four-month spat with AMC, while earlier in 2012, Viacom cable networks such as MTV and Nickelodeon vanished for more than a week as the two companies slugged it out. There have been more, and each time, the massive media companies in question have assaulted consumers with advertising blaming the other for the mess. But just for a moment, let's put aside who's more right or wrong in all of these battles. What neither side seems to realize, or just don't seem to care about, is the absolutely awful timing of all of this trash talking and tantrum throwing. Entertainment consumers are beginning to realize that, with the right tech fix, they no longer need to pay triple-digit monthly bills in order to watch TV. Sure, these carriage disputes may be crucial to the short-term bottom lines of the companies involved — but by pushing viewers to cut the (cable or satellite) cord, both sides are overlooking the very real possibility that they're simply hastening the demise of an old order that has served them both well but is by no means permanent.
It's true that cord-cutters, as the TV industry calls those who get rid of cable or satellite in favor of various à la carte options such as iTunes and Netflix, are still a tiny minority of U.S. video consumers. But a study by Moffett Research out this week shows that the practice is rapidly gaining acceptance: Just under 1 million American homes snipped their wires in the past 12 months, nearly four times the number (258,000) that cut the cord the year before. "Cord cutting used to be an urban myth. It isn't anymore," the study concluded. What's more, there's evidence that younger video consumers are never plugging in the cord in the first place. As the economy slowly improves and twentysomethings finally set up their own households, many don't even bother to buy a cable or satellite subscription (see also: telephone landlines). That may be one reason why, after decades of near-constant growth, the number of U.S. homes paying for TV has been shrinking in recent years, with Moffett estimating this year's net decline at about 3 percent.
It's against this backdrop that TWC and CBS are engaging in the latest public pissing match between content distributor and content provider. Each party has its own rationale for the impasse. TWC knows that its customers are tired of ever-increasing cable bills, and that every time a CBS or AMC successfully negotiates bigger carriage fees, it will result in more price hikes and more customers who mull cutting their cable subscription. Networks like CBS, facing declining ratings and diminished ad dollars in part because of the surge in high-quality cable programming funded in no small way by carriage fees, believe that they, a broadcast network that provides far more original programming than the cable networks, need the stability that comes from larger fees to make up for the money they're losing elsewhere. There's hypocrisy in both sides, too. As CBS gleefully noted in a press release Wednesday, TWC is forcing Los Angeles subscribers to pay what the Eye says is $4 per month for a new Lakers network, whether they watch basketball or not. Meanwhile, CBS never talks about the fact that it makes its programming available for absolutely free to anyone with an HD antenna, yet it wants consumers to indirectly pay a subscription fee if they get that same programming through another means. (The Eye does have the law on its side: Back in 1992, a Democratic-controlled Congress overrode President George H.W. Bush's veto to pass wide-ranging legislation that included a provision saying broadcasters had to be compensated just as cable networks were, since cable was a threat to their business model.)
And yet, while both sides in this argument have legitimate reasons to fight out these carriage wars, they also both deserve scorn for not being able to hammer out some sort of equitable solution. Both industries are still making lots and lots of money (yes, even broadcasters), and both have reason to preserve the status quo. Yes, almost all big cable companies are also broadband suppliers, which means they can still get paid by cord cutters who migrate fully online. But many of these providers also have massive investments in cable networks and regional sports channels that benefit from those programming bundles that force consumers to pay for channels they never watch, like the Lakers channel. If cord cutting becomes a widespread practice, it's easy to see lots of those channels going away, since consumers, in theory, would be able to buy only those channels they watch, and the current socialist system of stronger networks (ESPN) making possible smaller nets (ESPN Classic) would crumble. Likewise, CBS thrives in a world where its stations are in premium positions in channel lineups and it gets at least some compensation from cable and satellite operators. Would it still be able to lure 20 million viewers a week for the twentieth season of NCIS in 2023 if potential CBS viewers had to pay, say, $5 a month to get full digital access to all CBS programming?
But instead of figuring it all out, the people who pay $100-plus every month for TV get petty partisan arguments, endless bickering, frequent stalemates, and an assault of ads urging us to call our representatives immediately and Demand That Something Be Done Now! And if all of the above sounds like the gridlock and shutdowns that have characterized Washington for much of the past decade, that's because these TV carriage disputes have started to resemble just that. Each party blames the other side, and after a while it doesn't matter which side citizens affiliate with: They lose, start to abandon any faith that the system can work, and wish there were some other option. And so it is with disputes such as the one between TWC and CBS. I tend to think Time Warner Cable is the greedier player with the most hypocritical arguments. (It's quite possible that my take is influenced at least in part by the fact that I've covered and interviewed CBS chief Leslie Moonves for nearly two decades, while my only relationship with Time Warner Cable has been as a generally unsatisfied subscriber to its New York and Los Angeles services.) Yet, even if you tend to agree that, as TV's most-watched network, CBS is right to demand fairer compensation, the nonstop whining in public by the Eye doesn't help its cause, just as TWC's lame tweets aren't changing anyone's mind.
These fights and public appeals to consumers might have meant something when they were trapped by a monopoly with no other option to watch their favorite shows. Now the battles are just a reminder that viewers have options: They tell us that we need to call our cable provider and demand action. Why is it now our job? Instead, we can just get rid of cable altogether, get Internet service from a non-cable company, and then get CBS shows online. TWC loses our astronomical monthly bill (much of which goes toward carriage fees for channels we never watch), and CBS loses live viewers. Or, the next time AMC gets in a squabble with our satellite company, we just pay for The Walking Dead on iTunes. The fact is, people don't need to be pawns in these spats anymore, drafted as citizen activists. These companies should look at what has happened to other traditional purveyors of media (record and bookstores, DVD distributors) in the online era and see that the inevitable migration to online can only be held off for so long. Here's a question for the media giants on both sides: Wouldn't you rather concede and make a little less money now from the customers you do have rather than speed up the clock to when you don't have any customers at all?