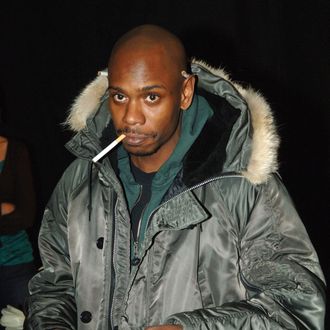 Two months ago, when it was announced that Dave Chappelle was going to be on the Oddball Comedy & Curiosity Festival tour, it was seen as a comeback. Reports have pointed out that his style has changed; Chappelle has been favoring a more laid-back approach, where he just talks, letting jokes come where they may. Last night, in Hartford, this style did not mix well with the rowdier arena crowd, many of whom couldn't stop yelling, some of whom booed.
Reportedly, the crowd was so loud and heckling so much (causing the festival to tweet them to be quiet) that after ten minutes he just stopped performing. Then for the next 25 minutes, he simply sat down on the stool, smoked cigarettes, read an audience member's book, tossed out a few comments and anecdotes, and waited for his contracted time to run out. You can watch, or at least hear, the last fifteen minutes of the performance here:
You can hear him tell stories of Richard Pryor's last performances and Damon Wayans responding to a terrible crowd, and joke about how he'll have to read about this performance in the morning. After his time was up, he told the audience, "I forgive some of you, but I don't forgive all of you," and proceeded to walk off the stage to the D.J. playing Kanye West's "New Slaves." Over at Ebony.com, Lesli-Ann Lewis offered a first-hand account of what happened last night.
Over the years since he left his show on Comedy Central, there had been word of erratic performances. There were reports of rowdy crowds that were not pleased with his loose style, but nothing as extreme as this. The sense was that especially recently he was tightening things up. The fact that he agreed to the tour at all was a good sign.
There's no word on whether the tour will offer refunds to those upset.