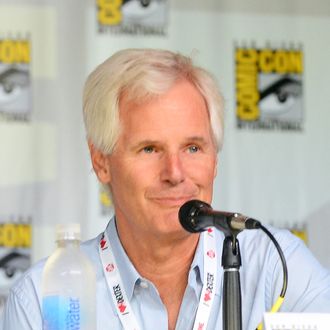 Photo: Albert L. Ortega/Getty Images
Twenty years after Mulder, Scully, and Cigarette-Smoking Man entered the world, The X-Files mastermind Chris Carter remains a very busy man. During a recent conversation with Vulture to discuss the show's anniversary — check back next week for our full Vulture Transcript (and here it is!) — Carter surprised us with the news that he's currently developing a series with AMC. This project is in addition to the long-gestating one-hour sci-fi drama The After, which Amazon Studios has reportedly snatched up. No stranger to divvying up his attention (remember, during the nine-season run of The X-Files, he also created Millennium, Harsh Realm, and The Lone Gunmen), Carter explained to Vulture that the idea was hatched after AMC approached him — twice — with a book and asked for his take on it. "It also owes to The X-Files and I've written a draft and I'm writing a second draft," he said.
When asked if this book might be something we'd recognize, Carter answered in a vein familiar to any X-Files fan: "I'm not going to spoil it." But he did elaborate a bit further on the AMC project, hinting, "I think that I am treading on some of this interesting ground that Bradley Manning, Edward Snowden, and Julian Assange have uncovered for us." Another resource he's drawing from is his cable-news addiction, which currently keeps him up at night. "I've become very interested in the spectrum of political discourse as seen on the cable news channels that are conveniently right in a row on my cable provider's dial," he said. "I can flip from Fox to CNN to HLN to MSNBC, and I find myself at night flipping it back and forth through them, and it's something of an addiction. Not necessarily for the content but for the context. And I'm writing about it." As for when this Unidentified Scripted Object may eventually be landing, Carter would only say, "It's up to the Fates. I will be done with a draft shortly so I will know more shortly."
UPDATE: AMC has confirmed to Vulture what Carter said, but declined to add any other details. Consider us intrigued!