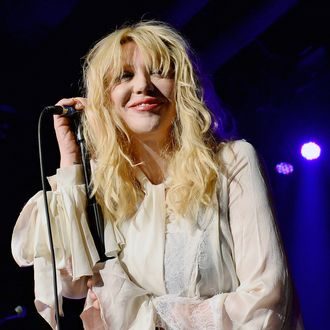 Photo: Ethan Miller/2013 Getty Images
Courtney Love has a lot of big plans. She's always had them, really, but right now she has a particularly large number of irons in a variety of fires. For starters, she wants to get back into acting, she tells Vanity Fair.
For the last three years I've wanted to act — since Sean Penn took me to this indie movie he did at Cannes. I got this huge fire in my belly. It was about Bono's best friend, Gavin Friday, and Sean was playing Gavin. I'm like the only person in the audience who knows Gavin really well. And I'm like, "Wait, I'm on peyote. This is crazy." But I got this fire in my belly like I hadn't gotten in 12 years. Like, fuck, fuck, fuck. That's rock 'n' roll. I want to do that. But with acting, it's a lot of hurry-up-and-wait.
Her memoir, which is set to come out around the holidays, will explain her long hiatus from acting, she says.
[After The People vs. Larry Flynt], I had Jim Brooks come running. I had Cameron Crowe come running. The reason I said no is a long story, and I have a book coming out at Christmas. I will explain in detail why I wasn't in Girl, Interrupted, why I wasn't in The Matrix, why I didn't do [the Janis] Joplin biopic and all of that stuff. It's all for a really good reason.
In the meantime, she's been spending a lot of time on Pinterest.
I think [the memoir will be titled] Girl with the Most Cake. Pretty good, right? You know, it was Madonna's birthday the other day, and my friend Arianne [Phillipps], who was my stylist and then became Madonna's stylist, hashtagged Madonna with #girlwiththemostcake. I hashtagged Arianne #ouch! Seriously, on her Facebook wall, because I had nothing better to do — this is when I was watching the entire Orange Is the New Black season in one night. I was up until seven a.m. — I went on Pinterest and got all of these incredible pictures of cake and just put them all on Arianne's wall at, like, five a.m. And I don't regret it! You know, because if Madonna is the girl with the most cake, what am I? The Material Girl now?
And Etsy.
Well, I discovered this Web site called Etsy. No wonder they still send me fruit baskets … they are hoping that I will spend six figures in a year on Etsy again. My daughter was flipping out. We had a pretty small house in Malibu and she had the apartment upstairs, but still I was ordering like everything on Etsy. Everything! Like ferrets dressed as Edwardian nannies. Crazy shit.
God bless you, Courtney Love.