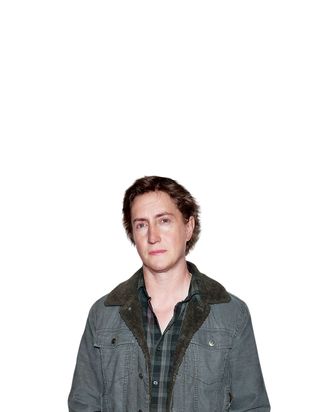 The director of Prince Avalanche on everything he watched, read, listened to, and clicked on over a week.
WEDNESDAY, JULY 10

Early morning, before I head to the Wilmington, North Carolina, set of the final season of Eastbound & Down:
Clicked on: The Dustin Hoffman interview about Tootsie where he teared up talking about being a woman.

Worldstarhiphop.com. Sometimes it's funny stuff, sometimes it's sad. Sometimes it's just crackheads fighting.
Listened to:  8:30 a.m.: Satellite radio on my way to the set. Ne-Yo was on.
Watched: 9 p.m.: "Behind the Scenes" of Back to the Future Part Two.
Read: 10 p.m.: The Unbearable Lightness of Being.
THURSDAY, JULY 11
Clicked on: 1:30 p.m.: Laila Ali boxing clips on YouTube. I just wanted to watch a girl fight somebody. 
Watched: 8 p.m.: Star Trek (2009). I never watched the old series, but I love both of the new ones.
Read: 10 p.m. Little House in the Big Woods. I'm developing a new film based on the old Laura Ingalls Wilder books. 
FRIDAY, JULY 12
Watched: 6 a.m.: One of my favorite Westerns, Seven Men From Now.
Listened to: 8 a.m.: Kino's "This Is Not Love." I usually like upbeat music on the way to work. Kino isn't upbeat, so I feel like this could be a dark day.
8 p.m.: The Demdike Stare album Elemental. The dark day continued. We shot some messed-up stuff of Kenny Powers at a dinner party. 
Watched: 9 p.m. : The Lone Ranger. It was an hour too long, but there was some amazing stuff in there, especially the sequence with the train.
SATURDAY, JULY 13
Clicked on: 9:30 a.m.: Googled the Ravenswood power-plant energy infrastructure. I was in New York during the blackout, and I got to thinking about how major cities are powered and the idea of people living off the grid.
Watched: 10 a.m.: Escape From Tomorrow. A strange movie shot at Disney theme parks. Really effective and interesting. 
2 p.m.: The Fox and the Hound.
Clicked on: 4 p.m.: A "WTF" podcast with Chris Elliott.
Watched: 10 p.m.: ParaNorman. I'm doing some new Mr. Peanut commercials with Planters, and we're working with Laika, who does the brilliant stop-motion work in this movie.
SUNDAY, JULY 14
Listened to: 7 a.m.: Eluvium's "Talk Amongst the Trees." 
Watched: noon: Pacific Rim. I liked it, but I don't know why big summer movies have to be so long. 
8 p.m.: Starlet. 
10 p.m.: The Discovery Channel's Naked and Afraid. Kind of like Survivor, but the people are naked. It's interesting how you don't have to blur out butts, but you do have to blur out dicks.

MONDAY, JULY 15
Listened to: 7 a.m.: The soundtrack for the remake of Maniac.
Watched: 10 p.m.: Dario Argento's World of Horror.
Read: 11:30 p.m.: On the Banks of Plum Creek.
TUESDAY, JULY 16
Listened to: 7 a.m.: No Pryor Restraint: Life in Concert. Pryor is my favorite actor of all time. I'm thinking maybe I should make a movie just about Richard Pryor when he was shooting David Lynch's Lost Highway.
Watched: 9 p.m.: Windy City Heat. A Bobcat Goldthwait prank movie where they told this guy he was going to be the star of his own big movie and then made a film about that. Very funny, but you feel bad laughing at this guy.
*This article originally appeared in the August 12, 2013 issue of New York Magazine.