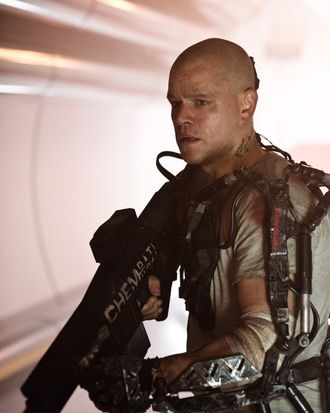 Matt Damon stars in Columbia Pictures' ELYSIUM.
Photo: Stephanie Blomkamp/? 2012 Columbia TriStar Marketing Group, Inc. All rights reserved.
Neill Blomkamp's dystopic Elysium came out on top of this weekend's crowded box office with a $30.5 million debut. The considerably mellower We Are The Millers took second place, earning $25.7 million in its second week, bringing its cumulative haul to $37.2 million. Kids and their beleaguered parents put the weekend's other big opener, Disney's Cars-like Planes, in third place with earnings of $21 million. The young adult audience proved somewhat less lucrative, with Percy Jackson: Sea Of Monsters claiming a $14 million fourth place in its second week (the 3-D fantasy has now earned $22.8 million cumulatively.) Finally, last week's winner, 2 Guns' take fell 59 percent, to $11.3 million and fifth place.