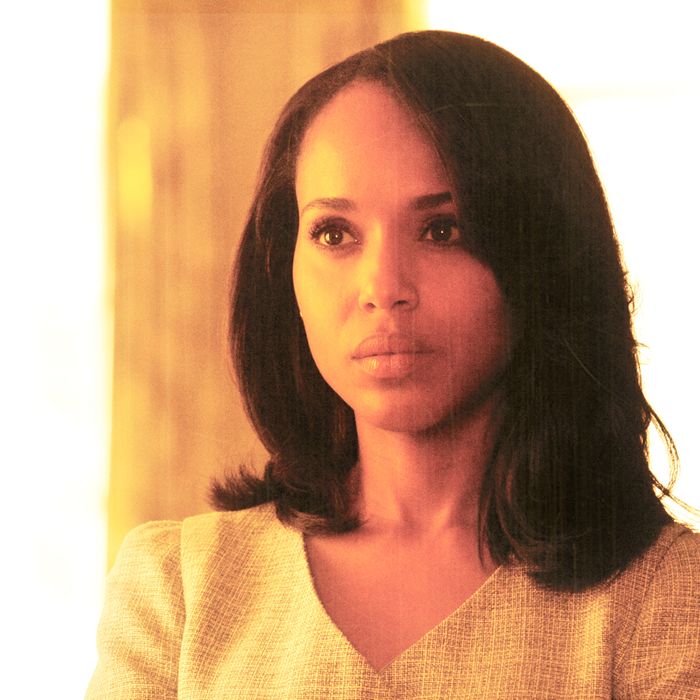 Photo: Eric McCandless/ABC? 2013 American Broadcasting Companies, Inc. All rights reserved.
As the Emmys approach (September 22), Vulture reached out to nominees to pose the question, "What was your favorite episode from the last season of your show?" Mad Men's Linda Cardellini has weighed in. Today, we have Scandal's Kerry Washington.
The Episode: "Happy Birthday, Mr. President"
The scene in "Happy Birthday, Mr. President" that broke Scandal star Kerry Washington's heart didn't have dialogue. It was just Olivia in a closet with a sweatshirt. And her feelings. Oh, so many feelings! To recall: President Fitz had been shot, the vice-president was making a play for his office, and Olivia had just convinced the First Lady to intervene by reassuring the American people that the president was going to be all right. But first, Olivia needed to pull a camera-ready outfit for Mellie, and the act would unravel her. Washington told us it was a brief but exhausting exercise. "She comes into that closet as badass Olivia, needing to fix the situation," she said. "And then seeing his clothes and feeling what she's feeling for him, and then taking a moment to have her own fear about whether or not he's going to make it, and then pulling it all back to all-business Olivia … It was like whoa."
It's a loaded moment in an episode all about Olivia being torn apart from the inside out. With Fitz's life in the balance, she flashes back to the turning points in their tortured romance: the inauguration and that steamy night in the Oval Office, planning the State of the Union speech while in the throes of passion (says Fitz: "A comprehensive non punitive immigration policy is something I believe in" — hot), and later, to her growing anxiety about being the Other Woman.
Washington says she loved how Olivia went for Fitz's gut by calling herself the Sally Hemings in the relationship. Racially charged moments aren't typical of Scandal boss Shonda Rhimes's shows, where diversity is a given. "This was kind of like the woman who doesn't address race, as a way to be progressive, is now gonna talk about it. That was exciting," Washington said. The reference to Hemings and Thomas Jefferson had actually turned up in a script for an earlier episode but was dropped, which led to lengthy conversations between Washington and Rhimes about how and when Olivia and Fitz would address race. "[Shonda] waited for the right moment where Olivia would do it, because it's important that we don't think that she actually believes that. She uses race as a weapon to hurt him when she's feeling unworthy and unloved." In response, Fitz rips out his own heart and offers it to her. (Let's just relive his speech now, shall we? "I love you. I'm in love with you. You're the love of my life. My every feeling is controlled by the look on your face. I can't breathe without you. I can't sleep without you. I wait for you. I watch for you. I exist for you." That's not even all of it.)
"Up until that fight, you wondered why. Why does she put herself in this position? Why does she stay?" Washington said. "And then you see how vulnerable she is and how truly in love with her he is. I had to come in kind of angry with my mind made up and let my heart be changed by him in that moment, which is not the hardest thing in the world to do with Tony Goldwyn." It's enough to move Olivia to finally drop the L-word during a visit to the National Archives. (The Constitution: Also hot.) "The fans for a long time had been like, 'When is she gonna say it? Has she ever said it? He says it to her all the time!'" Washington laughed. "It's such a spin on traditional gender stereotypes, women going, 'I love you, I love you, I love you,' and men being like, 'Yeah, I like you, too.'" They filmed the big moment last November on election night, which Washington said gave it an extra charge. "I had just done Django Unchained, and I remember Tony asking me if it said anything in the preamble about slavery, and I was like, 'Oh yeah!' So, I'm standing there, pointing out the 'three fifths of a person' section on the first page of the Constitution as we are reelecting the first African-American president and shooting this crazy emotional, intimate scene. It was the most surreal moment ever. There was a special resonance when I was saying, 'It's a whole new world,' to him. "