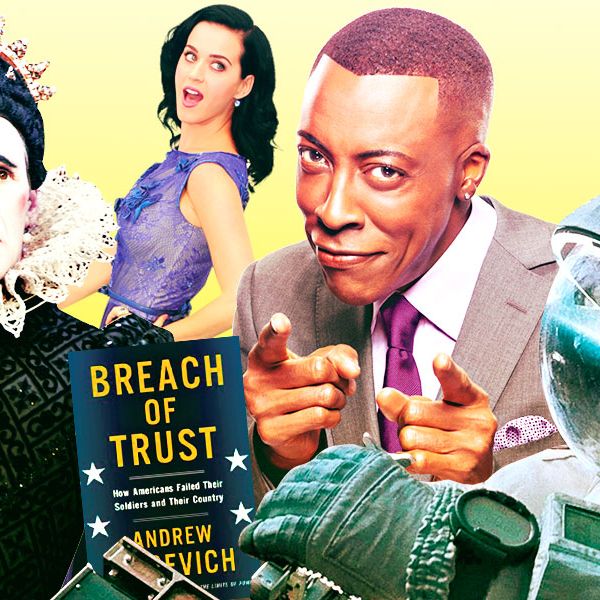 For the Fall Preview issue of New York Magazine, each of our cultural critics picked the five events for which they were most excited. Here, what they can't wait to read, see, and hear this season.

Matt Zoller Seitz's TV Picks
The Arsenio Hall Show, Syndicated
Nearly a quarter-century after Hall's groundbreaking debut, talk is still a mostly soulless genre. We need him now, maybe more than ever. September 9.
Brooklyn Nine-Nine, Fox, Tuesdays,  8:30 p.m.
Early publicity painted this cop comedy as an Andy Samberg vehicle, but also great is Andre Braugher as Samberg's gruff but very droll captain. September 17.
The Blacklist, NBC, Mondays,  10 p.m.
James Spader plays a most-wanted fugitive who turns himself in on the condition that he be partnered with a rookie FBI profiler (Megan Boone) to help catch a terrorist. Sounds like a really dumb Silence of the Lambs rip-off, but between Spader's performance, a twisty-turny plot, and one amazing action sequence in the pilot, this looks promising. September 23.
The Michael J. Fox Show, NBC, Thursdays,  9:30 p.m.
The Family Ties and Spin City star plays a TV reporter who finally returns to TV after years of being a stay-at-home dad and an inspiration to people with Parkinson's. Sounds treacly, but this is a bitingly funny show with recognizably human characters. September 26.
The Tomorrow People, CW, Wednesdays,  9 p.m.
This remake about a group of X-Men-ish teens (most recently seen in a Nickelodeon version) is everything that ABC's Agents of S.H.I.E.L.D. dreams of being: fresh, exciting, touching, and sincere. October 9.
*************************************************
David Edelstein's Movie Picks
Let the Fire Burn, October 2
Director Jason Osder creates an electrifyingly present-tense documentary on how Philadelphia's decision to evict a black-power group from its rowhouse in 1985 ended so catastrophically. No one looks good, including the leaders of the group, MOVE. And it's quite possible that the resulting deaths amounted to murder. But the film transcends its subjects. It says that the truth about so many things is right there in our archives, waiting for artists like Osder.
Gravity, October 4
Sandra Bullock and George Clooney are astronauts drifting in space after their shuttle is destroyed, holding on through each potentially deadly orbital pass of debris. The director is Alfonso Cuarón, who gave scary immediacy even to a kids' story like A Little Princess.
All Is Lost, October 18
The idea of being stuck with the generally undemonstrative Robert Redford on a boat battling the elements for two hours is not especially tantalizing, but the word on All Is Lost is that Redford is riveting and the movie resourceful. It's the second feature by J. C. Chandor, whose financial-disaster movie Margin Call was scarier than The Towering Inferno with no visible flames.
Nebraska, November 22
Alexander Payne returns to his home state, where a drunken old man (Bruce Dern) heads off to claim a sweepstakes prize he thinks he's won. SNL's Will Forte plays the son making one more effort to figure out the nasty old man. Will the much underused Dern earn this pedestal?
Inside Llewyn Davis, December 6
It's the Coen brothers' take on the Greenwich Village folk-music scene of the sixties. The setting seems ideal for the brothers' unique mix of irony and sincerity.
*************************************************
Jody Rosen's Album Picks
Okkervil River, The Silver Gymnasium, September 3
Will Sheff, the auteur behind indie favorites Okkervil River, has always mixed homely autobiography and sprawling ambition. The Silver Gymnasium promises both: It's a concept album about Sheff's boyhood in Meriden, New Hampshire. The album, Sheff says, is meant to evoke the feeling of "an action figure you found in the woods." That I want to hear.
Quasi, Mole City, October 1
Come for the thunder: Janet Weiss's walloping drumming alone is worth the price of your download. Anything singer-guitarist (and Weiss's former husband) Sam Coomes can offer in the way of a grungy tune is a nice bonus.
Brandy Clark, 12 Stories, October 22
It's been a banner year for women in country music—think Kacey Musgraves, Ashley Monroe, Pistol Annies, Court Yard Hounds—but Brandy Clark, a 35-year-old from Nashville by way of Washington State, may be the best of that excellent lot. She's a terrific singer and a better writer; the dozen songs on her debut—ballads about pill-popping single moms in dead-end towns—will wow you with their wit while cracking your heart.
Katy Perry, Prism, October 22
Love her or loathe her, there's no gainsaying Katy Perry's track record: She's as reliable a hit-maker as anyone of her generation, the go-to diva for some of the world's best songwriters. The big hooks on her fourth album will be clogging karaoke machines—and rattling around your auditory cortex—for years to come.
Future, Honest,  November 26
On Pluto, his gloriously whacked-out 2012 debut, the Atlanta rapper Future figured out how to revitalize standard-issue playa-pimp rap: by mixing boasts with sad-sack plaints, swaddling his songs in Auto-Tune, and sobbing like a robot with faulty wiring. Future's second album was originally titled Future Hendrix, but the recent change to Honest bodes well: You can't beat this guy's sincerity shtick.
*************************************************
Kathryn Schulz's Book Picks
Breach of Trust, Metropolitan, September 10
Thank You for Your Service, Sarah Crichton, October 1
This fall sees the publication of two different books about the increasingly stark divide between military members and civilians in contemporary America. In his 2009 book The Good Soldiers, Pulitzer Prize–winning reporter David Finkel chronicled the experiences of an infantry battalion stationed in eastern Iraq. Now, in Thank You for Your Service, Finkel turns his attention to how those same soldiers are adjusting to civilian life. Answer: badly, but not as badly as civilian life—not to mention the Department of Veterans Affairs—is adjusting to them. Andrew Bacevich suggests that part of the problem is that the vast majority of Americans neither know nor care about the difficulties veterans face upon returning home. In Breach of Trust: How Americans Failed Their Soldiers and Their Country, Bacevich argues that abolishing the draft—which Nixon did in 1973—radically lowered the perceived costs of war for most civilians, and thereby helped create a moral, political, and fiscal catastrophe for the U.S.
The Lowland, Knopf, September 24
The Lowland, Jhumpa Lahiri's second novel (after The Namesake) has already made the long list for the U.K.'s esteemed Man Booker prize. In it, two brothers are born in Calcutta shortly before Indian independence; the older and more cautious one leaves home to attend grad school in the U.S. while the younger one defies convention twice over: He becomes involved in a communist uprising and marries for love. The former act of defiance proves catastrophic, but it is the latter one that will prove most consequential for the older brother.
Falling Upwards, Pantheon, October 29
British biographer Richard Holmes, best known in the U.S. for his 2008 Age of Wonder: How the Romantic Generation Discovered the Beauty and Terror of Science, is back with Falling Upwards, a history of ballooning. The subject seems, so to speak, light, but balloons were (as the subtitle has it) "how we took to the air": They first showed us our planet from above, led to advances in aviation, cartography, meteorology, and more, and captured the imagination of thinkers from Dickens to Jules Verne.
At Night We Walk in Circles, Riverhead, October 31
I was a fan of Peruvian-American writer Daniel Alarcón's first novel, Lost City Radio, so I'm looking forward to his follow-up. At Night We Walk in Circles tells the story of Nelson, an aspiring actor who lands a role in a play by his hero, the subversive playwright Henry Nuñez. Nelson's travels with the theater troupe take him on a tour through his war-torn nation, and take the reader through a psychological landscape of performance and reality, intimacy and betrayal.
Bonus: A Prayer Journal, FSG, November 12
As a writer, Flannery O'Connor was funny, sardonic, terrifically dark, comfortable with the disturbed and the disturbing, and—unconventionally but unmistakably—devout. This fall will see the publication, nearly 50 years after her death, of her prayer journal, her private conversations with God when she was barely into her twenties and a student at the Iowa Writers' Workshop.
*************************************************
Scott Brown's Theater Picks
Twelfth Night and Julius Caesar, previews start October 15/October 3
Old-fashioned trans Shakespeare! Come October, we'll see Mark Rylance (Jerusalem) play the title tyrant in Richard III—and Olivia in Twelfth Night, opposite Stephen Fry. (Both shows are in Elizabethan form: all-male casts, period instruments, candlelight.) Meanwhile, another cross-gartered import—Donmar Warehouse's all-female Julius Caesar—lands in Brooklyn, giving Shakespeare's testosteroniest play the Orange Is the New Black treatment. Belasco Theatre/St. Ann's Warehouse.
Fun Home, September 30–­November 3
The Encores! revival of Violet this summer reminded us why composer Jeanine Tesori is indispensable. Now she's teaming with Lisa Kron on a show based on graphic-memoirist Alison Bechdel's landmark "family tragicomic." Sam Gold directs. The incredible Judy Kuhn stars. Scott Brown tries not to get overexcited. Public Theater.
The Jacksonian, in previews October 25
The New Group's season includes Intimacy, a fresh work from Thomas Bradshaw, easily the city's most confounding young voice—but the headline goes to Beth Henley's infernal new drama, a tale of an upright citizen's rapid unraveling in Jackson, Mississippi, 1964, with the season's most intriguing cast: Ed Harris, Amy Madigan, and Bill Pullman. Acorn Theatre.
The Glass Menagerie, in previews September 5
Aside from watching longtime Shakespearean interpreter John Douglas Thompson face off against onetime presidential contender Fred Thompson in A Time to Kill, the confrontation I'm most curious about is Zachary Quinto's Tom versus Cherry Jones's Amanda in this Broadway revival. Booth Theatre.
Bonus:  A Midsummer Night's Dream, October 19–January 12
Christening Theatre for a New Audience's new home in Brooklyn, Julie Taymor's Dream is also her post-Spider-Man return. New beginnings all around.
*************************************************
Jerry Saltz's Art Picks
Cary Leibowitz, "(Paintings and Belt Buckles)"
Invisible-Exports, 89 Eldridge St.; Sept. 6—Oct. 13
Invisible-Exports, an excellent little gallery that could, is moving into larger digs a few blocks from its old Orchard Street headquarters, and will reopen with a show by Cary Leibowitz (a.k.a. Candy Ass), originator of the so-called Abject or Loser art that emerged in the early nineties. Rumor has it that the space will be painted a spiffy shade of bubble-gum pink to better accommodate his unique aesthetic and his new line of "paintings and belt buckles." New York just got better. 
Inaugural Group Exhibition
Monya Rowe Gallery, 34 Orchard St.; Sept. 8–Oct. 20
Speaking of new spaces opening on the constantly improving Lower East Side: Monya Rowe Gallery is going from its 22nd Street walk-up to a ground floor at 34 Orchard Street. Another good small gallerist who got a little lost among the behemoths in Chelsea, Rowe has an eye for quirky painting (like Ann Toebbe's), as we'll see in her reopening show. Included will be the strange realism of Angela Dufresne, who combines the daubing brushwork of Robert Henri and the cellophane transparencies and feathery touch of Florine Stettheimer.
Arlene Shechet: "Slip"*
Sikkema Jenkins & Co., 530 W. 22nd St.; Oct. 10–Nov. 16
A very good, still-under-known mid-career sculptor, Shechet makes forceful painted, glazed, and raw primal shapes of clay and porcelain set on almost Cubistic primary forms. They turn into unknowable masses, redoubling in the mind into abstract Buddhas, modern Pompeian ruins, flatware from Jupiter. This gallery debut should turn some heads.
Allan McCollum: Plaster Surrogates Colored and Organized by Andrea Zittel
Petzel Gallery, 456 W. 18th St.; Sept. 6–Oct. 5
McCollum is near the top of my list of New York artists who deserve full-scale museum retrospectives. Well-known for his massive installations of multiple objects, all nearly but not quite identical, all handmade, he has only gotten better with time. His work is like some mad factory with broken molds making everything one at a time. This great artist, who's now 69, will show work begun in the eighties and finished this year: monochrome paintinglike surrogates, rectangles cast from a plaster composite—each in a color selected by another excellent artist, Andrea Zittel. Can't wait.
Ryan McLaughlin
Laurel Gitlen Gallery, 122 Norfolk St.; Oct. 27–Dec. 22
Laurel Gitlen, another gallery that's moved to a bigger space and continued to look independent and vital, will give McLaughlin his debut New York solo show this fall. I saw his work in London a couple of years back, and thought it was all okay—and then one of his quirky realistic still-lifes hit me with a bang. Based on that one painting, we could be in for a new treat.
*************************************************

Justin Davidson's Classical Music and Dance Picks
Eugene Onegin, September 23–December 12
Anna Netrebko headlines her third consecutive opening-night gala at the Metropolitan Opera, this time in a role that actually suits her: Tatiana in Eugene Onegin, directed by Fiona Shaw. After all the Italian bel canto she's been hyperventilating in lately, it ought to be a joy (politics aside) to hear her to sing Tchaikovsky's meditative lyricism—in Russian. (Marina Poplavskaya will step into the role on November 23.)
John Zorn's Birthday Celebrations, September
The tireless composer, saxophonist, impresario, and godfather of the downtown music scene turns an unimaginable 60 in September. The Metropolitan Museum throws its galleries open to him on September 28; Miller Theatre hosts a quartet of concerts; and on September 15, a Masada Marathon takes place at NYU's Skirball Center.
Two Boys, October 21–November 14
Nico Muhly, the 32-year-old standard-bearer for a ridiculously accomplished generation, enters the ranks of elder statesmen when his new opera, directed by Bartlett Sher, opens at the Met. Muhly has described the story, about a toxic relationship that develops entirely online, as the Internet-age equivalent of a masked-ball drama.
Up-close, October 28
Even among new-music connoisseurs, Michel van der Aa's name didn't ring many bells when the young Dutch composer won the prestigious Grawemeyer Award this past year. Lincoln Center noticed, though, and his high-voltage, innovative cello-and-video work Up-close will get its U.S. premiere at Lincoln Center's White Light Festival.
Partita for 8 Voices, November 4
In another bolt-from-the-blue moment, the 31-year-old singer and violinist Caroline Shaw won the Pulitzer Prize in music this spring for a work, Partita for 8 Voices, that hardly anyone had ever heard live. Finally, we'll hear this delicately wrought vocal gem, performed by her own group, Roomful of Teeth, at (Le) Poisson Rouge.
*This article originally appeared in the September 2, 2013 issue of New York Magazine.
* This article has been corrected to show that Arlene Shechet's exhibition is entitled "Slip," not "Flip."