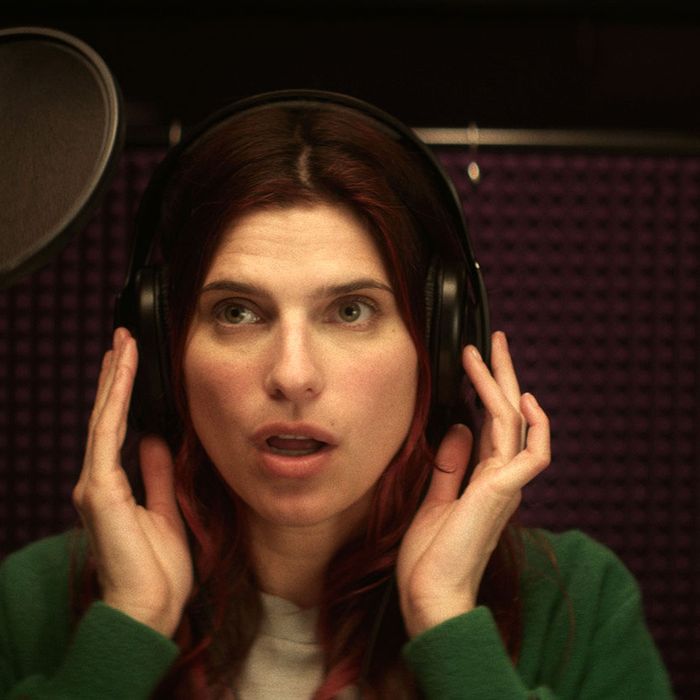 Photo: Roadside Attractions
In the indie comedy In a World … , Lake Bell plays a vocal coach attempting to break into the lucrative voice-over industry, a field of work so traditionally male-dominated that even her father, a legend in the industry, doesn't think she can make it. The film, which Bell also wrote and directed, exaggerates and mirrors the profession that spawned the familiar movie-trailer line referenced in the title. "I really did this movie just to get a voice-over gig," she joked to Vulture in January. "So I hope to hell somebody hires me."
Bell probably knows that her phone is unlikely to ring, at least regarding offers to lend her vocal talents to ads for movies, airlines, insurance, and automobiles, the commercial gigs that tend to offer the biggest paychecks; those are still very much the province of men. For every Julia Roberts inviting us to "Join the nation" and Catherine Keener wondering "Would you buy your van again?" there are scores of guys doing top-end voice-over work, including John Krasinski (Esurance), Jon Hamm (Mercedes, American Airlines), Robert Downey Jr. (Nissan), and many, many, many others. While there are no hard statistics, veteran Los Angeles voice-over casting director Cathy Kalmensen estimates that approximately 20 percent of commercial voice-over work is done by celebrities, with roughly only 5 percent of that going to women.
There was a time when no self-respecting performer would shill for a product on-camera (except when they would slink off to do spots that never aired Stateside). But in the late seventies, theater actresses like Tammy Grimes and Eartha Kitt stepped up to the mike on behalf of things like jelly and Steely Dan. By the late eighties, Glenn Close was voicing ads for Hallmark, and in the early nineties, film actress Sally Kellerman extolled the virtues of salad dressing; soon, as commercial budgets grew, and film and video directors were enlisted, and announcing jobs morphed into acting jobs, the likes of Sigourney Weaver, Linda Hunt, and Frances McDormand were giving voice to car, airline, and courier ads.
Today the promise of good money for relatively little effort has made voice-over work extremely competitive. Pay now runs from low seven figures per gig — Julia Roberts territory — to low six. Though the highest paid woman makes more than the lowest paid man, according to long-time voice-over agent Jeff Danis, the lowest paid man earns more than the lowest paid woman. He says that the disparity exists because "more jobs are being offered to men, so women have less negotiation power." Kalmenson disagrees, arguing that a female celebrity's clout, the type of product, and the scope of a campaign all factor in and can add up.
What's clear is that men have always dominated commercial voice-over work, so it's not surprising the biggest chunk of celebrity commercial parts goes to them. But now women seem to be shut out of the most lucrative genres and have mostly been relegated to the "women's products" ghetto of wrinkle creams, food products, and drugstore chains. Voice-over casting directors like Carroll Kimble say it's simply a matter of matching the right voice to an advertising campaign, while others suggest that, in uncertain economic times, marketers choose men because their voices convey strength and authority. More likely, Danis says, brands just want the most bang for their buck. "[They think], 'Why should I pay Helen Hunt or Kyra Sedgwick a million dollars, when I can get a hot male star like Chris Pine or Robert Downey Jr.?'" he says. "The cliché is, women sound alike, but men are more recognizable and cut through the clutter better."
But that's not necessarily true. A 2010 Harris Interactive/AdWeek Media poll found that while nearly half of Americans (48 percent) believe a male voice is more forceful, the majority (64 percent) don't think one gender is more likely to persuade them to buy a particular product or service. For cars and computers, consumer surveys indicate that the tenor of the ad matters more than whether the message is delivered by a man or woman. Yet prior to Keener's Chrysler pitch, the last car ad with a female voice-over was Patricia Clarkson for BMW in 2005. (Kate Walsh did on-camera and VO for Cadillac's 2007 to 2009 ads.) The most recent commercial for a bank with a female voice-over? Peri Gilpin for Wells Fargo in '04.
A lesser reason for the lockout is that some celebrities are mindful of the corporations with whom they do business. "Autos, oil, alcohol — some people have problems with those kinds of companies," says voice-over agent Dean Pasaro. "I had someone push back on a financial firm." Part of this may be because they could be setting themselves up for criticism if they take on commercial work that doesn't seem to jibe with their personal views. Just ask the famously liberal actress Susan Sarandon, for example, who received some online sniping about being a "sell-out" after voicing ads for Stouffer's, a subsidiary of the conglomerate Nestlé.*
Advertising campaigns also have a shelf life. When they've run their course, new ones, often overseen by fresh creative teams, jettison everything. Tight budgets also play a part and have given rise to another threat to female celebrity voice-overs: the sound-alike. Listen to the latest Olive Garden ads, which had been voiced by Modern Family's Julie Bowen. The delivery — down to tone and tempo — is exactly like Bowen's, but the mimic is an actress working for scale.
Can any of this explain the dearth of well-known women who've voiced Super Bowl ads, for which no expense is spared? This year's Jeep/USO commercial featuring Oprah Winfrey is the only one industry executives could cite. (Two scale actresses voiced ads in the two previous years.)
Still, there might be a small sign women's work is on the upswing: Stanley Tucci, the voice of JP Morgan Chase for the last two years, has been silenced in favor of … Helen Hunt! And James Spader, who spoke up for Acura for ten years, was recently rendered speechless in the company's new SUV ads and replaced not only by a woman, but an unknown woman, the scale actress Lisa Joyce.
Bell's dream of being besieged with commercial voice-over campaign offers after In a World …' s release has yet to be realized, but hopefully she can rest easy knowing that a lot of people are talking about her film.
* This article has been edited to clarify the criticism Sarandon received for voicing Stouffer's ads.