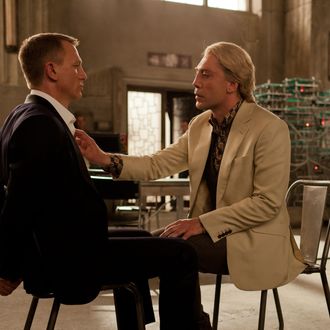 Javier Bardem as one of the 2012's few LGBT characters.
Photo: Francois Duhamel/Columbia Pictures
GLAAD just released the data from its first survey of the major movie studios, and unsurprisingly, things weren't great. Of the 101 movies the studios released in 2012, only fourteen featured an LGBT character. And that number reflects not just LGBT leads; it's any LGBT character at all, even cases like the openly gay Thomas Roberts playing himself briefly in The Avengers. When GLAAD used the stricter Vito Russo Test, which demands a LGBT character be defined by more than just their sexual orientation, only six movies passed.
The highest marks went to Universal, which scored an adequate for 25 percent (4 of 16) of its movies featuring gay characters. Paramount (3 of 14, 21.4 percent), Sony (4 of 19, 21.1 percent), and Warner Bros. (2 of 24, 8.3 percent) also received an adequate grade. GLAAD failed Disney (1 of 13, 7.7 percent and that one film was The Avengers) and Fox (0 of 15, 0 percent, obvs). The numbers are particularly disheartening when you think about how much progress TV has made in this area.