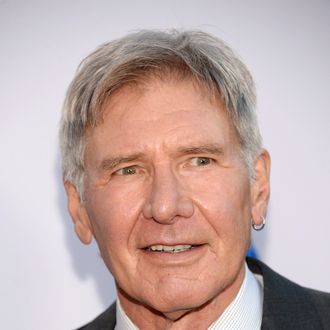 Photo: Jason Kempin/Getty Images
Watch yourselves, fanboys and girls: Harrison Ford is not super into Comic-Con. (Perhaps we could have predicted that?) In a Q&A in this weekend's New York Times Magazine, Ford laments the end of the communal movie-going experience. "Now people see a movie on their iPad, alone, with interruptions for snacks," he says.
But as you experienced at Comic-Con, the level of engagement is just as high, if not higher.

It's another form of engagement. I think the success of Comic-Con is based on the partnership between the fans and the service providers, the entities — I won't necessarily call them filmmakers — that supply the film product that supports their particular interest, whether it's vampires or science-fiction fantasies or Transformers or whatever is going on.
Burn! Apply ice directly to the burn. Also, despite plans to reprise some of his other iconic roles, Ford says he's unlikely to revisit John Book from Witness, and no, the character is not living out his days as an Amish farmer. "He left, man," Ford says. Sorry, Lukas Haas.