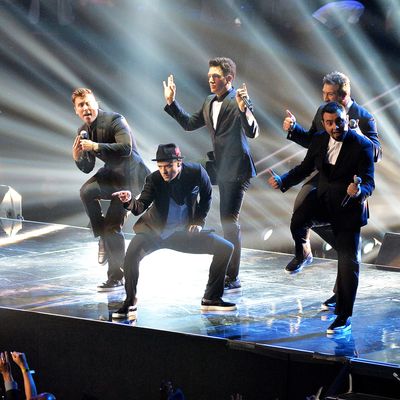 173533203JN00072_2013_MTV_V
Photo: Rick Diamond/2013 Getty Images
We did it, guys. We made it through a wonderfully scattered and over-the-top MTV Video Music Awards. We saw a lot of great performances and a lot of Miley Cyrus. 'N Sync reunited! Taylor Swift's fun award show persona made yet another appearance. As these things go: There were highs and lows. Here's what stood out. Broooooooklyn!
HIGH: Lady Gaga's opening performance.
Sure, there was no egg or blood, but there was something really endearing about her performance this time around. It had a real "let's all just put on a show" feel. It was like if Cinderella's birds were fabulous.
LOW: Close-ups.
Still, the show started with a shot of Gaga's face surrounded by a white square. It was first of the show's many close-ups. Who directed this thing, Tom Hooper? 
HIGH: Kanye West.
Kanye West famously cares about the VMAs. So it makes sense that he would totally bring it with his silo'd performance of "Blood on the Leaves." Damn a bleep, West was going to sing the words to his song!
LOW: Jared Leto's introduction of Kanye West.
Leto was once an actor, right? He could have at least acted like he cared about introducing Kanye. He was able to act like that was a normal haircut for a boy to have. 
HIGH: "Miley Cyrus."
Who would've guessed that Vanessa Bayer would've showed up to do the Miley Cyrus impression that she's only done on SNL one time since 2011? Also a HIGH goes to Shailene Woodley for accidentally, endearingly saying "gentlemens." Welcome to the "you can do no wrong" portion of your career. 
LOW: Miley Cyrus.
We were okay with Miley wearing a one-piece with a bear sticking its tongue out on it. We were okay with Miley sticking her face all up in that ladies big butt. However, when she ripped off her clothes to grind all up on Beetlejuice Robin Thicke, that was the twerk that broke the camel's back. 
HIGH: Will Smith, Cool Dad.
Will Smith is the type of movie star that MTV would usually need to beg to show up for this, but he went willingly this year, because he had to chaperone his kids. Who cares if After Earth bombed? The Fresh Prince is super content just being America's coolest dad. 
LOW: Daft Punk?
Wait, wasn't Daft Punk supposed to perform? Did MTV really not let them appear on The Colbert Report, so they could stand wordlessly behind Pharrell as he announced an award? 
HIGH: Taylor Swift having fun.
Taylor Swift is back, having fun/acting like she's having fun at an award show. In and of itself it's enjoyable, however …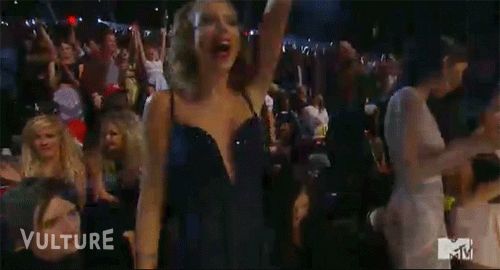 LOW: The amount of shots of Taylor Swift having fun.
Okay, MTV: Taylor Swift is where your bread is buttered, but come on. We get it. She knows the words to songs. It's particularly annoying when you consider that Allison Williams was sitting next to Kendrick Lamar. Do you think Ken and Al high-fived when 'N Sync came out? We guess we'll never know. 
HIGH: The Justin Timberlake Family Fun Hour.
Justin Timberlake sure has had a lot of hits. And if you weren't sure about that before, you are now, because he played all of them tonight. He played so many songs. He played all the songs. Every one. Most importantly, because we asked for it (not because he wanted to?), he played 'N Sync songs… 
LOW: Length of the *NSYNC performance.
Justin, you are currently touring. You did a week of performances on Late Night with Jimmy Fallon last spring, which included an old hits medley. We haven't seen you and the guys together in literally forever, and all you could give them is a few shimmies and a handful of harmonies? 
HIGH: Jennifer Hudson and Mary Lambert shout-singing at each other. 
Towards the end of Macklemore's performance, Jennifer Hudson came out with a cool-ass haircut to sing the refrain with Mary Lambert. There were a lot of emotions flying around. 
LOW: "BROOOOOOOOOKLYN!" shout-outs.
So it goes.