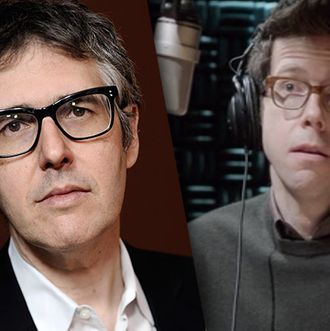 Jenji Kohan appeared on NPR's "Fresh Air" today to chat with Terry Gross about her career in television and continuing success with Netflix's Orange Is the New Black. Keeping it all in the family, Gross cleverly asked Kohan about her use of public radio to have Piper Chapman's husband Larry reveal Piper's betrayal of her fellow inmates. Kohan's "Urban Tales" was certainly a take on NPR's "This American Life" — complete with Ira Glass look- (and sound-) alike Maury Kind.
"I'm a huge Ira Glass fan and a huge fan of radio. I don't have a lot of time to watch TV, but I'm a podcast and radio listener … and a fangirl," Kohan said. So why didn't Ira play the role of this faux Ira? "I asked Ira if he would do it and he politely declined," Kohan said.
When asked by Gross if she had heard from him since, she added, "I have not spoken to him; I hope he's not mad at me. Truthfully, we cast the guy who was best at it but we did give him the glasses." "They're not exactly Ira's glasses," Terry retorted. "They're not exactly," answered Kohan, "but there's the flavor!"
Speaking of, we also reached out to Glass to ask what he thought of his portrayal on OITNB: "I hear the show's good and hope to see it soon but I've been busy. Haven't seen it. So I don't have much to say." Ira Glass, turns out, is not a binge-watcher.