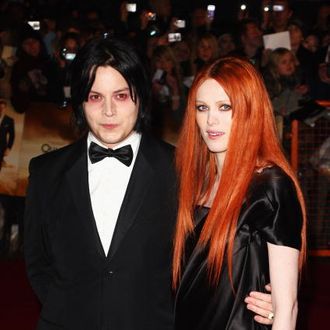 Jack White and Karen Elson in 2008.
Jack White's second ex-wife — the one whose last name he didn't take, the one who co-hosted an anniversary-slash-divorce party with him two years ago — has filed a restraining order against him. Karen Elson has primary custody of the pair's two children and says White has a violent temper, isn't fit to be a parent, and has been harassing Elson and her legal team. "Wife fears for her and the children's safety as a result of this harassment," reads the restraining order. Nashville's City Paper goes on: "Recently, according to the filing, White wanted Elson to contact their kids' private school in an effort to get their kids out of a class in which another entertainer's child was present. White said that he feels that entertainer 'ripped off' his music, the order said."
According to the restraining order, "this pattern of husband's bullying wife into submission was a contributing factor in the demise of their marriage." Days after announcing the divorce, White told the New York Times he and Elson would stay close. "It's more like we're best friends, pals, so we should be pals, and not pretend we're something bigger." He was still wearing his wedding ring.