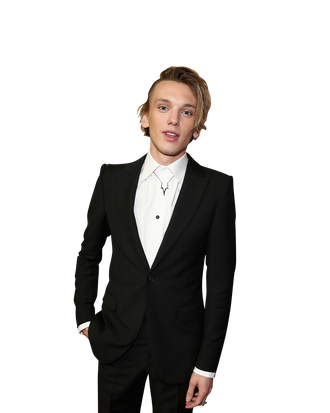 Jamie Campbell Bower.
Photo: Andreas Rentz/Getty
Jamie Campbell Bower must have a bit of whiplash now, with how the fan community for The Mortal Instruments has received him. When he was first cast as Jace, the Shadowhunter demon fighter who falls for the heroine Clary, some fans revolted, even putting out petitions, demanding that he be replaced with Alex Pettyfer, who was originally considered for the part. Once the book's author Cassandra Clare came to his defense, though, that helped quiet some of the doubters and detractors. Still, the actor — who first came to prominence singing opposite Johnny Depp in Sweeney Todd: The Demon Barber of Fleet Street — wants to win the rest of us over. Campbell Bower chatted with Vulture about his casting backlash, accidental incest, and changing the ending of the first film in a possible TMI franchise, City of Bones.
Whenever the male lead gets cast in one of these young adult adaptations, there's an initial backlash. Robert Pattinson had to face this with Twilight, Josh Hutcherson with Hunger Games, and now you. How did you overcome it?
I can't pretend that the reaction I received wasn't negative, of course it was negative, but it was a reaction to do with something people hadn't seen! And so while I was upset, it actually pushed me to a point where I was like, "You know what? I'm going to prove to you that I can do this, and that I am able to be this character." And so I really gave it my all.
You trained for four months in krav maga for this, but you didn't get all buff …
Yeah. That was one of the things that drew me to it, to turn Jace into a rock star. For too long now, you know, we have seen this stereotypical jock-y — and in my opinion, unrealistic — portrayal of particularly young performers, young actors. They wouldn't look like that. And I know — or I think I know! — what young girls like. My cousins, when they were 15, 16 years old, they weren't into massive guys. They were into sort of damaged rock stars, damaged goods. And that's happened throughout history. Look at Mick Jagger! And it was time that someone put that onscreen [as a male action hero], and it was one of the things that this job allowed me to do. Whether or not people like it is another thing. [Laughs.] Figure-wise, I wanted to be Brad Pitt in Snatch. A bit of Brad Pitt Fight Club, but more Brad Pitt Snatch, because he's very, very lean. Really muscular, but very lean. And I used a mood board of actors or people I wanted him to be like — pictures of a young Johnny Depp, young Heath Ledger, young River Phoenix, those sort of damaged, vulnerable, yet incredibly beautiful young men. That's what I saw Jace as. And he also had this very aggressive side, so I put up images of James Hetfield from Metallica and other people like that.
There's a little bit of a Star Wars situation with Jace and Clary — or so they're told, when they're lead to believe they've committed accidental incest.
They do, they do, they think it's incest. Have you read the books? So there you go. And when we were shooting the movie, I was very much like, the ending, it wasn't what we wanted it to be, myself and Lily [Collins]. So we changed it, so that it made sense. The characters are actually cut up by what they had experienced, and there was doubt left, because we didn't want to be like, "Oh, we're brother and sister now, and that's okay!" There has to be something more. There has to be a humanity behind it.
Wait, so what was the original ending of the film, and how exactly did you change it?
Well, I don't want to say what the original ending was, but let's put it this way: Iit sort of wrapped things up, let's say, for the two of them. And myself and Lily and even Cassie as well, we were like, "We don't think this is fair. We don't think this is right." Jace's whole throughline is that his world is changed by the introduction of Clary. He was a Shadowhunter before, and he will be a Shadowhunter afterwards, so unless the love story is tracked for him, there's no point of him being in the story. And that was my point to the producers and to the team that worked on it, and I actually got a lot of support from Cassie and Lily on that. So ultimately, you're still left with doubt, and you're left with both Jace and Clary being confused and concerned, like they are in the books. The opening of the second book is Clary looking longingly at her phone, you know? You want that sort of pining, and that sort of taboo love to really maybe possibly come back.
In Twilight, you were played a member of the Volturi, but you originally wanted to be Edward. What would have been your take on him?
It obviously didn't happen. [Laughs.] I wanted to be a part of the first movie, and then they came back and asked me if I wanted to be the second one, and subsequently the last two, and I said, "Absolutely! Of course I would!" I wasn't sure what I would have done with Edward, but I think I've always been drawn to the misfit character, the characters who don't really know who they are, and I probably would have made him more like classic vampire, more like Brad Pitt in Interview With the Vampire [laughs], which maybe a lot of the kids wouldn't have been able to connect with!
You keep citing Brad Pitt as the underpinning for all these characters!
[Laughs.] I could have used Gary Oldman. I only said Brad because he had long, blond hair.