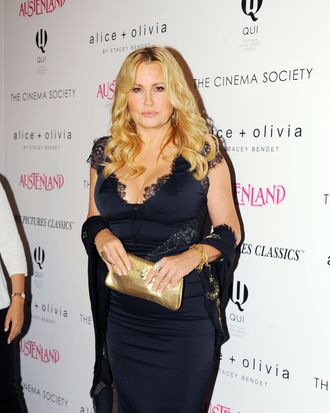 Jennifer Coolidge.
Photo: Paul Bruinooge/?Patrick McMullan
Sony decided to celebrate the opening of Austenland — a movie about an obsessive Jane Austen fan who goes on a Regency-era role-play vacation in search of her own Mr. Darcy — with a women-only party. It was a good idea in theory: Jane Austen! Women power! But in reality? Well, assuming you're straight, who wants to sit through a love story for two hours, then head to a hotel where there's not a man in sight? "Right?" said Jennifer Coolidge, who stars in the movie alongside Keri Russell. "You're, like, romanced up!" But the event, hosted by the Cinema Society, was a nice change of pace (we guess) and certainly a welcome one for Coolidge, who is seeing someone at the moment anyway. She also has a celebrity crush to hold her over:
"There was this Swedish actor, Mads [Mikkelsen] … he was in this movie The Hunt," she said. [Ed note: He's actually Danish.] "He's a babe. He's someone where I watched a movie and I'm like, Wow — that's a brilliant actor. And that's such a turn-on, when someone's that talented." Her other must-haves: "Funny. Someone who is hilarious. Really good conversationalist. Smart. A guy that loves animals." So everything that most women want in men? Yes, except, also, this: "I always fall for the guy that, like, has to blow me off because he needs to go do something with his dog. I love those kind of guys." Fortunately, they were nowhere in sight.