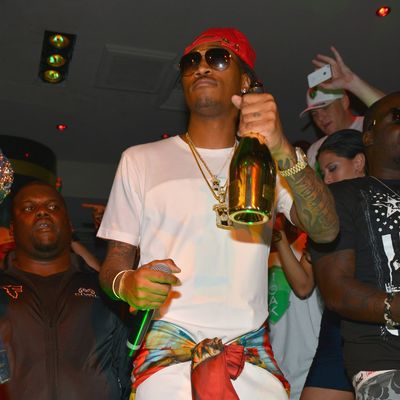 Photo: Bryan Steffy/WireImage
Future, "Honest"
Honesty, you see, is Future's policy. On his great 2012 album Pluto, the Atlanta rapper transformed himself from also-ran to star by embracing sincerity, and Auto-Tune: serving up confessions and plaints, over windswept production, in a pitch-shifted rap-croon. The title track from his forthcoming album gives the formula a cheeky spin: It's one giant humblebrag. "Gold bottles on bottles, I'm just honest / Hundred-thousand on watches, I'm just honest." Is Future boasting, shit-talking? Of course not: He's just practicing Radical Honesty. "I was gon' lie," he warbles, "but I had to tell the truth."
Cage the Elephant, "Come a Little Closer"
"Time flies / They all sing along," sings Cage the Elephant front man Matthew Shultz in "Come a Little Closer." A couple of decades ago, Shultz's band, from Bowling Green, Kentucky, might indeed have been leading stadium-size sing-alongs: They're one of America's best, cleverest mainstream rock groups. Their taut, catchy songs find neat ways to freshen up punk, garage, blues, and other crusty classic styles, and to give the whole thing an appealing digital-age pop sheen. "Come a Little Closer" is a typically nifty construction: The verse's smoldering, noirish groove erupts into a big rock chorus, with Shultz unleashing his best Liam Gallagher snarl. It's a sound worthy of a bigger audience than Cage the Elephant's modest but devoted cult.
Cults, "I Can Hardly Make You Mine"
Cults are the best of the indie-pop girl group revivalists, in my book, and this song shows why. Madeline Follin's vocals float above grand, thrusting music worthy of the overused adjective Spectoresque, and the lyric hits just the right note of teen-dream longing: "If you could just give me a sign/We could leave it all behind."
Luke James featuring Hit Boy, "Oh God"
Luke James looks like a J.Crew model and has a big bright-toned singing voice that pours out nice and smooth. He seems, in other words, like generic R&B smoothie — but looks, and in this case, sounds, are deceiving. James is an old-fashioned melodrama man; he's at his best when emotions run high and the emotional currents get choppy. His 2012 debut single, "I Want You," was ardent; in "Oh God," the mood is tragic, torchy. "Why would you leave? / Tell me, baby, how could you go?" he sings. In the video, James wears a blood-spattered tux, which seems just right.