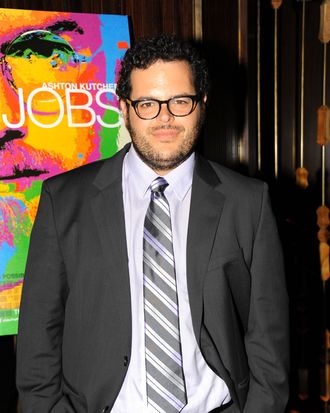 Josh Gad.
Photo: Paul Bruinooge/? Patrick McMullan
A lot of the attention for the Steve Jobs biopic is centered on Ashton Kutcher's depiction of the late Apple co-founder — it is, after all, called Jobs. But what about the portrayal of his partner in crime, Steve Wozniak, who actually invented the Apple computer? Josh Gad, who was on hand for last night's premiere of the film hosted by the Wall Street Journal, chatted with us at the film's after-party at the Royalton about his performance, scaling up and down for movie roles, and why he may have been responsible for Woz's early meeting with North West.
I'm marveling at how you look now, because you plumped up for the Jobs role, and you've since lost the weight. But you're going to have to gain again to play Sam Kinison.
I've turned into the Christian Bale of my weight class! I'm very concerned about it. I had to lose 30 pounds for my next two movies, so I was like, "Great!" This has been the most stressful year of weight gain and loss. But I'm working with a nutritionist, and it's all very healthy.
Good, because Ashton ended up in the hospital the way he did it.
Yeah, Ashton did something I don't think I would do [by eating Steve Jobs's fruitarian diet]. I'm not going to go on Kinison's special diet. [Laughs] I'm just going to gain weight, I promise.
Did you ever get a chance to talk to or meet Steve Wozniak?
He's actually on the phone right now if you want to talk to him. [Holds up phone] He and I talk every day. [Laughs] No, unfortunately, I didn't. It was one of the great regrets I had working on the project. We reached out on numerous occasions, but he's consulting on another Jobs film, [the Aaron Sorkin/Sony film] amongst many. It's the next Star Wars franchise. So I didn't have a chance, no. I would have loved to.
His life is really fabulous right now. Did you know he got to be the first person to meet baby North West?
I didn't know that! There you go!
He's having a real moment right now.
I feel like he got that moment because of me. That particular moment, he got because I willed it into existence.
Why do you think he's so delightful?
Steve Wozniak is one of the most beautifully real people I've ever not had the pleasure of meeting, but that I've ever had the opportunity to embody. Working on this project and exploring his journey, and exploring his early life and his later life, was one of those kind of epiphanies for yourself, where you're like, "Oh, my God, I take life way too seriously."
He rides a Segway everywhere, too.
Oh, I know. He was in a Segway polo competition.
Woz is the heart of the movie, because Steve Jobs comes off as kind of an asshole …
Yeah.
And in a way, it's an unanswered question: Why was he like that? Some people debated whether he had Asperger's or some other condition that made him lack empathy or compassion, the way he treated people.
I don't think we have that answer. I kind of joke around the fact that … he was considered, I don't know if he was an asshole necessarily, but he was considered a difficult person at times. But it was a means to an end for him. And the truth is, Jobs, in real life, was far more gregarious and jovial and prankster-like than we even had time to explore. So early on in the process, the director described my kind of role within the film as the conscience, as Steve Jobs' conscience, so the audience had something they could latch onto, so that you didn't feel this empty void when you saw the film.
Like that scene in which you cry and say goodbye …
I don't know if that ever happened, I don't know that we'll ever know. The problem with a film like this, we only have two hours to tell the story, and even with the Isaacson book out there, we know so little [about Jobs]. It's the equivalent to doing a movie about John F. Kennedy two years after he died, as opposed to doing a movie about John F. Kennedy now, warts and all, with what we know. And I think that so much of Jobs's personal life is still very unanswered. I don't think we know. The Isaacson book really does raise more questions than it answers about who he was. He would have these crying fits, unbelievable crying fits, and I don't think we know why. There was a lot of stuff — Steve Wozniak was almost a different person after a plane crash — that we didn't have time for. You could do an eight-part miniseries on these two.