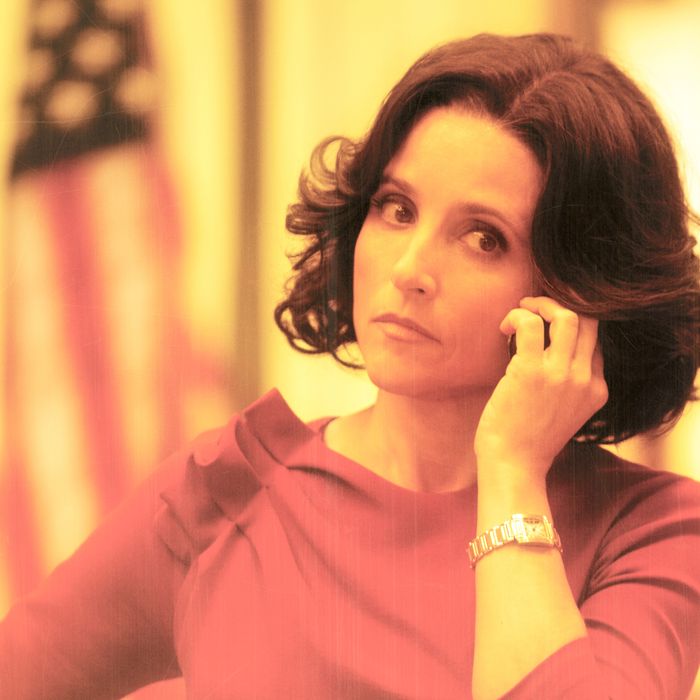 As the Emmys approach (September 22), Vulture reached out to nominees to pose the question, "What was your favorite episode from the last season of your show?" Mad Men's Linda Cardellini and Scandal's Kerry Washington have weighed in. Today, we have Veep's Julia Louis-Dreyfus.
The Episode: "Running"
On her way to schmooze potential campaign contributors — or, in Veep parlance, give them "donor boners" — Vice-President Selina Meyer suffers a freak accident. That is, she walks into a glass door, which shatters. ("Duchess is down!") It happens early into the second season's penultimate episode "Running" and was inspired by series creator's Armando Iannucci's real-life goof. "They really did tell him, 'Don't move. We have to cut you out of your clothes,' which actually makes a lot of sense," Julia Louis-Dreyfus told us. "Fortunately, we didn't shoot what would have come next." Selina's crash sets off a chain reaction that derails her secret campaign to run for president and sends her into a professional tailspin. A really bloody professional tailspin.
Selina is whisked away to recuperate in a hotel room where the combination of St. John's Wort from Gary and her usual antidepressants put her in a happy place that is both lovely and terrifying for her staff. Louis-Dreyfus says she couldn't wait to play "crazy stoned Selina." "My favorite moment is when Amy [Anna Chlumsky] comes in and I say, 'Amy, look at this, watch how tiny I can make myself!'" Louis-Dreyfus said. (Selina "shrinks" by closing her eyes and making tight fists.) "Amy has such a look of horror on her face, as if she is witnessing the most gruesome car accident."
As Oprah might say, the drugs turn Selina into her best self. Sober Selina doesn't care who she steamrolls in her ambitions to become president, but crazy stoned Selina is just really nice! She's playful ("Russell Crowe. Gladiator. I'll be back"); she jokes with Jonah ("I can even say it the other way … Hanoj"); and she's kind to her staff (offering to buy the boat Mike can't unload and suggesting she'll crash the 40th wedding anniversary of Gary's parents). "The idea that she can sort of relax mentally, which is almost an impossible thing for her to do, was so freeing. It gave her such a sense of euphoria, as opposed to making her a sloppy stoner, and you know, I get it. I definitely get that," Louis-Dreyfus said. She even gets why Selina began giggling by herself during an off-camera pee break. "I think she was there, sitting on the toilet, and she realizes she's left the door open."
The hotel-room scenes were filmed late at night after an "extremely long" day, so playing loopy was no problem for the cast. Until, of course, they were actually tired. Louis-Dreyfus reveals when Selina and Mike are supposed to be asleep in the background (she's on the bed, he's on a chair), co-star Matt Walsh actually fell asleep. "I remember lying there and he started snoring," she laughed. "I had to work really hard to control my breathing because it was hilarious. And it wasn't broad, fake snoring. It was just the right amount of realistic, off, subtle snoring."
Alas, the drugs wear off, and in their wake, Selina finds herself participating in the "Get Movin'" Fun Run, bloody face and all. Louis-Dreyfus didn't mind having to work up a sweat during those scenes because the race was shot on a freezing winter morning. "Oh my God, all those poor atmosphere actors in their skimpy little tops. I felt so bad, we were trying to get blankets on everyone because it was really cold," she said. After the race, Selina learns impeachment hearings have begun for the president. Fed up and hemorrhaging from her face, she decides against running for reelection. It's a serious moment following all the topsy-turvy insanity. "I really love the symbolism there, the blood dripping in her mouth and down her nose while she's talking about how she's done," Louis-Dreyfus said, adding that fun Selina was great while she lasted. "These poor people who surround her are so oddly devoted to her, it was nice to give back a little while she was stoned," she said. "It was nice to be happy with them, and not just the kind of narcissistically happy Selina usually is."