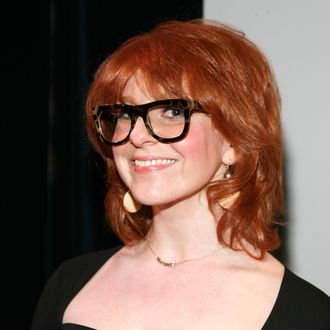 Photo: Andy Kropa/2012 Andy Kropa
Well, lookee here — this week's guest on the NPR/WNYC trivia program "Ask Me Another" is none other than Vulture's Media Ambassador, Julie Klausner. One thing we learned when we listened to her episode? She knows way, way too much about the Monkees. Another thing? That we know hardly enough. But what we don't know is how much knowledge about the Monkees our readers possess, which is why we asked "Ask Me Another" if we could reprint the quiz they subjected Julie to so that you could give it a shot before tuning in. Take the quiz below and then listen to the show to see how many you get right, and find out who Julie's talking about when she says, "They're both androgynous in that lesbian-with-the–Joyce DeWitt–hair kind of way. They both would look amazing in high-waisted pants and, like, a blouse."
Here are the questions that Julie blows through on this week's "Ask Me Another":
1. The Monkees TV show was funny, quirky, and a little "out there" story­wise. Which of the following was not the plot to a Monkees episode?
a. A mad scientist pays the Monkees $200 to teach his monster rock and roll, then tries to put their musical talents into his monster's brain.
b. The Monkees are kidnapped by an Asian triad after Peter takes a fortune cookie containing the secret formula for a "doomsday bug."
c. Mermaids convince the Monkees to go to Atlantis to win a "Battle of the Bands" against dolphins.
2. On a very special episode of The Brady Bunch, Marcia mistakenly says that she could get a particular member of the Monkees to sing at her junior high prom. Of course, since Marcia always gets what she wants, which Monkee shows up at her prom as her date?
a. Peter Tork
b. Davy Jones
c. Micky Dolenz
3. When the Monkees started out, their songs were written by professional songwriters like Neil Diamond. Finish these song lyrics written by the husband­-and-­wife team Gerry Goffin and Carole King, about living in suburban West Orange, New Jersey: "See Mrs. Gray, she's proud today, because her roses are in bloom / Mr. Green, he's so serene, he's got a TV in every room / Another — …"
a. Tapioca Tundra
b. Man Without a Dream
c. Pleasant Valley Sunday
4. The Monkees broke up in 1970, but they never went away, with frequent reunion tours and even a comeback in the late eighties. Mike Nesmith was often a no-­show, however, possibly because he didn't need the money. You see, his mother invented a common office supply product that helped with her job as an executive secretary. What was it?
a. Liquid Paper
b. Binder clips
c. Post-it Notes
5. In 1988, the rap group Run-­DMC covered the Monkees song "Mary Mary," written by Michael Nesmith. But instead of asking "Mary, Mary, where are you going to?" they changed it to what question?
a. "Mary Mary, who you dogging?"
b. "Mary Mary, why you bugging?"
c. "Mary Mary, where you chilling?"
6. Davy Jones was such a huge star in the sixties that an English singer who was born David Robert Jones felt like he had to take a stage name to avoid confusion. What did this famous musician change his name to?
a. David Gilmour
b. David Lee Roth
c. David Bowie
7. Complete these lyrics: "Oh, I could hide 'neath the wings, of the bluebird as she sings / The six o'clock alarm would never ring / But six rings and I rise, wipe the sleep out of my eyes / My shavin' razor's cold and it stings / Cheer up, Sleepy Jean. Oh, what can it mean? / To a daydream believer and a _______."
a. homecoming queen
b. merchant marine
c. pinball machine
Listen to Julie Klausner's segment on this week's show to find out how you stack up against her. Here's a teaser, in case you're shy!