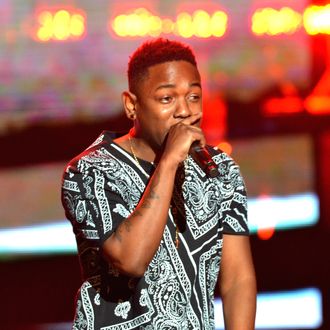 Kendrick, Kendrick's shirt.
Photo: Rick Diamond/Getty Images
Kendrick Lamar's rap game-detonating three-minute verse on Big Sean's "Control" — where the Compton-based K-Dot called himself the king of New York before individually telling most modern rappers to watch themselves — has maybe been taken a little too seriously. "I didn't know there would be so much speculation, I just want to rap," Lamar tells L.A.'s Power 106. "I think it's a case of maybe I should dumb down my lyrics just a little bit. The irony of that line is that the people who actually understood it and got it were the actual kings of New York, you know, me sitting down with them this past week, and them understanding — it's not actually about being the king of whatever coast, it's about leaving a mark as great as Biggie, as great as Pac." Now if the follow-up to good kid, m.A.A.d city is suspiciously simple, you know why. (Hopefully that'll never, ever happen.)
Update: he talked to Hot 97, too.