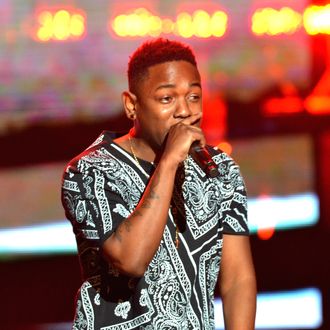 Photo: Rick Diamond/Getty Images
On the first day, Kendrick Lamar released an insta-classic verse (on Big Sean's "Control") calling out basically every rapper making headlines in 2013. On the second day, a bunch of other rappers released responses. There is already a Twitter account tracking the "Control" follow-ups, but here is a sampling for your edification and fake-rap-beef enjoyment. More to come, one assumes.
First up: Joell Ortiz, who is feeling more than a little territorial about Brooklyn.
Here's Lupe Fiasco, who spent most of yesterday writing responses for other rappers. (Like, ones actually named in Kendrick's verse.)
B.o.B would rather be playing guitar:
Kevin Hart's alter-ego made an Instagram video:
Iman Shumpert just wants to stay on the Knicks:
One more from Cassidy:
And this is not a rap verse, but it's funny:
Bonus Diddy response: