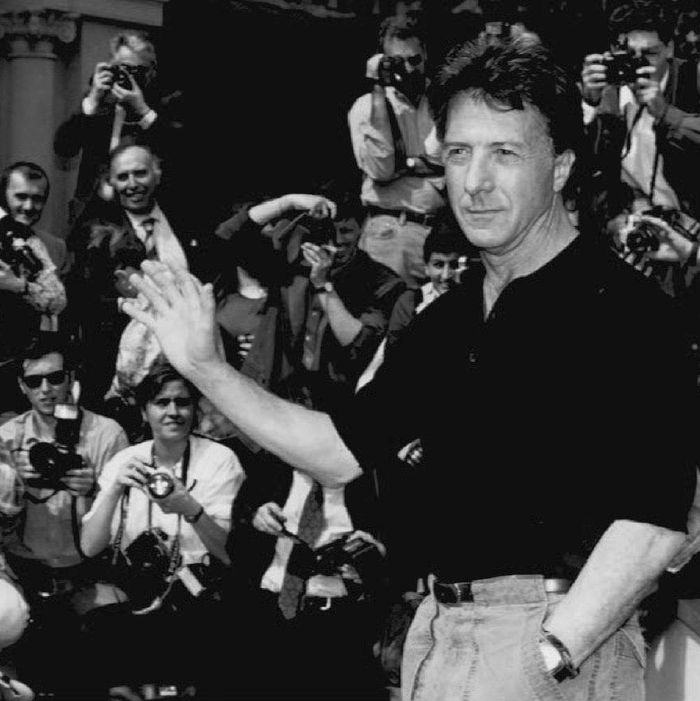 Photo: ANSA/AFP/Getty Images
When Elmore Leonard died this week at 87, he left behind a legacy of not only dozens of great crime and Western novels, but an array of taut and colorful film adaptations, including The Tall T, 3:10 to Yuma, Hombre, Get Shorty, Out of Sight, and Jackie Brown. But one could-have-been classic was never realized: LaBrava. The details of the project are scattered to the wind, but we've pieced it together as well as we could from various books and periodicals: Nick Dawson's Being Hal Ashby, Walter Mirisch's I Thought We Were Making Movies, Not History, Paul Clarence Challen's Get Dutch, and various articles in the Los Angeles Times, the Guardian, American Film, and Variety.
In 1983, Academy Award–winning producer Walter Mirisch — a good friend of Elmore Leonard's ever since he'd hooked up Charles Bronson with the author's 1974 Mr. Majestyk script — acquired the rights to Leonard's latest novel, LaBrava, for $250,000, and set up a deal with Universal Pictures. Universal then put up a quarter million dollars for Leonard to adapt the book.
The following year, Dustin Hoffman — who hadn't made a feature since his acclaimed performance in Tootsie — read the script and declared an interest in starring as the ex–Secret Service agent Joe LaBrava.
At Hoffman's suggestion, Mirisch sent the script to Martin Scorsese, who agreed to direct. Mirisch and Leonard flew in from Los Angeles; for months, they held endless meetings in a New York hotel suite, trying to get Hoffman to commit to the role. Then, according to Leonard, Hoffman started adjourning meetings early to take care of "personal business." On one morning following a shortened workday, Hoffman came in and asked Leonard and Mirisch, "Wasn't it great yesterday, the sun out all day?  What did you guys do, go to the park?" They gritted their teeth. 

"Look, it's okay for you guys, but I'm not getting paid for this," Leonard told Hoffman and Scorsese. It's okay, Hoffman said, "You'll be paid retroactively." When Leonard mentioned this to his agent, he was met with an eruption of laughter. "They'll never make this picture," he told Leonard. By the summer of 1984, Leonard was publicly describing the rewriting experience as "laborious."
Finally, at the end of 1985, Hoffman agreed to take the part — for a reported $6.3 million and 22.5 percent of the gross (although one source later told the Los Angeles Times that the asking price was more than double that figure). Universal refused on the grounds of the expense, but allowed Mirisch to take the property elsewhere. Still no luck: Fox passed, and Disney, and Geffen. But the independent Cannon Group, lately raking in money hand over fist thanks to low-budget successes, stepped up to the plate. They had money to spend, and were eager for prestige. Unfortunately, Cannon's participation caused its own troubles. Scorsese balked at making a film for a company he didn't know and decided to bail. Francis Ford Coppola read the script and wanted to do it — in eighteen months, after Peggy Sue Got Married and Legs (an ill-fated adaptation of William Kennedy's novel that was to star Mickey Rourke). After waving good-bye to Coppola, Mirisch and Leonard approached Hal Ashby, and finally they had a match. Rewrites began again, with a shooting date of August 1986 planned.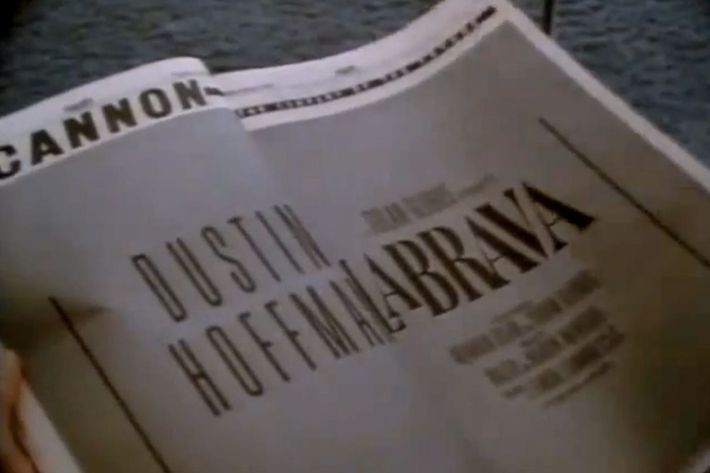 But Hoffman was unsatisfied with Leonard's script and uneasy about plans to pair his character with an older woman as the romantic lead. He'd been gunning for a co-director credit with Ashby, but the Directors Guild rules would not allow it. So maybe it should have been no surprise that when Cannon published full-page ads that used Hoffman's name (pictured above in a still from the 1986 BBC film The Last Moguls), he hit the roof. "I'm mad as hell at those guys," he told Mirisch, and urged the producer to withdraw the film. By March 1986, Hoffman was gone.

After everything was scrapped, Mirisch told an interviewer, "Dustin Hoffman became enamored of LaBrava and decided that he wanted to make a movie out of it — or at least we thought he wanted to make the movie. What we subsequently discovered was that he just wanted to talk about making a movie." (For his part, Hoffman later said that Mirisch had set up the Cannon deal without his knowledge.)
A decade later — by which time the Coen Brothers were developing LaBrava — Hoffman asked Leonard if Get Shorty's Method-obsessed Martin Weir (portrayed by Danny DeVito) was indeed based on him. "Come on, Dustin," Leonard said. "You think you're the only short actor in Hollywood?"