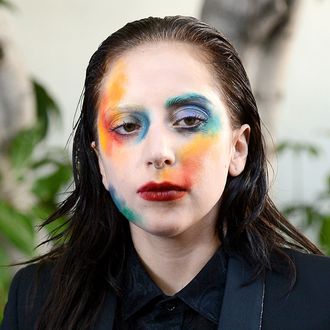 Think that's her Twitter war paint?
Photo: All Access Photo/Splash News
Lady Gaga has definitely had it with blogger and former BFF Perez Hilton, allegedly for favoring Katy Perry's new single "Roar" over her own "Applause." The already ugly situation — one reportedly involving Perez sending a picture to Gaga of "a wheelchair with the words KARMA written across + Madonna pointing a gun at [Mother Monster.]" (huh?) — turned much worse when Hilton was spotted in the lobby of Gaga's NYC building over the weekend.
The pop star did not take kindly to what she called stalking, lashing out via Twitter (with a message that has since been removed): "STAY AWAY FROM ME + MY FAMILY YOU ARE SICK TRYING TO RENT AN APARTMENT IN MY BUILDING TO STALK ME. LEAVE ME ALONE!!!" Meanwhile, Hilton took to The Hollywood Reporter to say: "I am a critic and not a stalker," further pleading with Gaga's Little Monsters to stop sending death threats to him and his young son. On her end, Gaga proved that not all is lost — she also asked her fans to back down: "I can fight my own battles monsters, please stop sending negativity on my behalf it's not what I stand for. I can handle myself." For the time being, all seems quiet on the Twitter front, but who knows what tiffs these two will get into when the sun comes up.