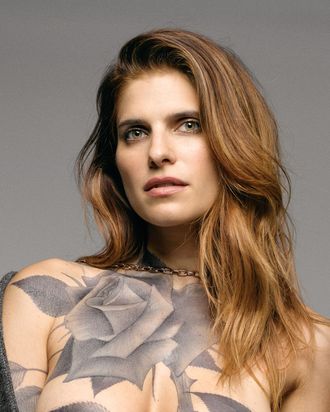 Photo by Mark Seliger
Photo: Mark Seliger. Tattoo by Scott Campbell; styling by Rebecca Ramsey; hair by Harry Josh at harryjosh.com; makeup by Christian McCulloch for Dolce & Gabbana Makeup; nails by Honey for Exposure NY; set design by Rob Strauss Studio; coat by Louis Vuitton; chain by Jennifer Fisher; rings by Jennifer Fisher and Mawi
Let's get it out of the way. The giant rose on Lake Bell's chest is not real. She did not, in defiance of tattoo physics or Hollywood's expectations, magically ink a third of her body overnight. But if she ever decides to make a permanent change—add a whole sleeve of flowers, say, or put ­Yosemite Sam on her quadriceps—now she knows how her loved ones would react. Bell, 34, went straight from her New York photo shoot to a Hamptons wedding (for the designer Lyn Devon, a family friend), and since tattoo transfers are fairly glue-­intensive, she didn't have time to remove the rose. "I had a spaghetti-strap maxi-dress on," she recalls a few days later at a Fort Greene bar near her home, "and I came in with this massive flower on my chest, and nobody said a word." When Bell finally assured her godmother that the tattoo was fake, the whole party seemed to relax. "Everyone was apparently abuzz behind my back," Bell says, and then mimics their voices: "I can't believe she did it." "Did you see it?" "How couldn't I see it, are you kidding?" "Well, you know, she married that tattoo artist."
"That tattoo artist" would be Scott Campbell, ink ambassador to the celebrity-­fashion worlds and a formidable body-art collector in his own right. (The rose was his idea, as was Yosemite Sam, which he suggested as a joke.) Friends who knew the actress when she was just a Chapin girl might not have expected the match, but to Bell it clicked instantly. The pair met in 2011 on the set of How to Make It in America, HBO's ill-fated East Coast answer to Entourage, when Campbell was hired to apply a transfer (a stack of pancakes) to Bell's character, Rachel. They reconnected a couple of months later, and within nine days of their first date, Campbell had tattooed Lake's name on his back. Everyone at his studio thought he had lost it. Happily, though, Bell did not. "I read it and looked at him and I said, 'Yeah. That's about right.' "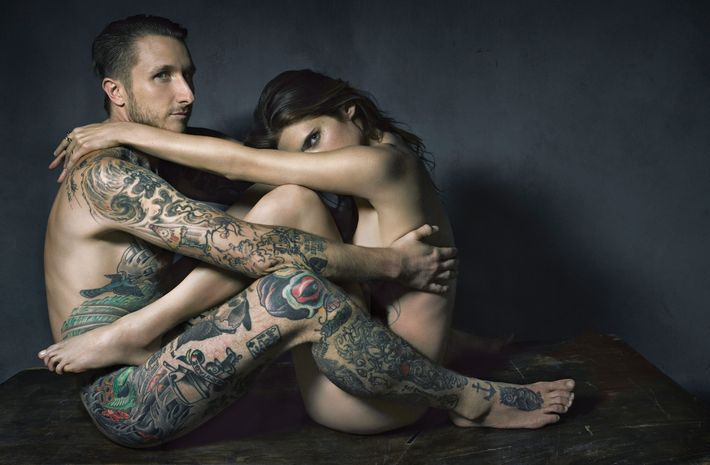 Perhaps because Bell already is a tattoo, she's in no rush to get any real ink of her own. Technically, she does have one: a "pea-size" hand poke that she gave herself at 14, and which her husband affectionately refers to as her prison tattoo. ("I'm like, I was in a preppy boarding school, so yes, let's go with that story.") But for the most part, "I think the idea is that he carries the tattoos for the family," says Bell. Plus, she points out, ink is pretty common these days. "In a way, I think I am more novel in my absence of tattoos."
She and Campbell have found other ways of working together. To save money on licensing fees, Bell recruited Campbell to be an art assistant for her new comedy, In a World … "Scott and I spent a whole night painting bad fake Keith Harings. Heath Karing, I guess. We both did fake Picassos." Campbell also did a "humongous" painting of a butt plug that appears in the movie behind two Russian women in a party scene. Bell reenacts the moment—accents and everything—with gleeful precision.
In In a World …—written and directed by Bell, and named for the phrase that opens so many movie trailers—the actress plays Carol, a thirtysomething woman ­trying to break into the male-dominated trailer-voice-over business. It's a funny but pointed take on Hollywood's lack of good roles for women, even behind the scenes. Bell is matter-of-fact about this ("I won't shun the message") but keeps her touch light. "I don't like being preached to. So the last thing I wanted to do was preach to my audience about anything."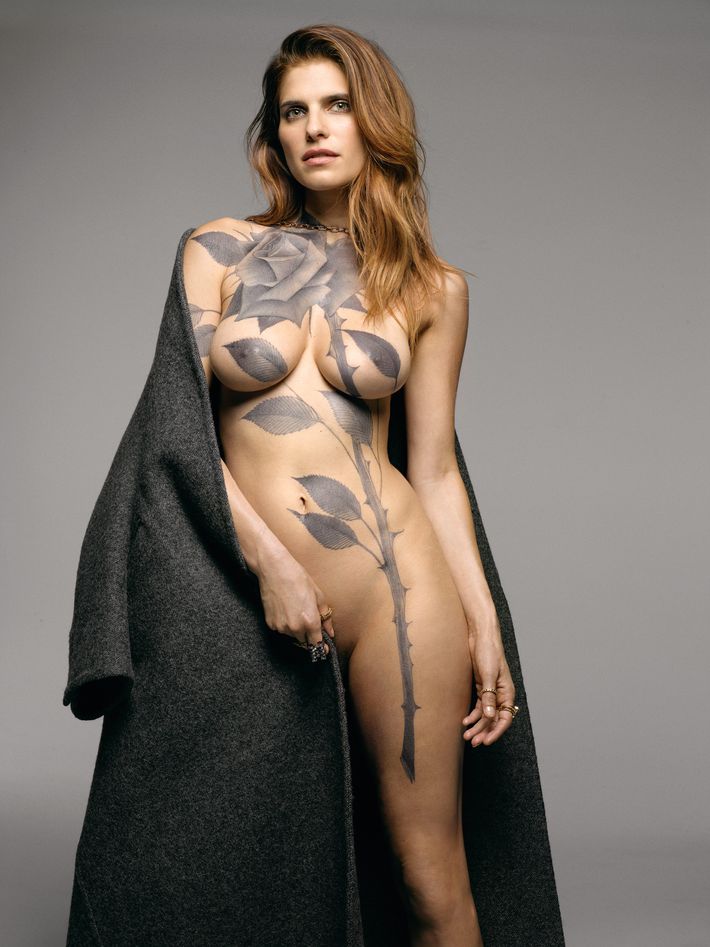 Except on the matter of vocal fry. In a World … coins the term sexy-baby vocal virus for a popular affectation among women that sounds like a combination of a croak and the Valley Girl accent. The otherwise easygoing Bell—whose natural voice is low and measured, thanks to an early background in theater—is vigilant against its spread. She recently turned an interview into a speech lesson for a reporter with a particularly jarring whine, because she kept getting distracted by it. During our conversation, she gave a kind but impassioned lecture about the dangers of the word like, and only in playback did I realize that the advice was probably meant for me. "You can literally lose a job, lose a potential boyfriend," she offers mid-intervention. "The sound of someone's voice is very powerful."
Bell hopes that In a World … will actually land her the real-life voice-over work that she's coveted since the beginning of her career. (Bell started acting on shows like Boston Legal and NBC's short-lived sci-fi series Surface; more recently, she's been in various rom-coms and on Adult Swim's Childrens Hospital.)
"I mean it," she says when asked about the remarkably convincing promo she does at the end of the film. "This is a 93-minute audition to the voice-over world, hoping they will hear me." It's also her feature-filmmaking debut, and she takes its fate seriously; Bell has been so busy with the movie that she and Campbell, who married in June, have yet to plan a honeymoon. When a fan comes by to say hello, Bell deftly converts his offer to buy her a drink into an order of pickles, then calls him back to plug some more. "Are you going to go and see my movie on Friday?" She switches to her trailer voice and says the magic title words twice. Pickle Guy and I both lean in, sold on the idea of Lake Bell as omniscient narrator.
Bell does the voice for me one more time, mock-narrating the trailer for her own life. "In a worrrrld [dramatic pause] where one woman …" She stops there, as if not to jinx anything.
*This article originally appeared in the August 19, 2013 issue of New York Magazine.