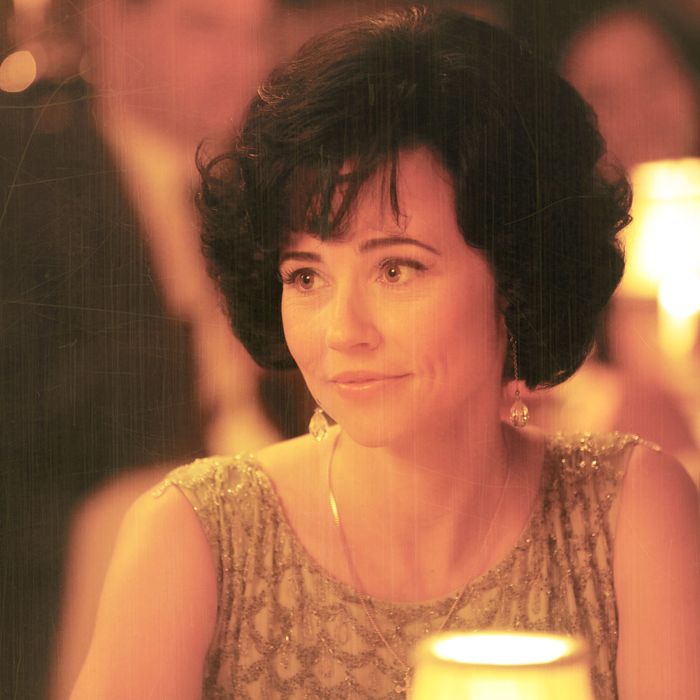 Photo: Michael Yarish/AMC
As the Emmys approach (September 22), Vulture reached out to nominees to pose the question, "What was your favorite episode from the last season of your show?" Today the series kicks off with Mad Men's Linda Cardellini.
The Episode: "Man With a Plan"
Sylvia's willingness to comply with Don's kinky demands in "Man With a Plan" may have surprised some viewers, but Linda Cardellini had long defined Sylvia as a woman who went her own way. "She's Catholic, but she married a Jewish doctor. And she had only one child, which wasn't typical of Catholic families in that era," the actress told Vulture. "Her religion is fascinating, too. She is in the grips of passion with Don and at the same time she's grappling with her conscience. I do think there's some part of her that is turned on by the conflict."
So after a blow-up with her husband, Sylvia calls Don — or rather, she summons him, purring into the phone, "I need you, and nothing else will do." Cardellini says, "She calls him knowing exactly what she wants." What follows in "Man With a Plan," the seventh episode of Mad Men's sixth season, is a series of disturbing mind games between the two in a hotel room that push the bounds of their already dangerous affair until Sylvia, once again, goes for the expected.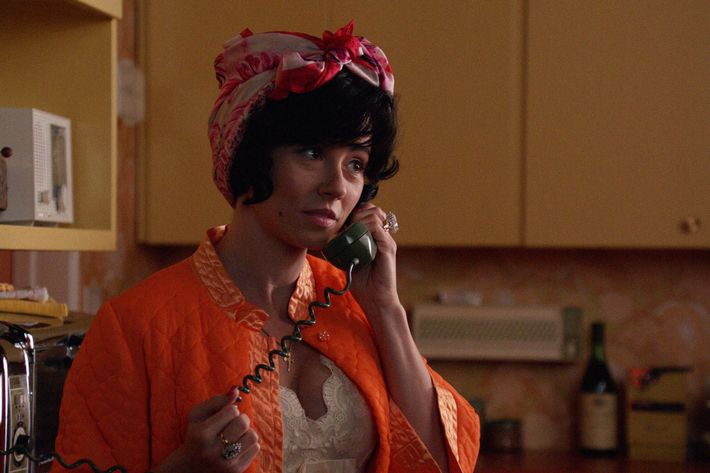 Feeling emboldened by the ballsy move he pulled at work (secretly merging SCDP with Ted Chaough's firm), Don arrives to meet her, ready to let his exploding ego run wild. He orders her to fetch his shoes, to take her clothes off just as she's put her dress back on, to wait for him alone, to let the phone go unanswered. Sylvia's startled but more than anything else curious and tempted. "That would infuriate a lot of people, but it turns her on," Cardellini said. Not only does she not answer when he calls, she masturbates while it rings. "When she starts to go along with it, she finds she can enjoy it, and I understand that because she wants to escape what she's just come from, that terrible fight with her husband. Don is an escape for her as much as she is an escape for Don." Filming some of the more awkward intimate moments was "definitely weird," she says, but noted that it helped that John Slattery directed the episode; the two had starred in (and performed a love scene for) the film Return. "John's fantastic, and at least we had already broached that kind of thing together," she laughed. "I mean, I had to crawl around, so it was not super comfortable. Obviously, as an actor himself, he was very considerate."
Cardellini was especially happy with how he framed her up, as she had just given birth shortly before filming on the season began. "There was that one amazing shot where you see me watching Don walk out the door from just the silhouette of my naked back," she said. "And on one hand it's just a beautiful image, but on the other it also really shows someone being left naked and alone."
And that was Don's real error. In depriving Sylvia of her reading material (the book The Last Picture Show), he left her truly alone with nothing to do except to think about what she was doing. Sylvia surprises yet again by choosing  to break it off. "Being left to her own devices after a long time of playing that charade, she realizes there is no place for her to go but to deal with what she has at home, that she's not really going to leave that," Cardellini said. "I think that's an interesting thing about Sylvia, too: left to her own devices, not only can she and does she pleasure herself but she also comes back to herself in a real way."