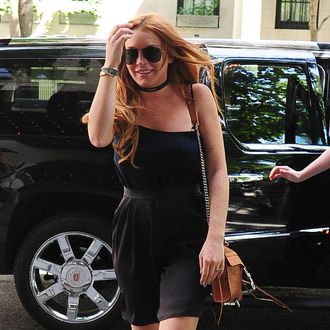 Photo: Alo Ceballos/FilmMagic
Lindsay Lohan was absent from The Canyons' Friday Venice Film Festival presentation, prompting the movie's frequently frustrated director, Paul Schrader, to declare himself "a free man" at a press conference there. "For the last 16 months I've been hostage, by my own choosing, to a very talented but unpredictable actress. She was supposed to be here today, she said she would be, but she is not," he told reporters. However, in a message posted to her website on Saturday, Lohan suggested that a party-filled international film festival just isn't a good place for a newly clean and sober actress.
"I have to clear up these reports. I was never confirmed to attend," she wrote. "Of course, I would have enjoyed returning to that wonderful city and being a part of this amazing event, but my focus is on my health and well-being. Plain and simple, it is of the utmost importance." Though cynics might interpret this as a troubling instance of old-school, messed-up Lohan flakiness, careful viewers of her recent Next Chapter interview will remember that Oprah urged her to cancel an upcoming Eurotrip — advice a postscript said she took.