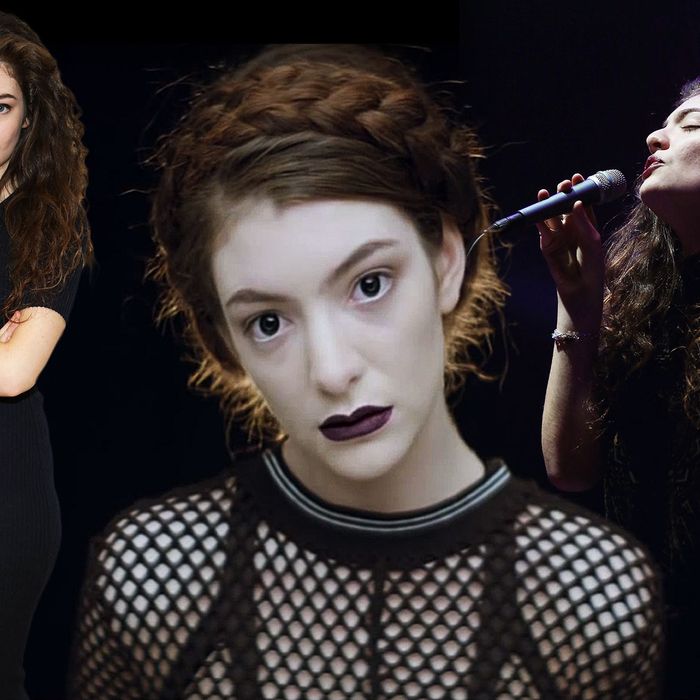 Photo: Rob Kim/Getty Images, Universal Music Group, Mark Metcalfe/Getty Images
While everyone was distracted by Song of Summer champ "Blurred Lines" and its many hot weather competitors ("Get Lucky," "We Can't Stop," "Cups"), Lorde happened. What is Lorde, you ask? She's a 16-year old singer from way Down Under who last week became the first solo female artist in seventeen years to top Billboard's "Alternative" song chart. Since being released in May, the video for her first song, "Royals," has been viewed more than 6 million times. Her first album will be out at the end of next month. You should probably know who she is:
Who is Lorde …
She's a teen from New Zealand ("a beach suburb called Takapuna, which is on the north shore of Auckland," to be more specific) who was discovered after a video of her singing Duffy's "Warwick Avenue" for her school's talent show was passed around and ended up with Scott Maclachlan, who soon became her manager. She was signed by Universal at the age of 12. Her real name is Ella Yelich-O'Connor: "When I was trying to come up with a stage name, I thought 'Lord' was super rad, but really masculine — ever since I was a little kid, I have been really into royals and aristocracy. So to make Lord more feminine, I just put an 'e' on the end! Some people think it's religious, but it's not."
… and why is everybody talkin' about her?
As we said above, she is the first female soloist to top Billboard's "Alternative Songs" chart since Tracy Bonham did with "Mother Mother" in 1996. But people were buzzing about her way before "Royals" was released in March: The song, which was inspired in part by Jay Z and Kanye's Watch the Throne, was originally passed around as part of a SoundCloud stream called Love Club EP that was downloaded more than 60,000 times.
Is she influenced by traditional New Zealand music?
Probably not. "Coming from New Zealand, all the music I listen to is not made by New Zealanders," she told FADER. "People never come to New Zealand to play a show because it's in the middle of nowhere."
Since she's 16, all her songs are about love and heartbreak and stuff, right?
"No, no. I try to stay away from talking about boys all the time. You can go to Taylor Swift to hear that."
So she's mature beyond her years?
Not exactly. She's still 16, for pete's sake: "I went to my prom," Lorde told Women's Wear Daily. "I wore this olive green, floor-length backless dress. It was rad." A teen through-and-through, she even has the Tumblr to prove it ("I think it would be impossible not to be an internet kid coming from New Zealand, because culturally it's a little barren").
So she's one of those artists.
Not really. We wouldn't go so far to call her Tumblrcore (see: Grimes, Kitty Pryde), but she certainly knows how to use a Tumblr properly. On a scale of famous young people, she's closer to Tavi than she is to Kitty.
Does she have "pop potential"?
Definitely. Her songs can be a bit gloomy, but they have extremely catchy hooks and lyrics and are just fun to sing: "But every song's like gold teeth, grey goose, trippin' in the bathroom / Blood stains, ball gowns, trashin' the hotel room, / We don't care, we're driving Cadillacs in our dreams." In addition, it would be unfair to ignore how beautiful she is (see: mermaid hair), and at 16 she's got a jump on the competition. She's also got the right famous admirers to help get the word out. Ryan Seacrest is a fan. So are Diplo, Selena Gomez, Jared Leto, Vanessa Hudgens, and Chloe Grace Moretz. A good rule of thumb is to never fully judge an artist before their first album (take Azealia Banks, for example), but we have a good feeling about this one.

So which song should I listen to?
"Royals" is the one everyone's talking about, so that one, obviously. Then check out her cover of the Replacements' "Swingin' Party," her second single "Tennis Court (below)," and this "Bravado" remix.
Okay, I'm into it. What's next?
Her first full album, Pure Heroine, will be out on September 30.