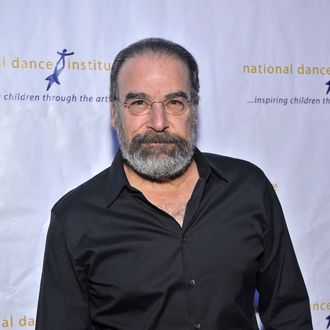 Photo: Harel Rintzler/Patrick McMullan
Even though he's the beloved Saul on Homeland, and will always be Inigo Montoya to Princess Bride fans, Mandy Patinkin has sort of a checkered past when it comes to quitting — or being fired — from TV and movies. And it's something that apparently still weighs on him today, he explains in a thorough New York Times Magazine profile.
Back in 1986, Patinkin was cast in Heartburn, opposite Meryl Streep. It didn't go so well.
"I'm ambivalent about doing Heartburn,but my agent, Sam Cohn, pushes Mike Nichols to hire me. We're at the table read, and Mike leans in and says, 'How do you feel about blue contact lenses?' And I was like, 'What?' We got to the first shot, which was on 81st Street at Pizzeria Uno, the cameras were across the street, Meryl and I were in the window playing the scene, and I remember Mike said, 'Just try to imagine a golf ball running down your leg,' to try to get me to lighten up and laugh. That was right after we did a scene in bed, naked. This was the first day, a scene in bed, naked" — he looked stricken, still —  "and now a golf ball running down my leg, and the next day I was fired. I thought my life was over. They hired Jack Nicholson, who they wanted from the beginning."
In slightly more recent history, Patinkin quit two high-profile TV series, and both of those memories come with some baggage, too. "During Chicago Hope, I never let directors talk to me, because I was so spoiled," Patinkin explains. "I started off with people like Milos Forman, Sidney Lumet, James Lapine, unbelievably gifted people. So there I was saying, 'Don't talk to me, I don't want your opinion.' I behaved abominably," he says. "I don't care if my work was good or if I got an award for it. I'm not proud of how I was then, and it pained me."
He regrets convincing himself to do Criminal Minds in the first place, too. "It wasn't the right fit," Patinkin says. "I made a choice I didn't want to make. I pushed myself, thinking I needed more fame, more economic security." He says he knew from reading the pilot it wasn't quite right, but he did the show anyway. "I schmoozed myself, I brainwashed myself, thinking, It won't be like that as it goes along," he says. "I didn't listen to any piece of myself, and I paid the price."
Patinkin says he still feels sometimes that he's "really not successful, because [he] didn't become a movie star," which is pretty depressing. Movie star, schmovie star! You're Mandy Patinkin. Holla.