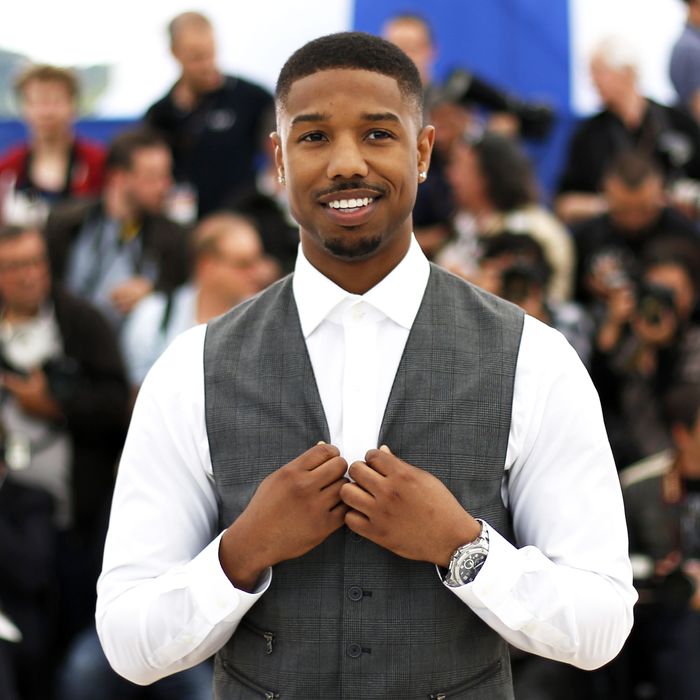 DV1476132
Photo: LOIC VENANCE/AFP/Getty
When Michael B. Jordan walked the red carpet this May for the Cannes premiere of Fruitvale Station, his awed mind kept going back to growing up in Newark, New Jersey, and watching clips of his acting idols make this exact same walk. "I watched that happen to so many people," he told me when I interviewed him for a New York Magazine feature. "So many actors that I love have walked that carpet before. You know, Leonardo DiCaprio, Ryan Gosling, Paul Giamatti, Clooney, Affleck, Matt Damon. And for me to finally walk along those same lines and have that same kind of experience, it just makes me feel like I'm moving in the right direction."
Jordan's list of accomplished actors he wants to emulate seems carefully considered, deliberate, and subtly subversive. Mainly because there's not another African-American actor among them. Not because he values their work more than that of African-American actors, but because he wants to be perceived as being different from the pack. For the first time in a long career he started as a child model for newspaper ads, Jordan, 26, finds himself in the position of having a soapbox, and one that will very likely continue to expand with the momentum of Fruitvale Station. Made for less than $1 million, it's banked $14.5 million in six weeks, and there's already Oscar buzz for Jordan, who, New York's David Edelstein wrote, "gives a major performance."
In Fruitvale Station, Jordan plays Oscar Grant III, an unarmed 22-year-old black man who was shot in 2009 by a white police officer while lying facedown on an Oakland train platform. By crazy coincidence — or one engineered by Harvey Weinstein — the movie opened the night that the Trayvon Martin verdict was rendered, which has only focused more attention on Jordan's performance. The role could only have been played by a black man, and not just because of what Grant looked like; the film is also about the universality of the black experience and about allowing people their context, to paraphrase President Obama. It's a story Jordan is proud to tell — "we're giving Oscar his humanity back," he has often said. But while this is Jordan's first lead movie role, he has put in his time playing misunderstood urban youths (gang member Reggie Montgomery on All My Children; teenage drug dealer Wallace on The Wire; delinquent quarterback Vince on Friday Night Lights; recovering alcoholic soup-kitchen manager Alex on Parenthood). He's clearly hungry for other roles: the ones that could be and should be (but rarely are) played by someone of any race.
Acting is image-based; how you look will, in part, determine what roles you can play, and that's just the nature of the business. But what Jordan seems to be speaking to with this subtle shift in how he converses about his own ambitions and the parameters of a black actor's career is expanding the kinds of roles for which black actors can be considered. He's asking to be relieved of the burden and relentless competition that comes from sitting in that waiting room with every other black actor in Hollywood going up for the one role in a movie or TV show (if that) written for the black guy. He's throwing himself into the mix for parts that it might not even occur to studio suits to cast with an African-American, saying, "Hey, if Gosling and DiCaprio pass on this, why can't you consider me?" Perhaps it's naïve to throw himself into the conversation with those heavyweights, but at least he could be allowed the courtesy of being rejected for being too green or too sweet-looking, to be judged on some other criteria.
When asked about him, his Fruitvale Station co-star Octavia Spencer told me, "He's the full package. He's a movie star, and he has talent. And I hate using that comparison, but he is, he's Will, he's Denzel. He's amazing. I hope he has the same success as Will and Denzel." By evoking the two names that come to mind for most people when thinking about the pinnacle of mainstream marquee success for black male actors in Hollywood, Spencer inadvertently underscores Jordan's point.
"I love that — it's awesome," Jordan told me. "But why do I always have to be compared to two people? It's like, okay, cool. I love Will, I love Denzel, I love Sidney Poitier, I love Forest Whitaker, I love Don Cheadle, I love Anthony Mackie, I love Chiwetel Ejiofor. I love those guys. Why can't I be Ben Affleck? Or Matt Damon? Or Ryan Gosling? I love those guys too. I look up to their work. Why can't I be compared to them? Because I don't look like them? I'm humbled to even be put in that category [of Smith and Washington] because they're doing it, and they're the best at what they do. But I have to get other people that think I can be outside the box. I can't put myself back in that box all the time."
If Jordan, as many predict, is nominated for an Oscar for Fruitvale Station, it will elicit even more comparisons to Denzel Washington, who won his first Academy Award for playing another black martyr whose race is integral to the plot: an escaped slave who joins the army's first all-black regiment in the Civil War, in 1989's Glory. Washington won his second Oscar twelve years later for playing a crooked cop in Training Day, an incredibly rare instance of a black actor being nominated for (let alone winning) an Oscar for a role that wasn't inherently meant for a black person. This year, at least four black actors have roles meaty enough to be part of early Oscar handicapping, which is impressive, but each of these roles is based on real black historical figures (Jordan in Fruitvale Station, Forest Whitaker in Lee Daniels' The Butler, Chiwetel Ejiofor in 12 Years a Slave, and Idris Elba in Mandela: Long Walk to Freedom).
Until now, Jordan has been mostly playing roles that couldn't possibly go to a white actor. He's been smart and lucky enough to have those roles come in the form of two of the most critically acclaimed shows of the decade, The Wire and Friday Night Lights. He's also kept a healthy attitude about the typecasting, recognizing that his ability to add complexity and relatability to roles of troubled urban youths is in itself a launching pad to bigger things. "Unfortunately you gotta play the game," he says. "You gotta do what you gotta do for a little bit, and I had to excel in certain areas to get chances to do things that are a little more unconventional, a little different than people are used to seeing me play."
The plan seems to be working: These roles got him the chance to play a telekinetic teen in 2011's surprise sci-fi hit Chronicle, a role originally written for a Jewish kid. FNL producer Jason Katims drafted him a guest arc in Parenthood, as an alcoholic love interest to the bookish daughter Haddie. Soon he'll be seen as an ER doctor in the upcoming bromantic comedy Are We Officially Dating? with Zac Efron and Miles Teller; a "crazy" photographer in a love triangle in Josh Boone's upcoming indie The Pretenders; and Apollo Creed's boxing grandson in Ryan Coogler's next directing foray, Creed, a reboot of the Rocky franchise. And he's being considered to play Johnny Storm in the reboot of The Fantastic Four, from Chronicle director Josh Trank. Fan boys have been in an uproar about the possibility, because Johnny Storm in the comics is blond-haired and blue-eyed, just as they were in an uproar about Donald Glover possibly playing Spider-Man. Jordan, who won't confirm whether he has the part or not, has chosen to stay out of the muck of public opinion. As he said in the New York profile, "If the opportunity came up for a role like that, why would I say no? Why wouldn't I? I'd be like, 'No, no, no, I'm black, guys. I'm sorry, no. I can't play that.'"
"I would love to play a psychopath," he continued. "Oh man, that would be amazing. I want my love role. I've never been in love [in a movie] before, so I want to know what that's like. I want to play that action hero, that guy that saves the day. I want to play the role that's a little off and weird. I want to play the killer. I want to get inside the head of somebody like that. I want to be a pilot. I want to play the astronaut. I want to play the oil rigger in the Pacific. I can't wait to be up for, say, the next Jason Bourne."
His strategy is just to continue to "make smart choices and do movies that appeal to everybody and playing characters that aren't written for the black guy. You know, 'Oh, he's the black guy, you know, mom's on drug's, dad's not around, dad comes back around, they have issues, he's in a gang, he robs people.' It's the same fucking scenarios. Why can't he be the guy that's in med school? Or just dealing with regular people shit? Those roles need to become more of an abundance because then it starts to become less surprising when I'm playing a role people wouldn't expect me to play."
Getting an abundance of choices for roles doesn't guarantee success for an African-American actor, any more than it does for any actor. Take the cautionary tale of Cuba Gooding Jr., who parlayed his breakout in Boyz n the Hood into landing respected projects like A Few Good Men, Outbreak, and his Oscar-winning "show me the money" role in Jerry Maguire. Then, his star rising, he did color-blind cash grabs in Snow Dogs, Boat Trip, Norbit, and Daddy Day Care (a streak that included two Golden Raspberry nominations for Worst Actor). It could happen to anyone who is dangled big paychecks. Presumably Jordan would show better taste than that, but it would be a big step to be offered the messiness of choice.