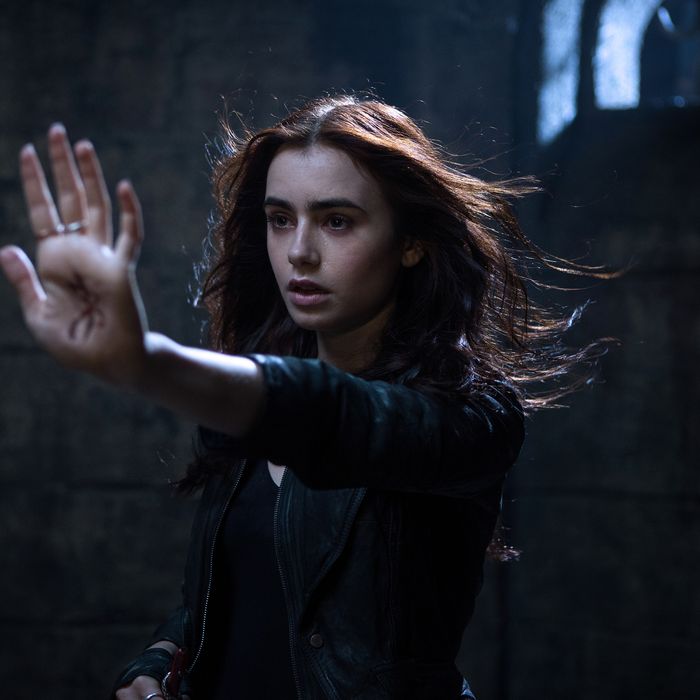 Photo: Rafy/? 2012 Constantin Film International GmbH and Unique Features (TMI) Inc. All rights reserved. **ALL IMAGES ARE PROPERTY OF SONY PICTURES ENTERTAINMENT INC. FOR PROMOTIONAL USE ONLY. SALE, DUPLICATION OR TRANSFER OF THIS MATERIAL IS STRICTLY PROHIBITED.
Poor Percy Jackson has barely finished navigating his Sea of Monsters, and already there's a new YA fantasy franchise muscling in on his Potter-inspired turf. The Mortal Instruments: City of Bones, based on the first installment of Cassandra Clare's six-book series, is yet another teens-with-magic-powers flick, but this time, the secret supernatural world in question is not one of cute wizards or sparkly vampires or angsty demigods. Rather, it's one of demons and those who would pursue them, known as shadowhunters. And instead of somewhere off in the woods or in some other pastoral dimension, it's all happening here, in New York City (or, at least, Toronto posing not entirely convincingly as New York).
Our heroine Clary (Lily Collins) thinks she's just an ordinary Brooklyn teen living with her artist mom (Lena Headey) and spending her time going to bad poetry slams with her nerdy friend Simon (Robert Sheehan). But suddenly, she starts seeing strange occurrences and becomes obsessed with a mysterious symbol that looks sort of like a swastika. She's confronted by an androgynous young man covered in leather and tattoos who wouldn't look out of place as one of Lord Humungus's sex slaves in The Road Warrior. This is Jace (Jamie Campbell Bower), a shadowhunter who spends his time finding and killing demons. That Clary can even see him suggests that she herself may have shadowhunter blood in her.
This all coincides with Clary's mom disappearing, and soon enough, our heroine and Simon are being inducted into the world of these half-angel, half-human mortals who have been protecting the world of the living since the time of the Crusades. The shadowhunters get their powers not from spells but from runes, various glyphs that they carve into their bodies, which (sort of) explains all their badass tattoos. And, as is traditional, along with the introduction of these new characters into the shadow world comes some swooning. There's an attraction between Clary and Jace, which is complicated by the fact that Simon clearly has a thing for Clary, and another shadowhunter, Alec (Kevin Zegers), clearly has a thing for Jace. Meanwhile, Alec's sister Isabelle (Jemima West) might have a thing for Simon, and Magnus Bane, the High Warlock of Brooklyn (Godfrey Gao), seems to have a thing for Alec. It's like a Douglas Sirk movie, only stupid.
On the one hand, you want to admire the film for the fact that it includes gay characters in its romantic mishmash, and does it so nonchalantly, without judgment. On the other, you weep for the dramatic possibilities that seem to be wasted by the fact that the film is uninterested in exploring any of these romantic elements, not even the central one between Clary and Jace. Maybe it's trying to keep things subdued, so as not to become too Twilight-like. The problem is that this comes across not as savvy understatement, but as halfhearted avoidance, like everything else in this uninspired, derivative story.
Still, City of Bones occasionally demonstrates a decent sense of humor, as when it reveals to us that even Johann Sebastian Bach was a shadow hunter. (What? You never noticed his neck tats?) It also moves along fairly briskly, with an energy that's rare for this sort of thing. But what a shame and, frankly, a surprise that the genre of teen fantasy, so ripe with visual possibilities — different dimensions, mythical creatures both known and unknown, kids discovering elaborate magic powers, 1,000-year-old characters, etc. — has become one so defined by its lack of visual inspiration or anything resembling movie magic. City of Bones isn't the worst of its kind, but crap served with flair is still basically crap.