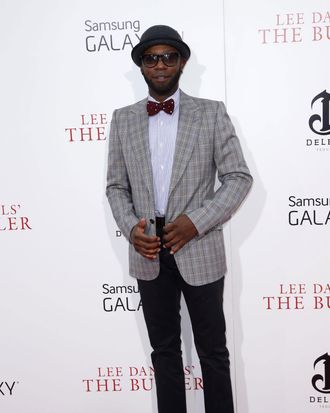 Nelsan Ellis.
Photo: Jimi Celeste/Patrick McMullan
If you thought last season of True Blood was hard to follow, you're not alone. When Vulture ran into Lafayette (real name: Nelsan Ellis) at the premiere of Lee Daniels' The Butler last night (he's Martin Luther King, Jr. in the movie), he admitted that even he — "a person who had read the script and shot it" — got mixed up between all the vampires, werewolves, faeries, Ifrits, and other supernaturals invading Bon Temps. "Last season was a bit schizophrenic, with like fifteen story lines," he said. "Even when I watched the show, I'd get confused as to what's going on. There was a lot happening in 51 minutes." Hence the high body count this season (Terry, Nora, more to come); the show is shifting its focus back to its central cast members.
"We're going back to the core," Ellis said. "I think this season set the stage to get back to the core." Which can only mean more Lafayette, right? "Next season," Ellis promised. But as flamboyant and outgoing as his True Blood character is, Ellis himself is pretty shy — too shy, in fact, to respond when his Butler costar Oprah Winfrey introduced herself on set. Winfrey told Ellis that he had big shoes to fill to play King, which he agreed with, having found the process "nerve wracking." But Ellis froze and didn't say anything back. "I was like, Ohmigod, ohmigod, ohmigod," he said, reenacting how he gasped to himself as she walked away. "I get nervous around people, especially celebrities. And I think Oprah is queen of the universe. I think she sits on the balcony of the heavens." Sounds like a True Blood cameo is in order there.