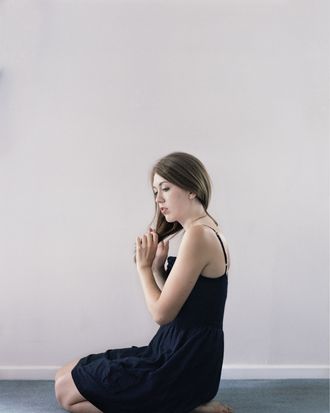 Samantha Shannon photographed by Victoria Hely-Hutchinson.
Photo: Victoria Hely-Hutchinson/New York Magazine
I've never had a supernatural experience," says 21-year-old Samantha Shannon from her desk in a small pink room in her mother's home just outside London. "I've been tempted to maybe have a tarot-card reading, but I don't know if I'd necessarily want to know." Instead, her inspiration for The Bone Season, the ambitious first novel in a projected seven-part series to be published by Bloomsbury, came from an internship with literary agent David Godwin the summer after her first year at Oxford.
Godwin had recently passed on Shannon's first book, about an alien falling in love with a human girl, which Shannon started writing when she was 15. "It was kind of like Twilight, but sci-fi, so yeah, it wasn't that great. I think after a while my mom started just getting rid of the rejection [letters] before I could see them—it was getting a little bit crushing."
And yet Shannon parlayed Godwin's rejection into a two-week job at his agency in the Seven Dials area of London, where, on the way to the office, she passed by a store that sold crystal balls. "I suddenly had this weird image of a girl having the same day of work as me, but she just happened to be clairvoyant," says Shannon, who went on to do "loads of research on nineteenth-century spiritism and Native American dream theory and old ideas about augury and soothsaying. I couldn't stop researching, and it snowballed from there." Within six months, Shannon had completed a manuscript.
The Bone Season, which will be published August 20, follows a 19-year-old "dreamwalker" named Paige Mahoney through a dystopian future in which police-state Britain has outlawed clairvoyance, shipping those with "unnatural" powers off to a secret penal colony where Oxford University once stood—and where Paige is soon sent. Shannon says that Oxford itself played a large role in inspiring the novel: "I often look at places and kind of mentally convert them to fantasy versions of themselves." She wrote the book between her fall classes ("I treated writing like an extracurricular activity; I just didn't really have a social life") and then sent the manuscript to Godwin thinking he could recommend a smaller agency that might represent it.
Instead, he read the draft in about three days. "They were just like, 'We had no idea when you were our quiet intern that you were writing all this stuff about spirits,' " says Shannon, laughing. Godwin promptly took the novel to the London Book Fair, where it caught the attention of Alexandra Pringle, editor-in-chief of Bloomsbury, the house of Harry Potter fame. As Shannon explains it, "Godwin called me up to London and he was like, 'So Bloomsbury would like to see you,' and I said, 'Oh, like Harry Potter Bloomsbury?' " During her brief stint as a publishing intern, Shannon had met Pringle once before. "I remember looking at her and just thinking, This woman is such a publishing genius she's clearly never going to publish me."
Pringle, intimately acquainted with the rewards that can be reaped from a blockbuster series, offered Shannon a six-­figure deal for the first three books, a notable sum for a new and untested author. "It's unusual to have this level of support—the advance, the marketing push," says Nancy Miller, editorial director of Bloomsbury U.S., who partnered with the U.K. in acquiring world English rights. "Everything we've done with Samantha is unusual, because this novel is really unusual. She instantly creates this world that's so viscerally real and terrifying. I think for any book it would be extraordinary to have this level of buy-in from absolutely everyone, but she's a debut novelist, so it's even more extraordinary."
Stunned with these developments, Shannon then had to break the news to her mum. "My parents didn't really know I was writing [the book], 'cause when I went to university I said, 'Don't worry, I won't write anymore. I'll just concentrate on my degree.' Then when I was like, 'Mum, Mum, my book's getting published by Bloomsbury!' she's like, 'What book?' "
Shannon has since been lauded as "the next J. K. Rowling," a comparison that both thrills and rankles. "I was born in 1991, and Harry Potter came out in '97, so, you know, I was really obsessed. I used to read them in one night." But she is quick to point out that The Bone Season is a lot darker, the line between good and evil less sharply drawn. Paige may be the same tender age as her author was the year the book was written, but she's living in and dealing with a very harsh, adult world. "I think it's just because it was seven fantasy books with Bloomsbury that the comparison came out," Shannon explains. "But The Bone Season is violent. There's sex. My little brother keeps asking to read it, and he's 9, so I'm like, 'No, it's not happening.' "
It's unlikely that the book will hurt for an audience. Between Twilight, Beautiful Creatures, and The Mortal Instruments, the time is ripe—and publishing houses are no doubt scrambling—for any story line that's both addictive and fantastical. "A lot of us were not regular readers of fantasy or sci-fi, so we saw it as appealing," says Rachel Mannheimer, the book's U.S. editor. "Many of those successful series have been young-adult books, and we are publishing this from our adult imprint, I guess in part because we just really wanted to have it."
The Bone Season, like other books of its genre, moves at a frantic, action-filled pace ("My throat was tight, my fingers numb. If I stood aside, we'd both be detained. I saw myself in the Tower, being tortured, at the gallows … I would not die today"). During one scene, the characters are fighting with such an array of supernatural and real weapons that it's hard to imagine how a film version would even keep up.
Nevertheless, rights have sold in 21 countries, while three major studios vied to make the movie. Shannon turned down Hollywood offers to go with Andy Serkis and Jonathan Cavendish's the Imaginarium, in part because "their studio is like half an hour from my house, so it's quite handy," and also because they offered her consultation rights with veto power. Since then, she's been dreaming up the perfect casting, a difficult task since the characters, as she's envisioned them, don't quite match anyone who's actually living (with the notable exception of Jaxon, the head of Paige's clairvoyant gang, who "would definitely be played by Benedict Cumberbatch").
All of which means that Shannon is likely on the brink of literary stardom, although currently, as a recent graduate, she's living at home with her mother—"It's very expensive to rent in London, and I don't want to squander my advance"—and "vicariously" through her main character. "Even though her life is quite dark and difficult, it's also very exciting. I mean, my idea of a great night out is staying in and watching The Apprentice."
Not that Shannon isn't grateful for the turn her life has taken. "I get to write every day pretty much now, and I don't have to feel bad about it, 'cause it's my job." Still, she wouldn't mind the excitement of maybe one day seeing a ghost. "I'd probably be like, 'Yay! Something interesting is happening.' "
*This article originally appeared in the August 19, 2013 issue of New York Magazine.