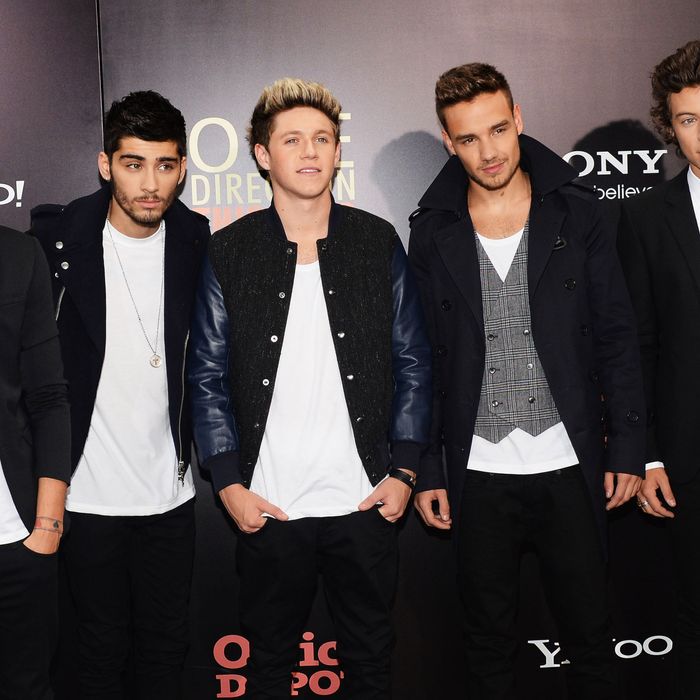 One Direction.
Photo: Jamie McCarthy/Getty Images
When Taylor Swift accepted the award for Best Female Video for "I Knew You Were Trouble" at the VMAs on Sunday, she threw some major shade at her ex Harry Styles: "I also want to thank the person who inspired this song, who knows exactly who he is, because now I got one of these," she said. We brought the not-so-subtle dis up to his One Direction bandmates at the New York premiere of their concert doc, One Direction: This Is Us, last night, and they responded in the most charmingly sarcastic way possible, starting with Liam Payne: "When she said those things about Niall, we were very, very pissed off," he joked. Then Niall Horan joined in on it: "I was so upset that she would go writing songs about me after all we've been through." Back to Liam: "Hashtag get over it … I was going to do a Kanye! It's the best video of all time!" What stopped him? "Kanye himself."
As for how Harry was handling the affront — well, he seemed just about as fine as he did when the audience cam showed his calm, unaffected reaction to Taylor's speech in the first place. But he wouldn't actually comment on it. He did happily tell us about the "proper orange," he was eating at the awards show. (We thought it might be a tangerine or clementine, but no.) "I found it in a lift. An elevator," he said. "In a box! Not just rolling around on the floor. I offered a piece to Rihanna. I was very conscious while I was peeling it. I thought I was going to spray her in the back of the head. But it was okay." Swoon.